A Reader Writes "...if you know of a site online listing all stocks in the djia?"
Hello Friends! Thanks so much for stopping by and visiting my blog,
Stock Picks Bob's Advice
. As always, please remember that I am an amateur investor, so please remember to consult with your professional investment advisors prior to making any investment decisions based on information on this website.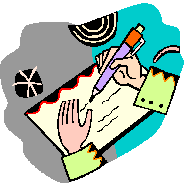 I had a nice email this past weekend from Mick in Tokyo who wrote:
"Bob,

Nice program.

First, and least importantly, I am in Tokyo and have been haphazardly
trading stocks and avoiding disaster.

I am looking at a slew of investing techniques and ideas - from stocks to
forex currency trading - to see which suits me and your program is
nutritious food for thought.

Second, I have bought a DVD that advocates buying securities that have made
a series of highs, such as for 20 or 30 days. This kind of seemed to overlap
with your idea of finding stocks that have already made enough of a move to
land in the top percentage gainers. I think this raises the idea of whether
there might be a better way of getting at stocks that are moving higher but
fall under your top percentage radar.

I am most interested to know if you know of a site online listing all stocks
on the djia and, better yet, that has a filter for stocks over 5 or 10
dollars, or by market cap.

Thanks for your time.

Yours from Tokyo,

Mick"
First of all, thank you so much for writing Mick. I am not sure if your DVD exactly covers my approach, but probably the idea is the same. We are both looking for stocks that are showing technical strength. Either in terms of setting frequent new highs, or just simply moving higher in an amount greater than the other stocks.
Insofar as those $5-$10 stocks, I generally stay away from them. As you might know, I prefer stocks that are at least $10 if not higher. This prevents me from being whip-sawed so to speak buying and selling a stock that I should otherwise either not be purchasing, or instead ignoring the movements that might lead to me selling a stock prematurely.
But I did go look for your websites. First, the
Dow Jones Indexes
has a nice summary of the components of the Dow Jones Industrial Average.
In addition, I found a
Yahoo "Stock Screener"
that might be helpful to you or the other readers.
Thanks again for writing! Please drop me a line and let me know how you are progressing in your own investment strategy exploration. If you or any other readers have comments or questions, please feel free to email me at bobsadviceforstocks@lycos.com and I shall try to get back to as many of you as possible...usually on the blog!
Bob
Posted by bobsadviceforstocks at 3:41 PM CST |
Post Comment
|
Permalink
Updated: Tuesday, 21 March 2006 3:41 PM CST