Cytyc (CYTC) Weekend Trading Portfolio Analysis
Click
***HERE*** for the PODCAST ON CYTYC

Hello Friends! Thanks so much for stopping by and visiting my blog,
Stock Picks Bob's Advice
. As always, please remember that I am an amateur investor, so please remember to consult with your professional investment advisors prior to making any investment decisions based on information on this website.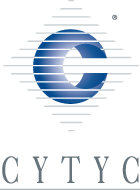 It is the weekend! And for me, that means it is time to review another stock in my own trading portfolio! I have been going alphabetically through my holdings, explaining my purchases and sales on a particular holding and looking closer at the underlying news and history of the stock. After
reviewing Coach (COH) last weekend
, the next stock is Cytyc (CYTC) so let's take a look and see what has been happening with this particular company.

I currently own 225 shares of Cytyc (CYTC) in my trading account that were purchased 1/29/04 with a cost basis of $14.86. CYTC closed at $29.65 on 3/10/06, giving me an unrealized gain of $14.79 or 99.5% on my remaining shares of this stock.
I have sold portions of my Cytyc holdings three times already, having sold 100 shares 3/1/04 at $18.63 for a gain of $3.77 or 25.4%, another 100 shares were sold on 4/2/04 at $22.61, for a gain of $7.75 or 52.2%, and the most recent sale of 75 shares on 6/2/04 at $22.79, for a gain of $7.93 or 53.4%. Now, this holding has been sold prematurely three times! My current goals, which I have been much more disciplined with, are sales at 30%, 60%, 90%, 120%, 180%, etc. Thus ALL three sales were sold a bit quickly. However, my next sale on the upside will be at a 120% gain, or 2.2 x $14.86 = $32.69, or on the downside, at 1/2 of a supposed third sale of 90% appreciation would be at 1.45 x $14.86 = $21.55.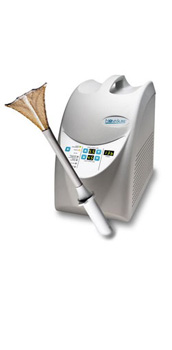 Let's take a closer look at this stock. First of all, what the company does! According to the
Yahoo "Profile" on Cytyc
, the company
"...engages in the design, development, manufacture, and marketing of clinical products that focus on women's health. Its products cover a range of women's health applications, including cervical cancer screening, breast cancer risk assessment, treatment of excessive menstrual bleeding, and treatment of breast cancer."
And how about the latest quarterly result?
On February 1, 2006, Cytyc
reported 4th quarter 2005 results
. For the quarter ended December 31, 2005, revenue rose 25% to $138.6 million, up from $110.6 million the prior year. Net income climbed 31% to $33.4 million or $.27/diluted share, up from $25.4 million or $.21/diluted share the prior year. This was certainly a solid quarter for this company!
What about longer-term results?
Reviewing the
Morningstar.com "5-Yr Restated" financials on CYTC
, we can see that revenue growth remains uninterrupted with $221 million in revenue in 2001 growing all of the way to $508 million in 2005. Earnings/share have grown strongly and steadily from $.10/share in 2001 to $.94/share in 2005. No dividends have been paid and the number of shares outstanding has been steady at 115 million in 2001 and 115 million in the trailing twelve months (TTM).
Free cash flow has been positive and growing, increasing from $64 million in 2003 to $76 million in 2004 and $135 million in 2005.
The balance sheet looks solid as well with $220.6 million in cash and $116.7 million in other current assets. When balanced agains the $89.2 million in current liabilities, this gives us a current ratio of approximately 3.5. Generally, current ratios of 1.5 or better are signs of a healthy balance sheet. In addition, the company does have $322.3 million in long-term liabilities, which hopefully will continue to be reduced as the flow of free cash continues.
And what about some valuation numbers?
Reviewing
Yahoo "Key Statistics" on Cytyc
, we find that this is a large-cap stock with a market capitalization of $3.42 billion. The trailing p/e is a bit rich at 31.51, with a forward p/e (fye 31-Dec-07) a bit better at 22.63. Thus, with the rapid growth in earnings expected (5 yr expected) we have a stock with a PEG ratio of 1.38. I generally use 1.5 or lower as being a reasonably valued stock. Stocks with a PEG under 1.0 are downright cheap imho.
Using the
Fidelity.com eResearch website
for valuation relative to the Price/Sales ratio, we can see that Cytyc is in the "Medical Instruments/Supplies" industrial group and is richly valued in this group relative to this ratio with a Price/Sales of 7.3. This is only exceeded by Alcon (ACL) with a ratio of 7.9 and is shares with Guidant (GDT) with a ratio of 7.3 as well. Further down the list is Stryker (SYK) at 3.9, Boston Scientific (BSX) at 3, and Baxter (BAX) at 2.4.
Looking back at Yahoo for some more numbers, CYTC has 115.3 million shares outstanding with 114.79 million shares that float. Of these, there are 3.14 million shares out short as of 2/10/06, representing 2.70% of the float or 3.4 trading days of volume (the short ratio). This doesn't appear too significant to me.
There are no cash dividends reported by Yahoo and the last stock split was a 3:1 split on 3/5/01.
What about a chart?
If we look at the
"Point & Figure" chart on Cytyc from StockCharts.com
: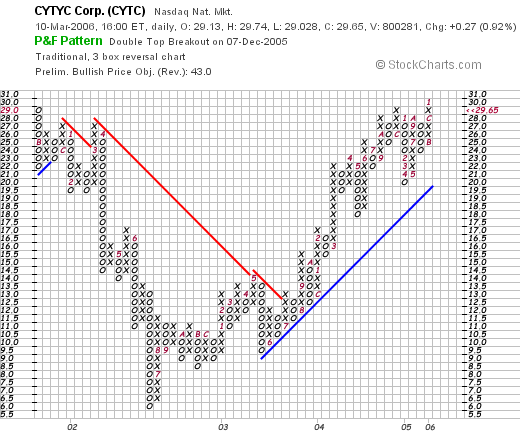 We can see that the stock was actually trading poorly from late 2001 when it was as high as $29 until July, 2002, when it dropped to as low as $6/share. The stock since that point has been trading steadily higher, breaking resistance at $12.50 in July, 2003, and climbing to the current $29.65 level. The stock chart appears strong but not over-extended imho.

So what do I think? Well the stock has been kind to me, even though I have jumped the gun several times on my partial sales. I have been exercising improved discipline the last couple of years! The latest quarterly report was strong, the Morningstar evaluation was beautiful. And the chart looks nice.

On the downside, the valuation appears to be a bit rich with a p/e in the 30's and a Price/Sales ratio near the top of its group. However, the stock is growing quickly, and the PEG isn't bad just a bit over 1.25...so there is really little to fault about this stock except that it isn't an unknown stock to the investing world.

Thanks again for stopping by and visiting. Please do feel free to drop me a line if you have any comments, questions or words of encouragement. My mail box has been a bit quiet the past week or so so here is my email address again :): bobsadviceforstocks@lycos.com. Have a great day everyone!

Bob






Posted by bobsadviceforstocks at 8:34 AM CST |
Post Comment
|
Permalink
Updated: Sunday, 12 March 2006 11:55 AM CST