Coach (COH) Weekend Trading Portfolio Analysis
Click ***HERE*** for my PODCAST on COACH

Hello Friends! Thanks so much for stopping by and visiting my blog,
Stock Picks Bob's Advice
. As always, please remember that I am an amateur investor, so please remember to consult with your professional investment advisors prior to making any investment decisions based on information on this website.

As regular readers of my blog realize, one of the tasks I address on this website is to share with you an actual trading portfolio that I own. These stocks are derived from stocks discussed on this website, and are managed with the same strategy that I advocate elsewhere: selling my losing holdings quickly at an 8% loss limit, and selling my gaining investments slowly and partially as they appreciate. Coach (COH) has been one of the top performing stocks in my portfolio.
I acquired my shares of Coach on 2/25/03 with a cost basis of $8.33/share. I currently own 102 shares which closed 3/3/06 at $36.12/share, giving me a gain of $27.79 or 334% since purchase. I have sold portions of COH seven times since my purchase, at 30, 60, 90, 120, 180, 240, and 300% appreciation levels. My next planned sale would be 1/6th of my remaining shares at a 360% appreciation level or 4.6 x $8.33 = $38.32 or if the stock retraces to 50% of the highet sale point (1/2 of 300% = 150% or 2.50 x $8.33 = $20.83) then I shall be selling all remaining shares to preserve my gains.
Let's take an updated look at this stock which has been a fabulous choice for my portfolio.
First of all, let's review what the company does. According to the
Yahoo "Profile" on Coach
, the company
"...engages in the design, production, and marketing of fine accessories worldwide. Its products include handbags; women?s accessories, such as wallets, wristlets, cosmetic cases, key fobs, and belts; and men?s accessories, such as belts, wallets, and other small leather goods; and business cases, such as computer bags and messenger-style bags, as well as men?s and women?s totes; outerwear, gloves, hats, and scarves; and weekend and travel accessories, such as cabin bags, duffels, suitcases, garment bags, and a collection of travel accessories. The company also offers watches, footwear, eyewear and sun glasses, and office furniture under Coach brand name. Its products are sold through direct-to-consumer channels, including company-operated retail and factory stores, online store, and catalogs, as well as through indirect channels, including department store locations in the United States, international department stores, freestanding retail locations, and specialty retailers. As of October 1, 2005, the company operated 199 retail stores and 85 factory stores in North America; and 107 department store shop-in-shops, retail stores, and factory stores in Japan."
And how about the latest quarterly report?
On January 24, 2005, Coach
announced 2nd quarter 2006 results
. For the quarter ended December 31, 2005, net sales grew 22% to $650 million up from $532 million the prior year. Including 'option expense', net income grew 37% to $174 million or $.45/diluted share, up from $127 million or $.32/diluted share the prior year. These results exceeded the company's guidance of $.43/share as well as analysts' expectations of $.44/share. In addition, the company raised guidance on the rest of fiscal 2006 with earnings of at least $1.33, ahead of the analysts' consensus of $1.20. Coach was 'hitting on all cylinders', you could say, beating consensus with strong earnings and revenue growth as well as raising guidance for the rest of the year. These are the kind of things in an earnings report that drive a stock higher from my perspective.
And how about the Morningstar results?
Reviewing the
Morningstar.com "5-Yr Resatated" financials on Coach
, we can see the steady growth in revenue from $600 million in 2001 to $1.7 billion in 2005 and $1.9 billion in the trailing twelve months (TTM).
Earnings have also been steadily increasing from $.24/share in 2002 to $1.00 in 2005 and $1.21/share in the TTM. The share float has grown slightly from 358 million in 2002 to 377 million in 2005 and 383 million in the TTM.
Free cash flow is solidly positive and growing with $165 million in 2003, increasing to $450 million in 2005 and $506 million in the TTM.
The balance sheet is solid with $746 million in cash, enough to more than enough pay off both the $347.7 million in current liabilities and the $51.5 million in long-term liabilities. With the other current assets of $435 million, we can calculate (comparing total current assets to current liabilities) a current ratio of over 3.
What about some valuation numbers on this stock?
Looking at
Yahoo "Key Statistics" on Coach
, we find that this is a large cap stock with a market capitalization of $13.85 billion. The trailing p/e is a bit rich at 30.07, but the forward p/e (fye 02-Jul-07) is a bit nicer at 24.41. Thus, with the solid earnings growth expected, the PEG works out to 1.32. (PEG's 1.5 or less are reasonable imho, and 'cheap' if they come in under 1.0).
We can see how expensive this stock really is if we examine the Price/Sales ratio relative to stocks in the same industrial group: "Textile-Apparel Footwear/Accessories", according to the
Fidelity.com eResearch website
.
Coach (COH) tops this list with a Price/Sales ratio of 7.3. This is followed
way back
with Nike (NKE) with a ratio of 1.6, then Timberland (TBL) at 1.5, Wolverine World Wide (WWW)at 1.2 and Rocky Shoes and Boots (RCKY) with a Price/Sales ratio of 0.6. So certainly from this particular criterion, this stock is not any kind of bargain!
Going back to Yahoo for a few more valuation numbers, we find that there are 383.36 million shares outstanding with 376.84 million of them that float. Of these, 7.18 million are out short representing 1.90% of the float or a current ratio of 2.6. Since I use 3.0 as a cut off on this particular statistic, I do not find the level of short interest very significant.
No cash dividends are paid and the last stock split was a 2:1 split 4/5/05.
What about the chart? If we look at a
"Point & Figure" chart on Coach from StockCharts.com
: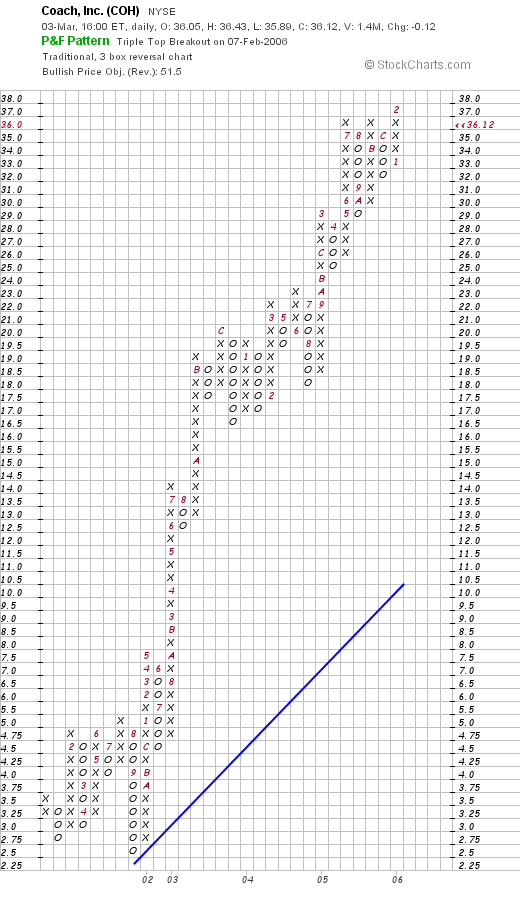 We can see that the chart is an absolutely gorgeous graph, which, except for a dip down to $2.50 in September, 2001, the company has bee charging higher with unbelievable strength for the past 4 1/2 years! The stock, if anything, is over-extended, with the price far ahead of its "blue line" of support.

So in summary, this stock has been very kind to me. It has appreciated steadily and I am actually waiting for a 360% appreciation move to sell another 1/6th of my holding. Beyond this, the latest quarterly report was strong with the company beating expectations, as well as raising guidance. The past five years on Morningstar are without a blemish, with revenue, earnings, free cash flow, and the balance sheet looking fabulous. The p/e and PEG aren't too rich but the Price/Sales ratio is definitely higher than any other stock in its group. Finally, the chart looks quite strong, if a bit over-extended.

Thanks so much for stopping by and visiting! I hope that next week finds you in good health and that all of our investments are moving in the right direction. If you have any comments or questions, please feel free to leave them on the blog or email me at bobsadviceforstocks@lycos.com.

Bob





















Posted by bobsadviceforstocks at 3:32 PM CST |
Post Comment
|
Permalink
Updated: Sunday, 5 March 2006 6:13 PM CST