Morningstar (MORN) "Trading Transparency"
Hello Friends! Thanks so much for stopping by and visiting my blog, Stock Picks Bob's Advice! As always, please remember that I am an amateur investor, so please remember to consult with your professional investment advisers prior to making any investment decisions based on information on this website.

If you are a regular reader of my blog, then I am sure you will realize that five days ago I sold my shares of Johnson Controls (JCI) after they announced a disappointing earnings report and reduced guidance. I wrote about it here.
Most of my sales of shares are either at appreciation or depreciation targets. They are more or less mechanical in that I know in advance what I need to do and with how many shares. This time, I used my discretionary decision-making power to determine that it was time to part company with these shares and unloaded them before any targeted price. (By the way, I sold my shares of JCI at $15.60, and as I write, JCI is trading at $14.195, so thus far it wasn't a bad decision at all!)
I chose today to replace this position with a new holding and chose Morningstar (MORN), an old favorite of mine and purchased 116 shares at $33.464. (As I write, MORN is trading at $33.88, up $.87 or 2.64% on the day.)
In some fashion I have liberalized my trading system recently. I still follow my rules for selling 1/7th of my holding when a stock hits an appreciation target and using that sale as a buy signal to purchase a new stock. I still employ a strategy of selling complete holdings when they have declined to an 8% loss after an initial purchase or to some higher predetermined level if they decline after partial sales on appreciation. However, it has always been my approach to sell stocks arbitrarily when I felt some fundamental information dictated that trade. And that is what happened with Johnson Controls (JCI).
I have not clearly determined whether after such arbitrary sales I should 'sit on my hands' or replace those holdings with another position. With the market having corrected as much as it has, and my belief that we are closer to the bottom of this market than to the top, I chose to replace this holding. I might not do the same in the future.
Also, unlike many of my purchases, I have chosen to arbitrarily pick one of my favorites as my latest purchase, rather than restricting myself to the top % gainers lists. Again, with the market having declined as much as it has (The Dow as I write is trading at 8,031, down about 6,000 points or 43% since its high in late 2007), I find myself becoming more value oriented and with my growth approach I am more of a GARP investor than a momentum investor as virtually all stocks at this time have had the momentum literally beaten right out of them!
My basic philosophy in any case remains unchanged. I am still looking for stocks that have demonstrated consistent revenue growth, earnings growth, possibly dividend growth, stable outstanding shares, free cash flow, and a solid balance sheet. One of my favorite resources for identifying this information has been the Morningstar website. In fact, I like Morningstar so much I bought shares today. (My kids would of course have asked me if I liked Morningstar that much, why didn't I marry it!)
Let me briefly review some of the updated facts about this stock that led me once again to include it in my portfolio.
I first wrote up Morningstar on Stock Picks Bob's Advice on November 22, 2005. I have also previously owned shares in my trading account.
Regarding the latest quarter's results, Morningstar reported 3rd quarter 2008 results on October 30, 2008. Revenue climbed 12.2% in the quarter to $125.5 million from the $111.9 million reported a year earlier. Net income came in at $22.2 million or $.45/share, up from $19.9 million or $.41/share the prior year.
Checking the "5-Yr Restated" financials on Morningstar on the Morningstar webiste (!), we can see the steady growth in revenue from $139 million in 2003 to $435 million in 2007 and $501 million in the trailing twelve months (TTM).
During this period earnings have increased steadily from a loss of $(.31)/share in 2003 to $.21/share in 2004, increasing to $1.53/share in 2007 and $1.90 in the TTM.
Outstanding shares have nominally increased from 38 million in 2003 to 49 million in the TTM.
Free cash flow has been positive and growing recently with $41 million reported in 2005 increasing to $101 million in 2007 and $107 million in the TTM.
The balance sheet appears solid with $234 million in cash and $186 million in other current assets. This easily covers the $218.7 million in current liabilities yielding a current ratio of 1.92. Long-term liabilities are reported to be relatively nominal at $30.7 million.
In terms of some valuation numbers, checking the Yahoo "Key Statistics" on Morningstar (MORN), the company is a mid cap stock with a market capitalization of $1.59 billion. The trailing p/e is a moderate 17.92 with a forward p/e reported to be 18.89 (fye 31-Dec-09). The PEG ratio works out to a reasonable 1.01.
According to the Fidelity.com eresearch website, the Price/Sales ratio (TTM) at 3.02 is a bit rich compared to the average of 1.49 in the same industry. Also on the Fidelity website, the profitability is above average coming in with a Return on Equity (TTM) of 19.85% compared to the industry average of 18.34%.
Finishing up with Yahoo, there are 46.77 million shares outstanding but only 17.94 million float. Currently there are 1.54 million shares out short (as of 12/10/08) representing 5 trading days of volume (the short ratio). I use an arbitrary 3 days for significance, so from my perspective, as with many stocks today, there are a lot of shares out short which may provide some buying support if any sort of good news is reported and a 'squeeze' develops.
No dividends are paid and no stock splits are reported on Yahoo.
If we review the Morningstar 'point & figure' chart from StockCharts.com, we can see that the stock hit a high of $85 in November, 2007, only to trade lower with the rest of the market and especially the financials to hit a low of $26 in November, 2008. The stock has come up a little from the low but technically the chart does look very weak.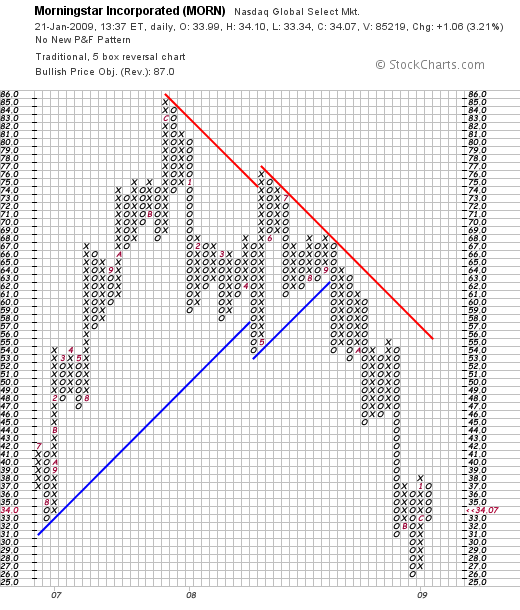 Incrementally, I chose to add a new holding to my portfolio and thereby return my equities exposure back to the 6 holding I had prior to my sale of JCI. I believe this is a good decision but shall manage this purchase as with all of my other holdings in the same strategy as I have previously followed.
In many ways, for me Morningstar is a Peter Lynch type of purchase. I am familiar with their services---at least their internet website, and like the underlying numbers and consistency in their growth. I have owned Morningstar shares previously, and once again am a stockholder!
Yours in investing,
Bob
Posted by bobsadviceforstocks at 12:35 PM CST |
Post Comment
|
Permalink
Updated: Wednesday, 21 January 2009 12:44 PM CST