Morningstar (MORN) "Weekend Trading Portfolio Analysis"
CLICK HERE FOR MY PODCAST ON MORNINGSTAR

Hello Friends! Thanks so much for stopping by and visiting my blog, Stock Picks Bob's Advice! As always, please remember that I am an amateur investor, so please remember to consult with your professional investment advisors prior to making any investment decisions based on information on this website.
Over the past year or so, I have been trying to review my actual holdings in my trading portfolio on weekends. These are the stocks that I actually own and that I try to be as transparent as possible letting you know what I own, when I buy it, and when I sell it. Sometimes my trades appear brilliant, and other times, like the latest trade in Kendle, I share with you my failures. Hopefully, together we shall continue to learn about investing!

On June 25, 2006, I reviewed my Kyphon stock here on the blog. Going alphabetically through my smaller list of 11 positions, I am up to Morningstar (MORN), a stock that I own which is also the website that I use regularly in evaluating my stock picks.
Currently, I have 167 shares of Morningstar. These shares were purchased 11/22/05 with a cost basis of $32.57/share. With the stock closing 8/4/06 at $36.13, I have an unrealized gain of $3.56 or 10.9% on this purchase. The stock has been under pressure recently, and in fact, closed Friday at $36.13, down $(2.61) or (6.74)% on the day. Let's take a closer look at this stock, my history with this investment, and whether it still looks attractive to purchase.
My initial purchase of Morningstar was on 11/22/05, when I purchased 200 shares of the stock. I sold 33 shares of MORN on 2/16/06 with proceeds of $42.94/share, representing a gain of $10.37 or 31.8% since purchase. This was my first targeted gain at approximately a 30% appreciation, and thus, my next targeted sale on the upside would be at about a 60% gain or 1.60 x $32.57 = $52.11/share. On the downside, after one targeted sale at a gain, my sale point moves up from the (8)% loss level to break even or $32.57/share.
Let's take a closer look at this stock--first of all, what does this company do?
According to the Yahoo "Profile" on MORN, the company
"...provides independent investment research to investors worldwide. It offers Internet, software, and print-based products for individual investors, financial advisors, and institutional clients, as well as asset management services to advisors and institutions. It operates through three segments: Individual, Advisor, and Institutional."

I certainly can attest to the usefulness of the Morningstar material; I have been using "5-Yr Restated" statements from Morningstar since I have started this blog, long before I ever owned any shares!
How about the latest quarter?
On August 3, 2006 (just a couple of days ago), Morningstar reported 2nd quarter 2006 results. For the three months ended June 30, 2006, consolidated revenue came in at $76.3 million, a 36% increase from the same quarter the prior year. Net income for the quarter worked out to $11.2 million, or $.24/diluted share, up from $9.5 million, or $.22/diluted share in the same period the prior year.
How about longer-term results?
Reviewing the "5-Yr Restated" financials from Morningstar.com on MORN :), we can see the steady growth in revenue from $91.2 million in 2001 to $227.1 million in 2005 and $244.0 million in the trailing twelve months (TTM).
Earnings/share have improved from a loss of $(.32)/share in 2001 to a profit of $.21/share in 2004, $.70/share in 2005, and $.90/share in the TTM. During this time, the number of shares have fluctuated but are fairly stable with 39 million shares in 2001, 39 million shares in 2005, increasing slightly to 41 million shares in the TTM.
Free cash flow has been growing nicely with $21 million reported in 2003, increasing to $41 million in 2005 and $53 million in the TTM.
The balance sheet looks ok, especially with the low level of long-term debt, but the cash of $82.9 million and the other current assets of $68 million, when compared to the $123.1 million in current liabilities yields a rather anemic current ratio of 1.23. Generally a current ratio between 1.0 and 1.5 is considered acceptable. This is probably ok as I noted because the long-term debt for MORN is listed as only $4.8 million.
What about some valuation numbers?
Reviewing the Yahoo "Key Statistics" on Morningstar, we find that the company is a mid-cap stock with a market capitalization of $1.47 billion. The trailing p/e is a bit rich at 40.37, but the forward p/e is a bit better (fye 31-Dec-07) of 24.09. I cannot find a PEG on Morningstar either on the Yahoo or the Fidelity website.
Reviewing the Price/Sales ratio from the Fidelity.com eresearch website, we find that MORN is in the "Asset Management" industrial group. Morningstar is the most expensive in this group as measured by this ratio with a Price/Sales of 6.9. This is followed by T. Rowe Price (TROW) at 6.8, Franklin Resources (BEN) at 5.3, Federated Investors (FII) at 3.5, Janus (JNS) at 3.2, and Principal Financial Group (PFG) the most reasonably priced with a Price/Sales ratio of only 1.5.
Fortunately, Morningstar is also one of the most profitable of the group with a Return on Equity (ROE) of 24%. This is exceeded by Federated Investors (FII) at 39.6%, and followed by T. Rowe at 23.5%, Franklin Resources at 18.7%, Principal Financial at 13%, and Janus at 4.3%.
Finishing up with the Yahoo numbers, the company has 40.76 million shares outstanding but only 20.01 million that float. Of these, 1.06 million of these shares were out short as of 7/11/06, representing 10.5% of the float or 7.7 trading days of volume. Using my 3 day rule of significance, there is actually quite a few shares out short and the stock could rally with a 'squeeze' if good news was reported. Unfortunately, the recent earnings report was apparently not very impressive to those following this stock.
No cash dividends and no stock dividends are reported on Yahoo.
What about the chart? Does the recent correction in the stock price signify a break-down in the chart pattern?
If we examine the "Point & Figure" chart on Morningstar from StockCharts.com, we can see a very steady improvement in the stock price from $19 in May, 2005, to a peak of $47 in May, 2006. However, the stock does appear to have rolled-over and is now testing a "triple-bottom" short-term. I would be rather concerned if the stock breaks down below the current level. On the other hand, if the stock can rally back above $41, I shall be breathing easier :).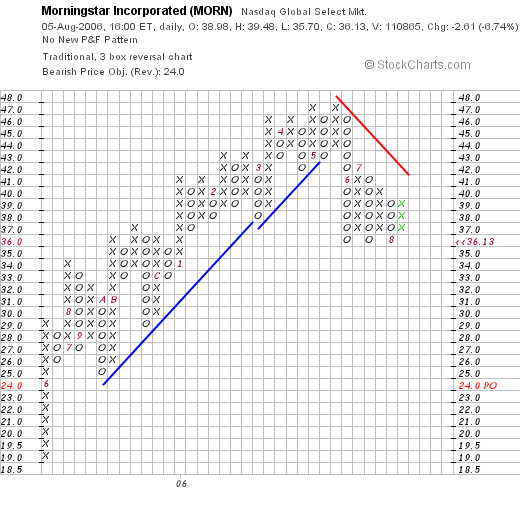 So what do I think? Well, I own the stock :). I have sold the stock once on a gain but the company is just above 10% ahead of my purchase price. Thus, with no fundamental news, if the stock drops by about 9% from here I shall be selling my position. On the other hand, the latest quarter was good, the Morningstar.com 5-yr report looks good to me as well, the free cash flow is positive and growing and the balance sheet looks reasonable if not spectacular. Valuation is a bit rich with a p/e over 40 so possibly investors are thinking that the stock was priced for perfection and did not actually deliver perfection in the latest earnings report.
So that's the next stock in my trading portfolio! I hope that you enjoyed my review of my experience with this stock and some of the current numbers. If you have any comments or questions, please feel free to leave them on the blog or email me at bobsadviceforstocks@lycos.com. Also, don't forget to visit my Stock Picks Bob's Advice podcast site.
Bob
Posted by bobsadviceforstocks at 3:58 PM CDT |
Post Comment
|
Permalink
Updated: Monday, 7 August 2006 7:14 AM CDT