May 5, 2005 Education Management (EDMC)
Hello Friends! Thank you once again for stopping by and visiting my blog,
Stock Picks Bob's Advice
. As I always remind you, please remember that I am truly an amateur investor. I like to make observations about stocks! But before you make any investment decisions based on information on this website, PLEASE consult with your professional investment advisors to make sure that your decisions are appropriate, timely, and likely to be profitable for you!
Looking throught the
list of top % gainers on the NASDAQ
today, I came across Education Management Corporation (EDMC) which, as I write, is trading at $27.97, up $3.13 or 12.60% on the day. I do not own any shares or have any options on this stock. Nor do any members of my family.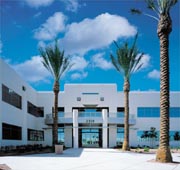 According to the
Yahoo "Profile" on EDMC
, this company "...is engaged in the business of providing private post-secondary education in North America."
Yesterday, after the close of trading, EDMC reported
3rd quarter 2005 results
. Revenue increased 16.8% to $274.6 million compared to $235.2 million the prior year. Net income grew 34.5% to $34.2 million or $.45/diluted share, compared to $25.4 million or $.34/diluted share in the same quarter in fiscal year 2004. The street liked these numbers, and the stock has moved higher today.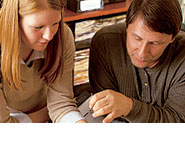 How about 'longer-term'? For that I like to turn to Morningstar for some more in depth financials, in particular, I like to review the page with the
"5-Yr Restated" financials for EDMC
.
First of all, the revenue growth is demonstrated by the beautiful ramp-up of "blue bars" on the graph, with revenue growing from $307.2 million in 2000, increasing steadily to $940.5 million in the trailing twelve months (TTM).
Earnings have also been extremely consistent, growing from $.38/share in 2000 to $1.18 in the TTM.
Free cash flow has not been quite as steady, with $47 million in 2002, dropping to a negative $(1) million in 2003, but then continuing to grow to $83 million in 2004 and $101 million in the TTM.
What about the balance sheet? This is probably a weak spot for EDMC with a bit more debt than I would prefer to see. Morningstar reports $34 million in cash and $82.8 million in other current assets, balanced against a larger $147.5 million in current liabilities. Long-term liabilities are not as bad at $20.1 million. I almost always insist on seeing current assets at least covering current liabilities, but with the growing free cash flow this shouldn't be a problem imho.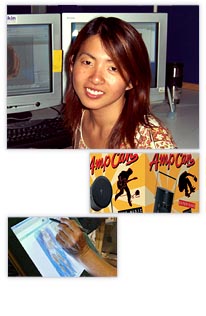 What about "valuation" questions? What about some statistics on the company?
For that I turn to the
Yahoo "Key Statistics" on EDMC
. Here we can see that this is a large cap stock with a market capitalization of $2.07 billion. The trailing p/e is nice at 21.74, and the forward p/e is noted to be at 18.04 (fye 30-Jun-06). Thus, the PEG is under 1.0, at 0.96, suggesting a pretty good value for a share of stock.
Price/sales comes in at 1.96. This is somewhere in the middle of the industry group of "Education & Training Svcs.", with Apollo (APOL) at 6.1, and Corinthian Colleges (COCO) at the other end at 1.3. Career Education (CECO) is similar at 1.8, and DeVry (DV) is also close at 1.9. At least according to this one statistic, EDMC is fairly reasonably valued.
Other statistics on Yahoo show that EDMC has 74.04 million shares outstanding with 71.60 million of them that float. Currently, as of 4/8/05, there are 971,000 shares out short, representing 1.36% of the float, or 2.232 trading days of volume. The short situation does not appear to be a significant factor for this stock.
No cash dividend is reported, and the last stock dividend was a 2:1 split reported by Yahoo last December 23, 2003.
How about "technicals"? That is, what does the chart look like? I turn to Stockcharts.com for a
"Point & Figure" chart on EDMC
. The graph looks nice to me with some weakness in September, 2001, when the price dropped from $23 range down to a low of $11.50. However, the stock has been steadily appreciating since, to the current $28 range.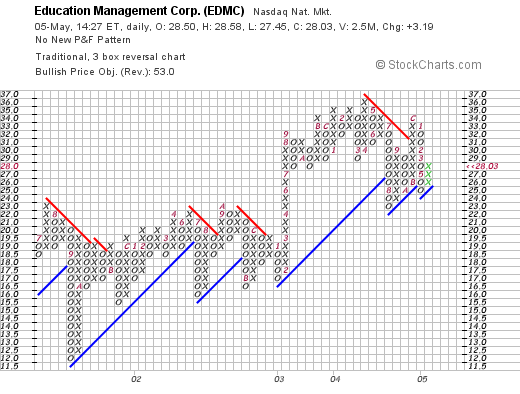 In summary, the stock is making a nice move higher today on the back of a solid earnings report last night. The company has been growing steadily the past five years with both revenue and earnings growing in an uninterrupted fashion. Free cash flow is positive and appears to be growing if not completely consistently. And the balance sheet is o.k. but not perfect, but with the free cash flow growing, I expect this to improve. In fact valuation is quite reasonable and the 5-Yr estimated PEG is under 1.0.

This is a bit of a different stock, a private educational firm, not just another of my medical stocks I like to evaluate, but the numbers like good, and if I were in the market to buy a stock, this one might just be on my list :).

Thanks again for visiting. I hope that my chatter is helpful to you in some fashion. Always remember, that I am an amateur investor so please get professional assistance before using any of this information for investment decisions for your own portfolio. If you have any questions, or comments, please feel free to leave them right here on the blog or email me at bobsadviceforstocks@lycos.com.

Bob