ICT Group (ICTG)
CLICK HERE FOR MY PODCAST ON ICT GROUP!

Hello Friends! Thanks so much for stopping by and visiting my blog, Stock Picks Bob's Advice! As always, please remember that I am an amateur investor, so please remember to consult with your professional investment advisors prior to making any investment decisions based on information on this website.
As I have done previously, I should like to once again apologize for my two week absence. It is a bit strange apologizing to anonymous people who read my blog, but I still feel a connection with all of you who have become regular readers here...who are sharing with me my own exploration of stocks and working to develop a coherent strategy in selecting and owning equities. But before I was philosophic, let me share with you a stock that deserves a place in this blog.

As I like to do on most trading days, I reviewed the list of top % gainers on the NASDAQ from yesterday. I generally stay away from stocks much under $10....leaving just a few to examine with some of my screening techniques.
ICT Group (ICTG) had a nice day yesterday, closing at $28.94, up $2.49 or 9.41% on the day. I do not own any shares nor do I have any options on this stock. Let's take a closer look at this company and I shall try to show you why I find it worthy of a review.
1. What exactly does the company do?
According to the Yahoo "Profile" on ICTG, the company
"... and its subsidiaries provide outsourced customer management and business process outsourcing solutions. The company offers a mix of sales, service, marketing, and technology solutions, which include customer care/retention, technical support and customer acquisition, and cross-selling/upselling, as well as market research, database marketing, data capture/collection, email management, collections, and other back-office business processing services."
2. What about the latest quarterly report?
On July 27, 2006, ICT group reported 2nd quarter earnings results. For the quarter ended June 30, 2006, revenue increased 15% to $111.3 million from $97 million in the same quarter last year. In addition, net income came in at $3.9 million or $.25/share, up from $1.7 million or $.14/diluted share in the year ago period. According to the same news story, the company beat expectations by $.04/share. In addition, the company raised guidance to $1.08 to $1.13 for the full year on sales of $445 to $451 million. In April, 2006, guidance was $1.03 to $1.09/share on revenue of $440 to $448 million. While not a huge guidance higher, the fact the company beat expectations and also raised guidance for the full year is very significant imho.
3. How about longer-term results?
Reviewing the Morningstar.com "5-Yr Restated" financials on ICTG, we can see a fairly steady growth in revenue (except for a small dip between 2001 and 2003) from $239.3 million in 2001 to $401.3 million in 2005 and $434.7 million in the trailing twelve months. Earnings, however, have been more erratic, dropping from $.63/share in 2001 to a loss of $.21/share in 2004. Since 2004, earnings have come in at $.94/share in 5006 and $1.18 in the trailing twelve months. The number of shares outstanding has increased modestly from 12 million in 2001 to 13 million in 2005 and 15 million in the trailing twelve months (TTM).
Free cash flow which was negative at $(4) million in 2003 and $(12) million in 2004, turned positive at $5 million in 2005 and grew to $6 million in the TTM.
The current assets total $125.6 million, which could easily pay off all of the current liabilities listed as $40.1 million and the $4.1 million of long-term liabilities combined. Calculating the 'current ratio' yields a value of 3.13 suggesting a picture of financial health. This is especially true in light of the nominal long-term liabilities listed as $4.1 million on Morningstar.com.
4. What about some valuation numbers?
Using Yahoo "Key Statistics" on ICT Group, we observe that the company is a small cap stock with a market capitalization of only $445.50 million. The trailing p/e is a moderate 24.74 and the forward p/e (fye 31-Dec-07) works out to 20.82. The PEG is also reasonable (imho) at 1.20.
As noted by the Fidelity.com eresearch website, this company is in the "Business Services" industrial group. Within this group, this stock is the most reasonably priced in regards to the Price/Sales ratio with a ratio of 1. This group is led by Getty Images (GYI) with a Price/Sales ratio of 3.6. Getty is followed by Global Payments (GPN) with a ratio of 3.3, Choicepoint (CPS) at 3, Fidelity National Information Services (FIS) at 2.8, Cintas (CTAS) at 1.8 and finally ICT Group with a ratio of 1.
Profitability, as measured by the "Return on Equity" (ROE), shows that while ICTG is relatively cheap when measured by Price/Sales; the company is actually quite profitable with an ROE of 16.6%. This is only exceeded by Global Payments at 18.1%, and followed by Cintas with a result of 15.3%, Choicepoint at 12.9%, Getty at 11.6% and Fidelity National Information Services with a result of 9.6%.
Returning to Yahoo for a few more statistics, we see that there are only 15.39 million shares outstanding and only 6.39 million of them float. Currently there are 364.06 thousand shares out short representing 4% of the float and a short ratio of only 3.6. The short-sellers do not appear to be very significant in this stock.
No cash dividends and no stock dividends are reported on Yahoo.
5. What does the chart look like?

If we review the "Point & Figure" chart on ICTG from StockCharts.com, we can see the decline in the stock price from $14 in February, 2004, to a low of $6.50 in August, 2004. The stock subsequently has been trading higher to the $28 level in March, 2006. Consolidating at this level, it now appears to be moving higher to new price levels.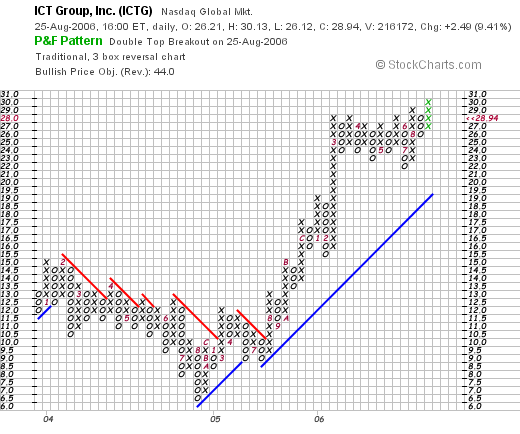 6. Summary: What do I think about this stock?
In summary, I like this stock due to the strong price move Friday (yesterday) in an otherwise anemic trading environment. The last quarter's results were strong with both increasing revenue and earnings and the company did beat expectations as well as raise guidance!
The Morningstar.com report shows a company turning itself around, from losses to increasing profits while growing its revenues at the same time. The number of shares outstanding is fairly stable, and the free cash flow picture also shows the negative free cash flow becoming positive and increasing in size. Balance-sheet-wise, the company has lots of current assets, almost no long-term liabilities and a current ratio of over 3. Valuation-wise, the p/e is barely over 20, the PEG is at 1.2, and while the Price/Sales ratio is one of the lowest in its industrial group, the profitability of the company, as measured by ROE is one of the highest in the same group....a nice combination of results.
Finally, the chart looks strong, and the company appears to be moving into new high territory.
So there are lots of things I like about this company. I am not exactly sure of their business :), but it appears that they are doing quite well.
Thanks again for stopping by and visiting! If you have any comments or questions, please be sure to email me at bobsadviceforstocks@lycos.com. If you get a chance, please also feel free and know you are invited to listen to my Stock Picks Podcast, where I discuss many of the same stocks and investment strategy as I like to discuss on this blog!
Bob
Posted by bobsadviceforstocks at 8:06 PM CDT |
Post Comment
|
Permalink
Updated: Sunday, 27 August 2006 4:50 PM CDT