Which Auto Parts Stock Should my Stock Club Buy?
Hello Friends! Thanks so much for stopping by and visiting my blog, Stock Picks Bob's Advice! As always, please remember that I am an amateur investor, so please remember to consult with your professional investment advisers prior to making any investment decisions based on information on this website.
In about 2 1/2 hours my Grounded Investment Club (named after the Coffee Shop where most of the members hang out) shall be meeting. Last month I suggested that the club take a look at the auto parts stores. I have some shares in my Covestor Buy and Hold Model in Genuine Auto Parts (GPC), and have smaller positions in Autozone (AZO), O'Reilly Automotive (ORLY), and Advance Auto Parts (AAP) in my personal trading account. But the Secretary of the club, Rick A. tasked me to pick one for the club and now at 3:17 pm (with the meeting starting at 5:30) I haven't done so yet. So with the Club and my readers in mind let's take a quick look at these four companies and let's see if I can narrow this down in any rational fashion.
For ease of this, let's concentrate on the parameters of value, fundamentals and technicals. From my perspective all of these companies have virtually been 'on fire' demonstrating very strong price appreciation this past year.
For value, to keep things simple (It is now 3:20 and getting later!), we shall use the p/e, price/sales and the PEG ratio to consider value in terms of price compared to the earnings as well as the PEG which allows us to adjust for future earnings. I will throw in the Dividend Yield into this section which is generally attractive to any value investor.
GENUINE PARTS: P/E of 17.29, p/s of 0.75, PEG of 1.86, forward yield 3.2%
AUTOZONE: P/E of 17.59, p/s of 1.75, PEG of 1.06, no dividend
O'REILLY: P/E of 25.29, p/s of 2.01, PEG of 1.23, no dividend
ADVANCE AUTO PARTS: P/E of 17.55, p/s of 1.04, PEG of 1.05, forward yield of 0.3%
In this comparison, I would have to vote for Genuine Parts (GPC) which has the lowest p/e, the best price/sales, and the best yield. However, you pay a bit more for the growth with the PEG being higher than the others in this group. From my perspective, the investor makes up for that with a real dividend.
OK it is 3:35 and I have about an hour and a half to finish the other comparisons....
Fundamentals. Let's take a look at the latest quarterly report for each, the Morningstar trend on revenue and earnings growth, free cash flow trends, and current ratios. That's a lot, but I think I have the time to do this. So no more delays....First of all, the latest quarterly earnings:
GENUINE PARTS: GPC reported on 2/21/12--revenue came in at $3.01 billion, this was actually under the $3.05 billion expected but 7.4% ahead of last year's $2.81 billion. Earnings came in at $.86, ahead of the expected $.83/share and 15% higher than last year.
AUTOZONE: AutoZone reported on 2/28/12 with sales increasing 9% to $1.8 billion, in line with estimates. Earnings came in up 24% to $4.15/share from $3.34/share the prior year and $.11 ahead of estimates.
O'REILLY: ORLY reported on 2/13/12 with revenue of $1.39 billion, under estimates of $1.41 billion but 6.2% ahead of prior year's $1.31 billion result. GAAP earnings of $.94 (and non-GAAP eps of $.93) were ahead of the single estimate of $.86/share and 29% higher than the prior year.
ADVANCE AUTO PARTS: AAP reported on 2/23/12 a 58% increase in profit to $.90/share up from $.57/share. This exceeded estimates by $.16/share. Sales grew 4.5% to $1.33 billion from $1.27 billion the prior year. This news story also reported that margins deteriorated 39 basis points to 49% from 49.4% from the prior year same period.
In terms of the latest quarter AUTOZONE would have to be my selection with strong sales growth and earnings growth.
It is now 3:58 and I have about an hour.
Let's see if we can look at Morningstar.com and get some figures on consistent revenue growth, earnings growth, free cash flow, and current ratios.
GENUINE PARTS: Revenue has grown from $10.8 billion in 2007 to $12.46 billion in the TTM. Revenue had a dip in 2009. Earnings in 2007 $2.98/share dipped to $2.92 in 2008, $2.50 in 2009, before climbing to $3.00 in 2010 and $3.58 in 2011. Free cash flow $526 million in 2007 and up and down to 2011 when it came in at $521 million. Current ratio 2.53.
AUTOZONE: Revenue shows steady growth from $6.17 billion in 2007 to $8.34 billion in TTM. Earnings show steady growth from $8.53/share in 2007 to $21.44/share in the TTM. Free cash flow has grown from $621 million in 2007 to $966 million in the TTM. AZO has a current ratio of .814.
O'REILLY: Revenue of $2.52 billion in 2007 increasing steadily to $5.79 billion in 2011. Earnings increahttp://financials.morningstar.com/income-statement/is.html?t=AAP&region=USA&culture=en-ussed from $1.67/share in 2007, dipped to $1.48 in 2008, then increased steadily to $3.71 in 2011. Free cash flow has been a bit erratic coming in at $17 million in 2007, dipped all the way to $(130) million in 2009, then increased to $338 million in 2010 and $791 million in 2011. Morningstar reports a current ratio of 1.65 for 2011.
ADVANCE AUTO PARTS:Revenue growth from $4.8 billion in 2007 to $6.2 billion in 2011. Earnings growth from $2.28/share in 2007 to $5.11/share in 2011. Free cash flow increasing from $200 million in 2007 to $561 million in 2011. Current ratio works out to 1.05.
My nod would have to go to O'Reilly (ORLY) in terms of fundamentals with an outstanding record of revenue growth, earnings growth, free cash flow, and a solid balance sheet.
It's now 4:34 and with about 40 minutes to go, let's try to get some charts up here and see if we can find an obvious 'winner'.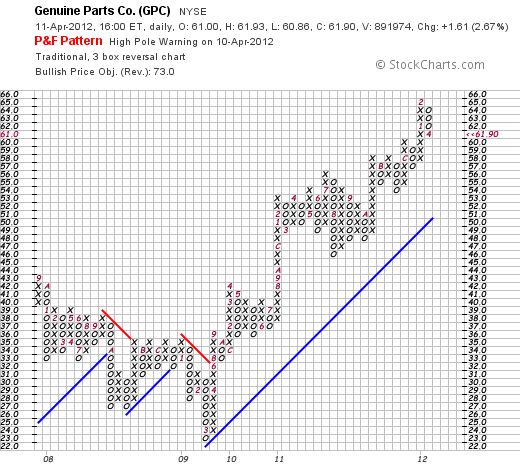 AUTOZONE
: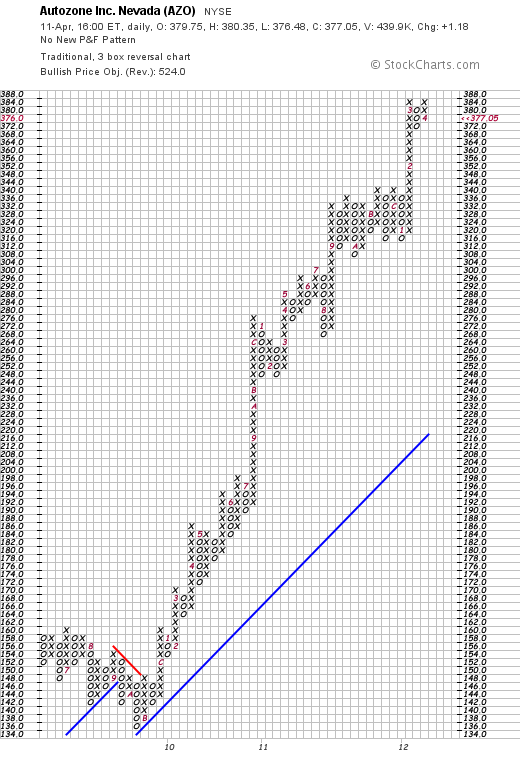 O'REILLY
:
ADVANCE AUTO PARTS
: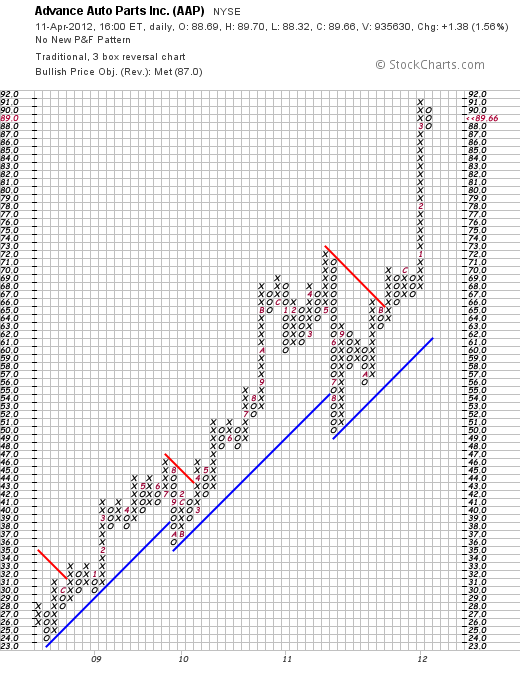 OK maybe I am reading these charts wrong, but for me GENUINE PARTS wins this competition. ALL of the charts look terrific, but the others appear a bit over-extended. What's your take?
It's now 4:45 and I need to wrap this entry up and get down to Java Vino where I will likely have my full order of Lox and Cream Cheese on an everything bagel holding the onions. OK forget the food. What's the conclusion?
I shall be reporting back to my stock club that Genuine Parts (GPC) is my choice with the best value, and most reasonable stock chart. Autozone (AZO) wins on the latest quarter report, and O'Reilly best on fundamentals. Heck they all look terrific. If I could, I would buy a 'basket' of all four.
Looks like I made it. Now 4:50 and club starts at 5:30. I have time to finish up my coffee at Starbucks (SBUX) and publish this blog entry.

Thanks so much for stopping by and visiting with me as I get ready for my Stock Club.
Yours in investing,
Bob
-------------
P.S. I got to my club by 5:25 (Central Time of course) and found we had a little cash in the till. My club dipped their toes into the water and purchased 10 shares of Genuine Parts to start us out.
Here is a picture of the guys: Michael, yours truly, Rick, Steve, and Jerry. Great friends and fellow investors who aren't quite sure why the world would care about seeing them or I suppose reading about them in my blog. I don't know why either. But it is part of my world and that's what blogging is about.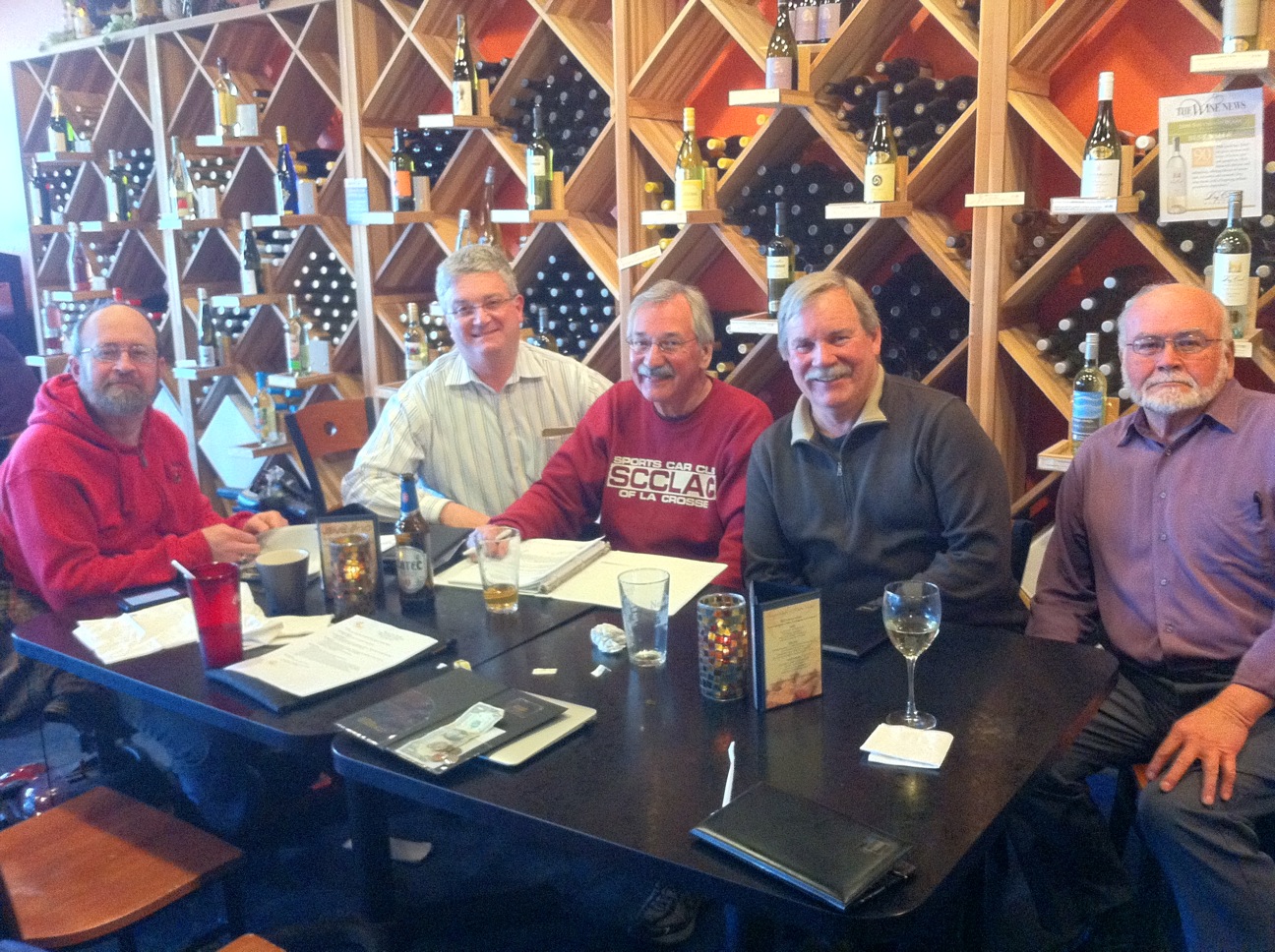 I asked if they wanted to wait while I got this posted but they are off now back to their real world where I shall be rejoining in a sec. Have a great week my friends!
Posted by bobsadviceforstocks at 4:19 PM CDT |
Post Comment
|
Permalink
Updated: Wednesday, 11 April 2012 7:20 PM CDT