Valeant Pharmaceuticals International, Inc. (VRX)
Hello Friends! Thanks so much for stopping by and visiting my blog, Stock Picks Bob's Advice! As always, please remember that I am an amateur investor, so please consult with your professional investment advisers prior to making any investment decisions based on information on this website.
Valeant Pharmaceuticals (VRX) is a holding of mine in the Covestor "Sustained Momentum" model. In fact, it is the strongest performing stock withing that eleven stock model. On December 27, 2011, I purchased shares of Valeant (VRX) at a cost of $46.93/share in this account. VRX closed at $73.97/share, up $1.11 or 1.52% on the day on March 22, 2013.
My "Sustained Momentum" Model is based on my Marketocracy "RMF Fund" that is a simulated fund that I have been 'managing' since 2004. Valeant is the number one holding in that simulation having appreciated 135.16% since being included in that stock market game model. I have literally used my stock market simulation portfolio to build a real portfolio on Covestor. I currently am populating my "Sustained Momentum" model on Covestor with the top eleven of my Marketocracy holdings.
Let's take a closer look at Valeant (VRX) which has led the Sustained Momentum Model to a strong performance since inception.
According to the Yahoo "Profile" on Valeant (VRX), the company
"...develops, manufactures, and markets pharmaceutical products and medical devices in the areas of neurology, dermatology, and branded generics. It offers dermatology products, such as Zovirax Ointment, Xerese, Retin-A Micro, Elidel, Carac, Acanya gel, Sculptra and Sculptra Aesthetic, Atralin, Solodyn, Zyclara, Ziana, Vanos, Restylane family of products, and Dysport; over-the-counter (OTC) products, including CeraVe and AcneFree; dentistry products, such as Arestin and Teeth Whitening System; ophthalmology products, including Timoptic, Timoptic, Macugen, and Visudyne; and neurology and other products, such as Wellbutrin XL and Xenazine in the United States. The company also provides pharmaceutical products, including Tiazac XC, Wellbutrin XL, Zovirax, Benzaclin, and Penlac; and Cold-FX, an OTC product in Canada, as well as Duromine/Metermine, Difflam, Duro-Tuss, and Rikodeine in Australia. In addition, it offers a range of treatments, including antibiotics, treatments for cardiovascular and neurological diseases, dermatological products, and diabetic therapies, as well as a range of various OTC products in Europe; and products for a range of therapeutic classes, including vitamin deficiency, antibacterials, and dermatology in Mexico and Brazil. Further, the company provides Duromine, Andolex, and Pholtex products in South Africa; and Difflam, Duro-Tuss, Tambocor, and Norgesic in Asia."
The history of Valeant (VRX) dates back to the 1990's when its forerunner company ICN Pharmaceuticals was in business, founded by Milan Panic. In 2002 ICN changed its name to Valeant Pharmaceuticas (VRX). Since that time Valeant has acquired other pharmaceutical companies including Tecnofarma in 2009, Aton Pharma in 2010, Vital Science Corp. in 2010, and Instituto Branded Generics in Brazil in 2010. Other acquisitions included iNova, Dermik, Sanitas Group, Dermik, and PharmaSwiss S.A. in 2011, Medicis Pharma, OraPharma, Pedinol, Natur Produkt in Russia, and Probiotica in Brazil in 2012. More recently, on March 21, 2013, Zacks reported on Valeant's acquisition of Obagi Medical Products, Inc. (OMPI) for $19.75/share. The Obagi acquisition should be accretive to earnings according to Valeant, and adds to the company's dermatologic products.
Valeant reported fourth quarter 2012 results on March 1, 2013. According to Zacks, the $1.21/share reported came in shy of estimates of $1.25/share but still represented a very strong growth from the $.90/share reported the prior year same period. Revenue for the quarter came in at $986 million, up 43% from the prior year. This was due to 'higher product sales' and beat the Zacks estimate of $959 million. For the full year of 2012, revenues came in at $3.55 billion, up 44% from the prior year and beat consensus estimates of $3.51 million. Earnings for the year of $4.42/share were shy of the Zacks Consensus Estimate of $4.47 but still were 61.9% (!) higher than the prior year.
Valeant reaffirmed strong sales guidance of $4.4 to $4.8 billion in revenue for 2013 representing a 30% increase and earnings per share are projected to come in between $5.45 to $5.75/share.
Reviewing the Morningstar.com "5 Years Financials" on Valeant (VRX), we can see that revenue has grown strongly with $757 million reported in 2008, increasing to $3.55 billion by 2012. Diluted earnings per share have actually dipped from $1.25/share reported in 2008 to a loss of $(.38)/share in 2012. Diluted shares have grown from 160 million in 2008 to a peak of 326 million in 2011 before dipping slightly to 305 million in 2012.
The Morningstar site reports that VRX has $2.78 billion in current assets as of the close of 2012, with $1.8 billion of current liabilities generating a current ratio statistic of 1.5 still quite healthy from my perspective. The company has improved its free cash flow from $182 million in 2008 to $475 million in 2012.
In terms of valuation, looking at the Yahoo "Key Statistics" on Valeant, we can see that this company is a large cap stock with a market capitalization of $22.6 billion. With losses reported there is no P/E or PEG to analyze. There are currently 305.76 million shares outstanding and 268.51 million that float. There are 6.52 shares out short as of 2/28/13, representing a short interest ratio of 5.9 days. (This is significant from my perspective as I arbitrarily use 3 days as a cut-off.) No dividends are paid and the last stock split was in October, 2000.
Probably one of the most impressive parts of this particular investment is the price chart of this stock! Looking at the 'point & figure' chart on Valeant (VRX) from StockCharts.com, we can see the price climbing sharply from a low of $13.50 in June, 2010, to a high of $56 in July, 2011, before3 slipping back to consolidate in the $35 range in October, 2011, before once again starting to climb to its current level of $73.97. If anything the price appears technically a bit over-extended but still a very strong chart from my amateur perspective.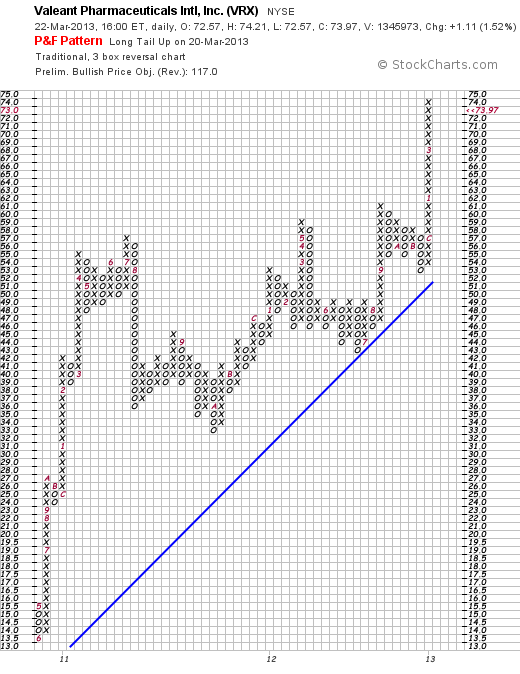 To summarize, Valeant (VRX) has been assembled over the past 10-15 years from a variety of pharmaceutical companies including the former ICN Pharma and Biovail corporations. Management has done what appears to be a superb job of fitting these pieces together and they have grown revenue and earnings (at least adjusted earnings) at an impressive pace. They do not appear to be done adding the pieces to this puzzle but the picture they have been creating has been a good one, at least thus far, for this investor!
Thank you very much for stopping by and visiting my blog! If you have any questions or comments please feel free to leave them here on this website.
Yours in investing,
Bob