McKesson (MCK)
Hello Friends! Thanks so much for stopping by and visiting my blog, Stock Picks Bob's Advice! As always, please remember that I am an amateur investor, so please remember that I am an amateur investor, so please remember to consult with your professional investment advisers prior to making any investment decisions based on information on this website.
I wanted to share with you what I call a 'swap' in my Covestor Healthcare Model last week. Centene (CNC) shares swooned last week after they lost a contract for the Ohio Department of Job and Family Services. I sold my shares at $43.49 and the stock already has bounced back to a slightly higher level!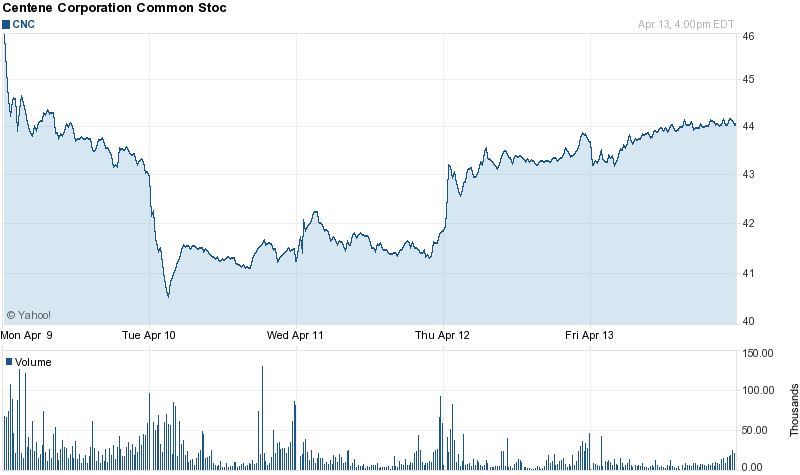 I cannot deny that I have a little seller's remorse, but I have also noticed that stocks after a sharp decline often have a bounce higher, but way once again move lower into the future.

Anyhow, I picked up some shares of McKesson (MCK) with the proceeds. One of the first times I reviewed McKesson was back on January 1, 2004, literally over 8 years ago right here on this blog! (The years have really flown by here!)
At that time the stock was trading at $32.16. MCK closed at $90.48 on 4/13/12, so the stock really has done very well since that post.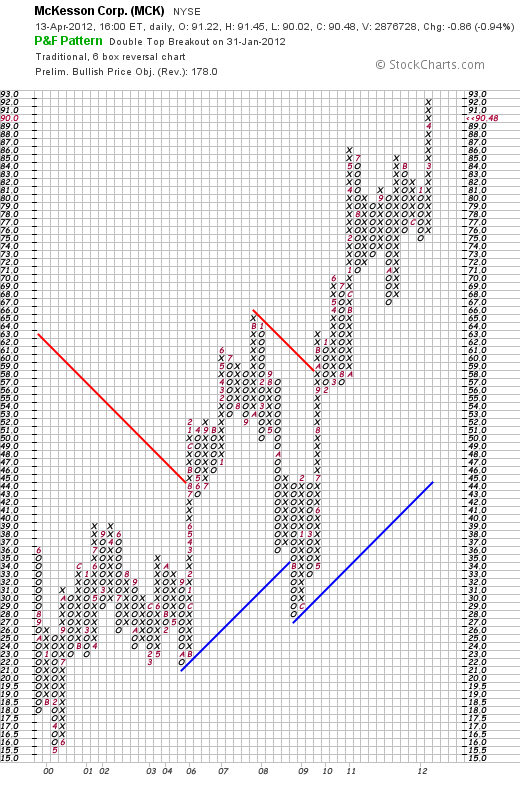 Let's take a closer look at MCK and let's see if it is still was wise to pick up shares now that the stock has nearly tripled in price since I first visited it!
According to the Yahoo "Profile" on McKesson, the company
"...delivers medicines, pharmaceutical supplies, information, and care management products and services for the healthcare industry."
Unlike Centene (CNC) which suffered from a loss of a contract, McKesson (MCK) has been strong recently due to a continuance of a contract with the Department of Veteran affairs (VA).
In terms of its latest quarter, McKesson reported their 3rd fiscal quarter (ended December 31, 2011) on January 30, 2012. As Motley Fool pointed out on January 31, 2012, they had strong results with revenue growth of 9.2% coming in at $30.84 billion ahead of last year's $28.20 billion and exceeding analysts' expectations of $30.19 billion.
The company reported earnings of $1.40 ahead of estimates of $1.38 on same basis. GAAP earnings of $1.20 were 100% higher than the prior year's $.60/share result.
In terms of longer-term results, reviewing the Morningstar.com "Financials" on McKesson, we can see that revenue has steadily grown from $93.0 billion in 2007 to $112.1 billion in 2011 and $119.9 billion in the trailing twelve months (TTM). Earnings have grown but somewhat less consistently from $2.99/share in 2007 to $4.57 in 2011 and $5.13/share in the TTM.
The company has been retiring shares through buybacks with 305 million shares outstanding in 2007, 263 million shares in 2011 and 254 million in the TTM. The company announced another $650 million in stock repurchases on January 31, 2012.
Morningstar reports McKesson with $22.4 billion in current assets and $18.7 billion in current liabilities for a current ratio of 1.20. The company has also grown its free cash flow which has increased from $1.2 billion in 2007 to $2.0 billion in 2011 and $2.3 billion in the trailing twelve months.
Examining the valuation of the stock, we can see from the Yahoo "Key Statistics" page, that McKesson is a large cap stock with a market capitalization of $22.27 billion.
The trailing P/E is reported at 17.64 with a forward P/E of 12.57. With solid growth expected the PEG Ratio (5 yr expected ) works out to a very reasonable 0.95 indicating reasonable valuation.
Yahoo reports 246.10 million shares outstanding with 245.30 million that float. As of March 30, 2012, there were 1.88 million shares out short with a very modest short interest ratio of 1.00 (well below my own arbitrary 3 day rule for significance).
McKesson pays a modest dividend with a forward dividend yield of 0.90%. The company last split its stock in January, 1998, when it declared a 2:1 stock split.
McKesson is a solid stock for my portfolio and belongs in this blog. Summarizing a few findings here, the stock recently reported a renewal of a very significant pharmaceutical contract with the Veterans Administration, the latest quarterly report was strong with growth in revenue and earnings that both exceeded expectations. Technically the stock has a strong chart going back for at least eight years. They have steadily grown their revenue, earnings (not quite as steady), and grown their free cash flow the past five years. Meanwhile they have bought back shares reducing the float and increasing shareholder value while maintaining a dividend and a strong balance sheet. The stock is modestly priced and considering estimated growth, the PEG is under 1.0 which is not a common finding in the stocks that I review on this blog.
My hand isn't as steady when bad news derails one or more of my holdings. I am relatively quick to sell on this news and even though Centene (CNC) may turn out to be a terrific stock long term, it appears that McKesson (MCK) is also a good choice. I shall be keeping Centene on my 'watch list' and may well revisit this holding in the future!
Thanks again for visiting here. If you have any comments or questions, please feel free to leave them right here.
Yours in investing,
Bob