December 8, 2004 Cogent Systems (COGT)
Hello Friends! Thanks so much for stopping by and visiting my blog,
Stock Picks Bob's Advice
. As always, please remember that I am an amateur investor, so please consult with your professional, Certified Investment Advisors, to make sure that all of your investment decisions are appropriate, timely, and likely to be profitable for you!
Looking through the
list of top % gainers on the NASDAQ
today, I came across Cogent Systems (COGT), which as I write is trading at $35.027, up $2.847 on the day or 8.85%. I do not own any shares of Cogent nor do I have any other leveraged related positions in this issue.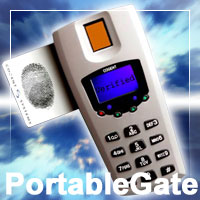 According to the
Yahoo "Profile" on COGT
, Cogent "...is a provider of automated fingerprint identification systems (AFIS) and other fingerprint biometrics solutions to governments, law enforcement agencies and other organizations worldwide."
On November 1, 2004, COGT
reported 3rd quarter 2004 results
. For the quarter ended September 30, 2004, revenues came in at $23.4 million, up 37% SEQUENTIALLY from the prior quarter which had $17.1 million in revenue. This was up over 1,500% from the $1.3 million in revenue reported in the same quarter in 2003. Net income on a GAAP basis, came in at $19.8 million or $.28/diluted share compared to net income of $7.2 million or $.10/diluted share the PRIOR quarter! The prior year same quarter showed a loss of $(973,000) or $(.02)/diluted share. This is a very new publicly traded company, having come public during this third quarter. It apparently is in the sweet spot of the security world and provides a product that is in high demand in our age of heightened security awareness and identification needs.
How about longer-term? If we look at a
"5-Yr Restated" financials
on Morningstar.com, we can see that revenue was stagnant between 1999 at $16 million, dropping to $13 million in 2001, then increasing steadily since then to $55 million in the trailing twelve months (TTM).
Morningstar does not show any earnings, but the latest report as noted above shows rapid earnings growth.
Free cash flow has also turned decidedly positive with $3 million reported in 2001, dropping to $2 million in 2002, then climbing to $19 million in 2003 with $27 million reported in the trailing twelve months.
If we look at the Morningstar.com balance sheet as presented on the same page we can see that the company is plenty solvent with $22.5 million in cash and $24.7 million in other current assets. That is enough to easily cover both the $14.2 million in current liabilities and the $13.4 million in long-term liabilities combined.
How about valuation? This picture isn't quite as pretty. This company has a market cap of $2.82 billion, making it almost a large cap company. The trailing p/e is rich at 63.92, the forward p/e isn't much better per Yahoo at 67.12 (fye 31-Dec-05), and the PEG is at 2.78. In spite of all of this pricey valuation, this company is growing SO FAST, I mean earnings up 1,500% year over year....and revenue up 37% sequentially....that I probably wouldn't be frightened away from this one...but this isn't any kind of "Filene's Bargain Basement" kind of stock!
Yahoo reports 80.79 million shares outstanding with 19.00 million of them that float. Of these 327,000 shares are out short as of 11/8/04, representing 1.72% of the float or only .372 trading days of volume, so that isn't much! No cash dividend nor any stock dividends are reported on Yahoo.
How about "technicals". Looking at a
Point and Figure Chart from Stockcharts.com
: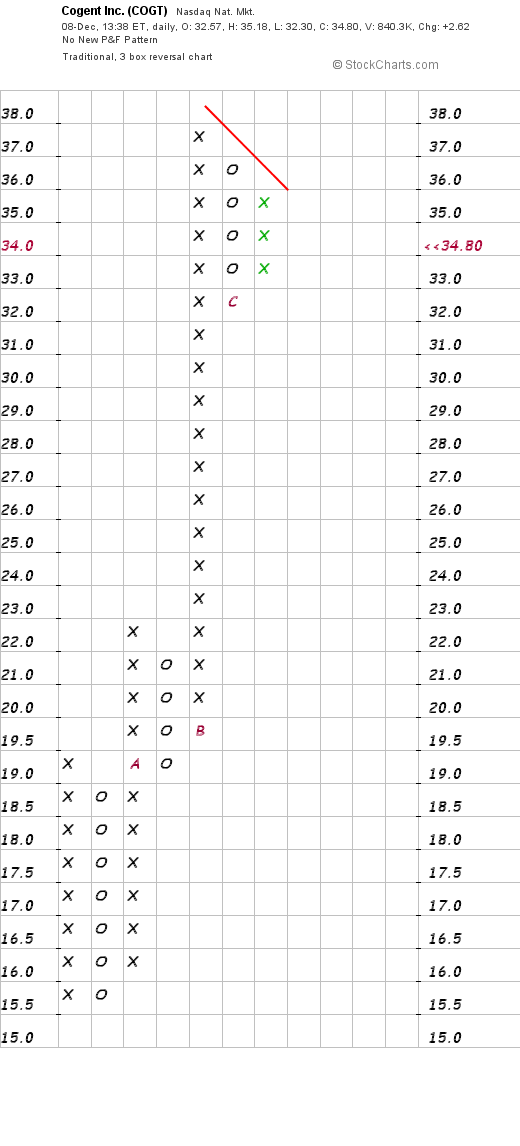 we see a very limited chart in duration, but wow, look at this stock go!

So what do I think? Well this is a very interesting stock. It reminds me a little bit of Ceradyne (CRDN) which I have reviewed on this blog elsewhere. The business, fingerprint identification, is about as timely as any business I have looked out. This company has a product, is profitable, is generating free cash flow, and has a nice balance sheet. On top of this, they have unbelievable earnings and revenue growth the last couple of quarters. In addition, their chart shows amazing strength. I suspect that the security issues propelling this stock ahead will not just disappear and we may see a lot of growth in this business in the future! Of course, we don't know if other technology will prove better or if other companies will offer competing products...but for the moment, well if I had some money to invest, I probably would be buying some shares!

Thanks so much for stopping by. If you have any questions, comments, or words of encouragement, please feel free to email me at bobsadvicefostocks@lycos.com .

Bob