Fossil (FOSL) "Revisiting a Stock Pick"
Hello Friends! Thanks so much for stopping by and visiting my blog, Stock Picks Bob's Advice! As always, please remember that I am an amateur investor, so please remember to consult with your professional investment advisers prior to making any investment decisions based on information on this website.
What a difference a day makes! After four days of a steadily deteriorating Dow, it was nice to see the indices move higher today on what appeared to be a little better earnings than expected from Wal-Mart! Not that I own any shares of Wal-Mart at this time, although my kids each own about 5 shares from their grandparents. I also should have known that once I wrote about 'what to do in a declining market' it would be close to the end of at least that leg of the correction. Let's see what tomorrow brings!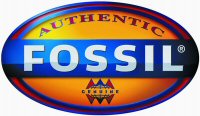 I had a little time this evening and wanted to see if I could find something to discuss on the blog. Looking through the list of top % gainers on the NASDAQ today, I saw that Fossil (FOSL) had made the list. I do not own any shares of FOSL nor do I have any options on this stock. Fossil closed at $39.79, up $5.89 or 17.37% on the day.
FOSSIL (FOSL) IS RATED A BUY
I call this entry a 'revisit' because Fossil is what I like to call an 'old favorite' of mine on this blog. I first wrote up Fossil on November 11, 2003, about six months after I started writing on this website when the stock was trading at $28.42. The stock split only once since that write-up, splitting 3:2 on April 12, 2004, giving me an effective 'pick price' of only $18.95. With FOSL closing at $39.79, this means a stock price appreciation of $20.84 or 110% since posting.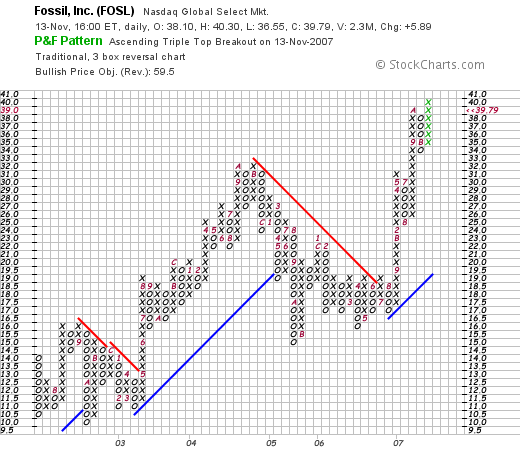 What exactly does this company do?
According to the Yahoo "Profile" on Fossil (FOSL), the company
"...engages in the design, development, marketing, and distribution of fashion accessories, including apparel, belts, handbags, jewelry, small leather goods, sunglasses, and watches under proprietary and licensed brand names worldwide. The company offers a line of fashion watches under its proprietary brands, such as FOSSIL, MICHELE, RELIC, and ZODIAC; and pursuant to license agreements, under some prestigious brands, such as ADIDAS, BURBERRY, DIESEL, DKNY, EMPORIO ARMANI, MARC BY MARC JACOBS, and MICHAEL Michael Kors."
How did they do in the latest quarter?
As is often the case on this blog, it was the annoncement of earnings that drove the stock higher in trading today. In fact, the company reported 3rd quarter 2007 results today. Net sales for the quarter came in at $358.6 million, up 19.6% from $299.7 million in the same quarter last year. Net income soared 41.4% to $30.5 million, compared to net income last year of $21.5 million. Diluted eps grew 38.7% to $.43/share from $.31/share last year.

The company beat expectations for both earnings and revenue. Earnings were expected according to analysts polled by Thomson Financial to come in at $.43/share on revenue of $343 million. In addition the company raised guidance for 2007 to $1.67/share--analysts are currently expecting profit of $1.58/share.
How about longer-term results?
Reviewing the Morningstar.com "5-Yr Restated" financials on Fossil, we can see the steady picture of revenue growth from $663 million in 2002 to $1.2 billion in 2006 and $1.3 billion in the TTM. Earnings/share have also steadily improved from $.80/share in 2002 to $1.10/share in 2006 and $1.40/share in the trailing twelve months (TTM). Interestingly, the outstanding shares which were 69 millon in 2002, are actually at 67 million in the latest twelve months.

Adding to this share reduction was the announcement today that the company planned to buy back up to 2 million additional shares.

Free cash flow, which did dip from $53 million to a negative $(19) million between 2004 and 2005, improved to $98 million in 2006 and a stronger $138 million in the TTM.

The balance sheet appears solid with $170 million in cash and $467 million in other current assets. This total of $637 million, when compared to the $204.6 million of current liabilities yields a current ratio of over 3. In addition, the company has a very nominal level of long-term liabilities reported by Morningstar to be at $60.8 million.
What about some valuation numbers?
Reviewing Yahoo "Key Statistics" on Fossil, we find that the company is a mid-cap stock with a market capitalization of $2.71 billion. The trailing p/e is a moderate 28.61 with a forward p/e of 19.99. The PEG is a very reasonable (imho) level of 1.12.

Looking at the Fidelity.com eresearch website, we find that the Price/Sales (TTM) for FOSL comes in at a nice 1.77, compared to the industry average of 2.64. In terms of Return on Equity (TTM), the company doesn't come in quite as nice compared to other companies in the same industry with a figure of 15.78% vs. the industry average of 23.71%.

Finishing up with Yahoo, there are 68.14 million shares outstanding with 41.55 million that float. Currently there are 4.16 million shares out short as of 10/10/07, giving a short ratio of 8.4 trading days of average volume. Using my own idiosyncratic '3 day rule' this does appear to be a significant short interest and may well have contributed to the sharp run-up today in the face of good news that exceeded expectations.

No dividends are reported, and as I noted above, the stock last split 4/12/04 with a 3:2 stock split.
Summary: What do I think?
Well, I liked this stock back in 2003, and I still like it in 2007! I just haven't had the opportunity to buy shares :(. I see so many stocks I like and there are only a few that I can buy.

They reported great earnings, beat expectations, raised guidance, and announced a share buy-back! In addition, they have been steadily growing their company over the past five years while actually decreasing the outstanding shares. The stock chart looks strong, the balance sheet is pristine, and they even have a 'Peter Lynch' appeal, with a product that is well known and visible in malls across the country.
Thanks again for stopping by and visiting my blog! If you have any comments or questions, please feel free to leave them on the blog or email me at bobsadviceforstocks@lycos.com. Be sure to try and visit my podcast site, my Covestor page and my SocialPicks page! Each serve different purposes and you might enjoy listening to me discuss some of these same stocks, reading about how my actual trading account is doing (Covestor) and review an analysis of my stock picks this past year (SocialPicks).
Regards to all of my friends and readers!
Bob
Posted by bobsadviceforstocks at 6:26 PM CST |
Post Comment
|
Permalink
Updated: Tuesday, 13 November 2007 9:46 PM CST