PetSmart (PETM) "Trading Transparency"
Hello Friends! Thanks so much for stopping by and visiting my blog, Stock Picks Bob's Advice! As always, please remember that I am an amateur investor, so please remember to consult with your professional investment advisers prior to making any investment decisions based on information on this website.

PetSmart (PETM) is currently one of my six holdings in my 'trading portfolio'. Up till today I owned 90 shares of PetSmart that I purchased back on November 20, 2008, at a cost basis of $15.50. PETM closed at $20.35 today, down $(1.95) or (8.74)% so I still have a significant gain on this particular purchase.
Yesterday (5/20/09) after the close of trading PetSmart (PETM) announced 1st quarter 2009 results. For the quarter ended May 3, 2009, the company earned $46.3 million or $.37/share on revenue of $1.33 billion, up from $41.2 million or $.32/share last year. According to this report, Thomson Reuters analysts had been expecting a profit of $.30/share on revenue of $1.35 billion.
Thus the company actually exceeded earnings estimates but did in fact miss revenue expectations by a small amount. Same-store sales did increase 3.9% during the quarter.
PetSmart also went ahead and estimated profit of $.26 to $.30/share for the next quarter and raised full-year profit estimates to $1.42 to $1.52/share from prior guidance of $1.40 to $1.50/share. The company guided expectations on revenue growth to the 'mid- to high-single digit sales'. They also suggested that same-store sales growth is likely to continue albeit in the low-single digits.
Thus the company announced positive earnings growth both absolutely as well as positive same-store sales growth, beat expectations on earnings, came in a little bit light on revenue and then raised guidance for the year on earnings. Really not too shabby a result from my amateur perspective.
And yet for this the stock was punished severely.
To be fair, an amateur is no match for a Goldman Sachs analyst who downgraded the retailer "despite its better-than-expected earnings in the first quarter."
As this article reported:
"Goldman analyst Matthew Fassler said the Phoenix-based company has "executed well," with strong sales and earnings compared to the rest of the retail sector and well-controlled costs. Its stock has outperformed the broader S&P 500 index in the past year, falling 3 percent instead of the 36 percent decline in the benchmark.

However, the company has little to drive its shares higher, given that recent same-store sales increases have been driven by food inflation and promotions, which don't add to profit margins. As inflation drops and foot traffic trends slowed in spring, he said, there's not much room for more growth in same-store sales."
The reaction seemed a bit severe.
If we review the 'point & figure' chart for PetSmart from StockCharts.com: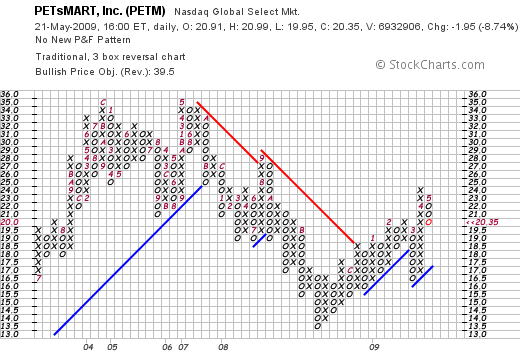 We can certainly see that the stock has been fairly strong since November, 2008, when it bottomed at $13.50 and has been moving higher through resistance at $18.00. But the upward trend appears intact for now.
Simply looking at the Yahoo "Key Statistics" on PetSmart (PETM), we can see that the trailing p/e is a reasonable 13.39 imho, with a forward p/e of 12.72. The PEG is far from overpriced at 1.24.
To make a long story short, the move appeared overdone as investors were likely selling on the good news, a move that was accentuated by the GS analyst who couldn't find anything good about the earnings report which in an unusual fashion reported actual earnings that exceeded expectations and had the management actually raising guidance.
As I recently did with my Haemonetics (HAE) stock, I chose to buy when others were selling. Instead of joining the selling panic, I purchased 180 shares of PETM at $20.3676, close to its close for the day. This is outside of my usual trading pattern and whether or not this 'works' I expect that this now 'over-sized' position will be reduced to essentially the original holding size for the long-haul.
Thanks again for stopping by! If you have any comments or questions, please feel free to leave them on the blog or email me at bobsadviceforstocks@lycos.com.
Yours in investing,
Bob