Cisco (CSCO)
Hello Friends! Thanks so much for stopping by and visiting my blog, Stock Picks Bob's Advice! As always, please remember that I am an amateur investor, so please remember to consult your professional investment advisers prior to making any investment decisions based on information on this website.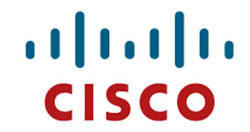 There are few companies with a record of growth in both revenue, earning, and stock price to match Cisco (CSCO). From the Cisco website I have included a chart of the revenue growth for this company that is just a year or two over 25. The history of this company is just as intriguing as the usual garage start-up story that is the story of Apple (AAPL) and other silicon valley companies.
I do not own any shares of Cisco (CSCO). The stock closed at $21.42 on 1/26/11, down $.12 or (-.56%) on the day.
As the story goes:
"Cisco was founded on December 10, 1984 by husband and wife Len Bosack and Sandy Lerner, two former Stanford University computer scientists whose efforts to enable email between computers on different networks led to the invention of the first multiprotocol router. This seminal breakthrough played a major role in fueling the growth of the Internet."
This company generated an incredible record of revenue growth: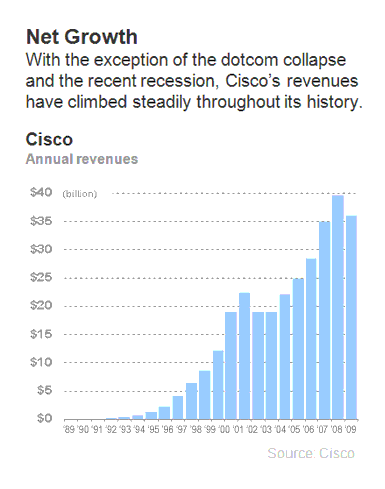 And yet, the stock price has lagged the growth in revenue. If we look at a ten-year chart of Cisco (CSCO) from Fidelity.com, we can see that Cisco has gone absolutely nowhere during this period of continued growth.
Is it possible then that with this absence of price appreciation while the company continued to grow is business, that this company might just possibly be a terrific value for an investor? Or will this stock instead be stuck in another ten year period of no price appreciation?
Let's briefly take a look at this stock, this company, and see whether it might be a stock we should be adding to our own porfolios.
According to the Yahoo "Profile" on Cisco (CSCO), the company
"...designs, manufactures, and sells Internet protocol (IP)-based networking and other products related to the communications and information technology industry worldwide. It offers routers that interconnect public and private IP networks for mobile, data, voice, and video applications; switching products, which offer connectivity to end users, workstations, IP phones, access points, and servers; application networking services; and home networking products, such as adapters, gateways, modems, and home network management software products. The company also provides security products comprising span firewall, intrusion prevention, remote access, virtual private network, unified client, Web, and email security products; storage area networking products that deliver connectivity between servers and storage systems; unified communication products to integrate voice, video, data, and mobile applications on fixed and mobile networks; video systems, including digital set-top boxes and digital media products; and wireless systems."
Clearly Cisco, through its internal growth and many acquisitons does a lot of high-tech 'stuff'.
In the latest quarter, CSCO reported 1st quarter 2011 results on November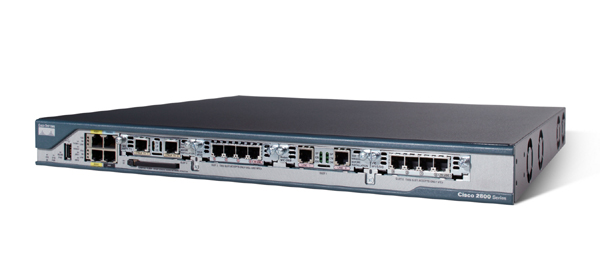 10, 2010. Revenue for the quarter came in at $10.75 billion, up 19% above the forecast of $10.74 billion. Earnings came in at $.42/share (after unusual items), beating expectations of $.40/share the analysts expected. All in all it wasn't a bad report except that there was some uncertainty about the economy and that new orders were below company expectations. The stock didn't bounce on the news of the earnings exceeding expectations, but dipped again on the guarded outlook.
Looking longer term at the Morningstar.com "5 Yr Financials", we can see that the company has grown even while the stock price stagnated with revenue of $28.5 billion in 2006, increasing to $40 billion in 2010 and $41.8 billion in the trailing twelve months (TTM). Diluted earnings per share came in at $.89/share in 2006, increasing to $1.33/share in 2010 and $1.36 in the TTM. During the same period, CSCO has been buying back shares with 6.3 billion in 2006, reducing this number to 5.85 billion in 2010 and 5.80 billion in the TTM.
In terms of the balance sheet, Morningstar shows Cisco with $51.4 billion in current assets as of 7/10, and $19.2 billion in total current liabilities. Indeed total liabilities, including both current and long-term liabilities, totaled $36.8 billion suggesting Cisco (CSCO) was financially fit, easily covering ALL of its liabilities with just the current liabilities.
Free cash flow has been solid with $7.1 billion reported in 2006 increasing up to $9.18 billion in the TTM.
Valuation-wise, looking at "Key Statistics" on Cisco (CSCO) from Yahoo, we can see that this is a large cap stock with a market capitalization of $118.73 billion. The trailing p/e is 15.64 and the forward p/e (fye Jul 31, 2012) is 11.70. Thus, the PEG ratio is a very inexpensive 1.09. Yahoo reports 5.54 billion shares outstanding with the same number of shares that float. As of 12/31/10 there were 41.16 million shares out short representing 0.6 days of trading volume (well below my own arbitrary 3 day rule). There are no dividends paid, and the last stock split was over 10 years ago, a 2:1 split on March 23, 2000. It should be noted that Cisco (CSCO) while currently not paying a dividend, intends to start paying one in 2011.
As I indicated above, CSCO has gone relatively nowhere in terms of its stock price for the past ten years. Looking at a recent 'point & figure' chart on Cisco from StockCharts.com, we can see that for at least the past 6 years, we have seen what could best be described as a sine wave pattern in stock price.
From all of this, we can see that certainly Cisco (CSCO) as a stock has good value with a p/e in the low teens and a PEG just above 1.0. The company has been growing its revenue, its earnings, but its stock price has been lagging. As our economy recovers and interest in networking and cloud computing grows, it appears that we may be early in Cisco (CSCO) as an investment and with valuation where it is, it appears to be in a good position to appreciate in price.
Thank you again for stopping by and visiting my blog! If you have any questions or comments please leave them right here on this website or email me at bobsadviceforstocks@lycos.com.
Yours in investing,
Bob