MWI Veterinary Supply, Inc. (MWIV)
Hello Friends! Thanks so much for stopping by and visiting my blog, Stock Picks Bob's Advice! As always, please remember that I am an amateur investor, so please remember to consult with your professional investment advisers prior to making any investment decision based on information on this website.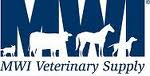 As I have discussed previously, I have had the good fortune to be recruited by Covestor to participate in their activities as a 'model' portfolio. In fact a year-and-a-half ago, I set up my "Buy and Hold" model with a mix of investments. This year I set up a new model called "Healthcare" with an emphasis on health-related stocks. If you are interested in Covestor, I would certainly encourage you to visit the site and learn about 'mirroring accounts'. USA Today recently ran an article about social media and investing that you might find interesting.
I mention all of this because in my own search for new names and ideas for my healthcare model I came across MWI Veterinary Supply and purchased shares for my Healthcare Model. Thus, I am a holder of this stock but I would like to share with you some of the things I like and some of my own questions about this investment. I purchased MWIV shares on 12/16/10 at a price of $61.08. MWIV closed at $62.99 on 12/17/10, up $1.70 or 2.77% on the day.
MWIV was recently reviewed by Zacks.com with a positive comment. Motley Fool has also commented on this stock earlier this year. In light of these comments and my own examination of the stock, I decided to pick up shares last week. Let's take a closer look at this company.
According to the Yahoo "Profile" on MWI Veterinary Supply (MWIV), the company
"...distributes animal health products to veterinarians in the United States. The company primarily offers pharmaceuticals, vaccines, parasiticides, diagnostics, capital equipment, supplies, specialty products, veterinary pet food, and nutritional products. Its pharmaceutical products include anesthetics, analgesics, antibiotics, ophthalmics, and hormones; and vaccine products comprise small animal, equine, and production animal biologicals."
On November 4, 2010, MWIV announced 4th quarter and fiscal year results for the period ended September 30, 2010. Revenues for the quarter came in at $358.9 million, up 45.0% over the prior year period. (The company which has been acquiring other entities broke out the growth as 19.2% organic and 25.8% related to the acquisition of Centaur Services).
Net income for the quarter was $8.8 million, up 34.3% over the same period the prior year. Diluted earnings per share were $.71 compared to $.53 the prior year.
In terms of guidance, the company estimated that in 2011, MWIV will have $1.41 to $1.46 billion in revenue representing a 15-19% growth, and that diluted earnings per share should come in between $3.02 - $3.10/share representing a 12-15% growth rate.
Examining Morningstar.com for longer-term results, we can see that revenues have grown from $606 million in 2006 to $1.2 billion in 2010. Similarly earnings per share have increased steadily from $1.25/share in 2006 to $2.70/share in 2010.
According to Morningstar, free cash flow has improved from a $(11) million level in 2006 to $12 million in 2007 before dipping to $7 million in 2008. Since 2008 free cash flow has improved and has been $12 million in the trailing twelve months (TTM).
Looking at the balance sheet, the company has $376 million in total current assets. Current liabilities stand at $212 million and total liabilities are reported at $221 million as of 9/10. With a current ratio of 1.77, and enough current assets to pay off ALL of the liabilities, the company appears to be in good condition at least based on the information we can glean from Morningstar.
In terms of valuatio, looking at the Yahoo "Key Statistics" on MWIV, we can see that this is a small cap stock with a market capitalization of only $788.41 million. The trailing p/e isn't too bad at 23.35 with a forward p/e (fye Sep 30, 2012) estimated at 18.15. Thus the PEG ratio, which I like to see between 1.0 and 1.5 comes in at 1.21 (5 yr expected). Yahoo reports only 12.45 million shares outstanding with 10.03 million that float. Currently there are 886,400 shares out short yielding a short ratio of 16.60 well over my own arbitrary 3 day rule for significance. (A high short ratio can be a bullish indicator if good news should drive the stock price higher forcing a short 'squeeze').
The company does not pay a dividend and has not split its stock.
Technically, in terms of the price chart, examining the 'point & figure' chart for MWIV from Stockcharts.com, we can see a picture of incredible strength as the stock price marches higher from lower left to upper right. There are few stocks with similar strength.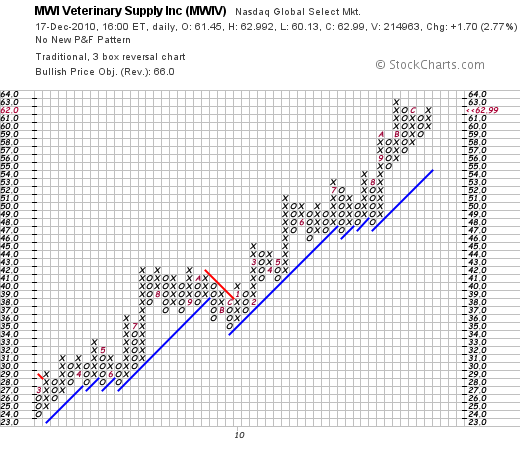 To summarize, MWI Veterinary Supply (MWIV) is a stock that I now own shares in, is involved in the distribution business to veterinarians, has been steadily growing its revenue and earnings for the past five years. In my opinion, it appears to be reasonably priced with a moderate p/e, a PEG under 1.5, and a chart that is quite amazing. It is a small company with lots of room to grow.
This is the kind of stock I like to own and like to write about here on my blog.
Thanks again for stopping by! If you have any comments or questions, please feel free to leave them right here on the blog or email me at bobsadviceforstocks@lycos.com.
Yours in investing,
Bob