International Business Machines (IBM)
Hello Friends! Thanks so much for stopping by and visiting my blog, Stock Picks Bob's Advice! As always, please remember that I am an amateur investor so please remember to consult with your professional investment advisers prior to making any investment decisions based on information on this website.
As I look through the many lists of stocks making the news, it occurred to me that I hadn't looked recently at "Big Blue", International Business Machines (IBM). As I write (10/14/10), IBM is trading at $141.30, up $.88 or .63% on the day. I do not own any shares of IBM.
International Business Machines (IBM) is a company that I have personally been familiar with for many years. Back in 1971 as a high school student I took my first programming classes working with Fortran IV. After high school, my first sumer job was with Petersen Publishing Company in L.A. working as a keypuncher on a keypunching machine typing out endless articles for magazines like Guns & Ammo and Wheels Afield. But that was a long time ago :).
Frankly, as soon as the Macintosh from Apple (AAPL) arrived, I was sold on the quirky alternative from Cupertino. Unfortunately I never bought any of those shares either! Even today, Apple (AAPL) is one of the most 'popular' of investments and its performance has been stellar. But IBM has been a quiet giant of a company and deserves more attention even today.
Let me stop reminiscing for a bit and spend a little time sharing with you my thoughts on IBM.
According to the Yahoo "Profile" on International Business Machines (IBM), the company
"..develops and manufactures information technology (IT) products and services worldwide."
IBM has reinvented itself many times moving further from the 'big box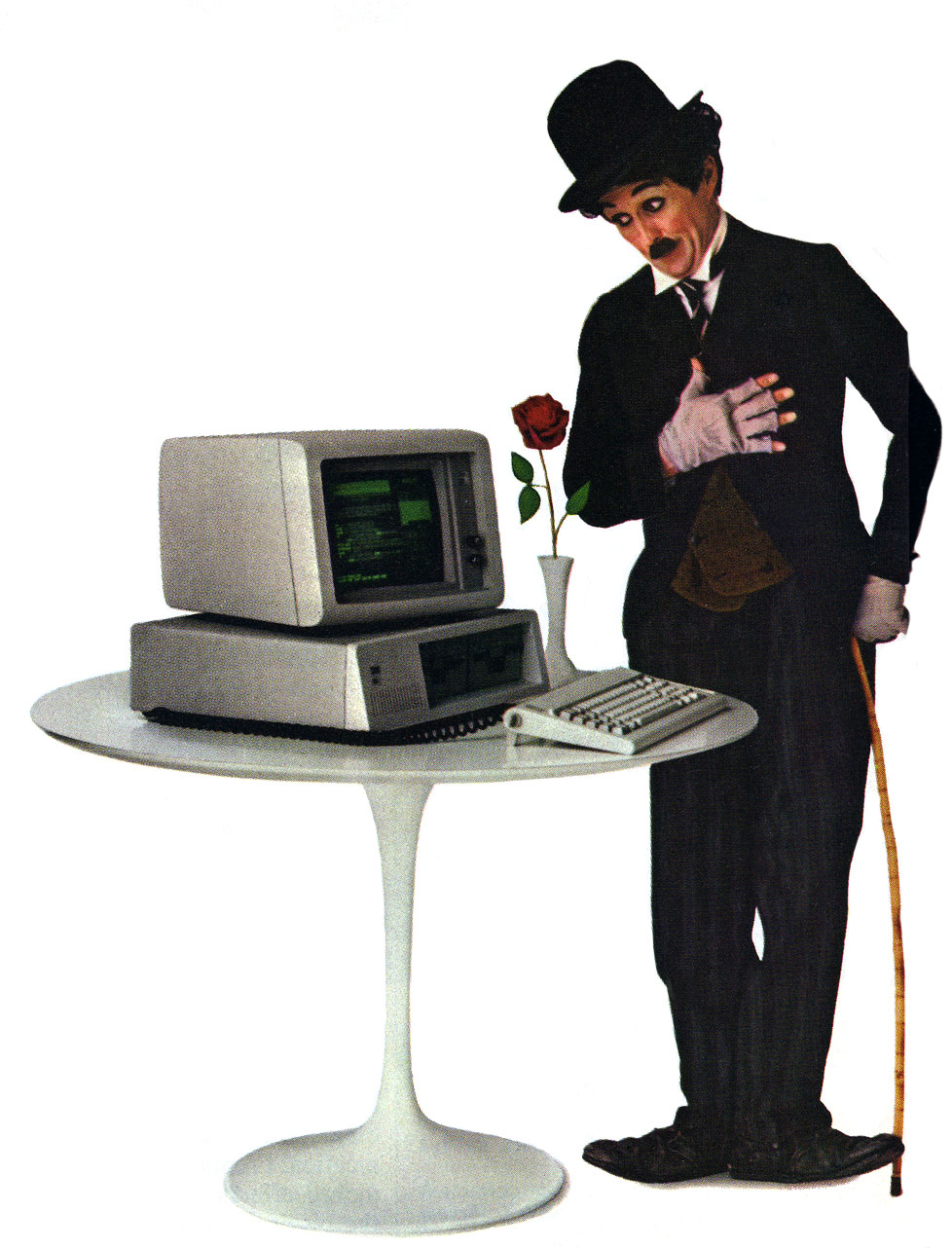 computers' I remember and more into the integration of hardware and software and servicing of these products. This article describes some of the recent developments in this business transformation.
But let's talk about basic stuff like earnings and revenue performance for this major company. IBM is scheduled to release 3rd quarter 2010 results on October 18, 2010. As this article relates, IBM has had a very strong month climbing to an all-time high:
"The shares' moves in recent weeks have had some outside help, in particular positive quarterly results from an IBM competitor, the Accenture PLC consulting firm, and strong commentary about the corporate server buying from Intel Corp., the world's biggest maker of microprocessors."
Current expectations are for net income of $2.75/share on revenue of $24.12 billion per Thomson Reuters analysts. This would " mark the 31st straight quarter in which IBM has posted higher earnings than the year before." Pretty amazing stuff but also driven by cost-cutting and stock repurchases as the article points out.
On July 19, 2010, IBM reported their 2nd quarter 2010 results. Net income for the 2nd quarter came in at $2.61/share ahead of expectations of $2.58/share. Revenue, however, came in a bit light at $23.7 billion behind analysts' view of $24.17 billion for the quarter. Net income for the quarter was $3.4 billion up 9% from the prior year. Even though the company missed revenue expectations that quarter they did raise guidance for 2010 to $11.25/share (but analysts had expected even higher guidance). With expectations doused the stock experienced a short-term price pull back on that news announcement making the current quarter expectations even more significant.
Reviewing the Morningstar.com "Financials" on International Business Machines (IBM), we can see that revenue came in at $91.1 billion in 2005, peaked at $103.6 billion in 2008, before retreating to $95.8 billion in 2009. Even with this dip in revenue, net income has steadily increased from $7.9 billion in 2005 to $13.4 billion in 2009. On a per share basis this was an increase from $4.87/share in 2005 to $10.01/share in 2009. Due to share buy-backs, outstanding shares dipped from 1.6 billion in 2005 to 1.34 billion in 2009.
Free cash flow as reported on Morningstar, dipped from $11.1 billion in 2005 to $9.8 billion in 2006 only to turn around and steadily increase to $17.3 billion in 2010
In terms of valuation, looking at the Yahoo "Key Statistics" on IBM, we see that this is a very large cap stock with a market capitalization of $177 billion. (Mega Cap Stocks have been defined as market capitalization in excess of $200 billion). Yahoo reports them with a trailing p/e of 13.32 and a forward (fye Dec 31 2011) p/e of 11.39. Valuation appears reasonable with a PEG (5 yr expected) of 1.06.
Yahoo reports 1.26 billion shares outstanding with a similar float. As of September 15, 2010, there were 15.84 million shares out short with a short ratio of 3.20 slightly ahead of my own arbitrary 3 day rule for significance. The company pays an annual 'forward' dividend of $2.60 with a forward yield of 1.90%. The payout ratio of 22% suggests that this is well-covered with room for increases. The last stock split was a 2:1 split back in May, 1999.
Quite frankly what drew me to looking at IBM in the first place was the incredible price chart that quietly was moving steadily higher. If we review the 'point & figure' chart on IBM from StockCharts.com, we can see the phenomenal price move from $73 in December, 2008, to its current price at $140 in October, 2010. Almost without even a blink, this stock has charged strongly and quietly higher.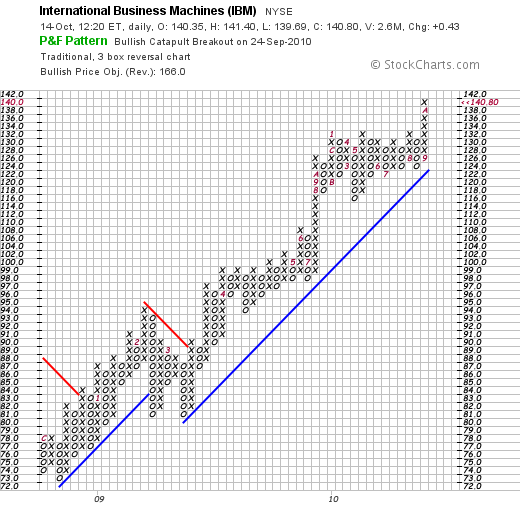 Clearly much has changed at 'big blue' since Louis Gerstner arrived in 1993 from RJF Nabisco to take IBM from financial challenges and help transform this company into the high tech powerhouse that it is today. So while I have been an Apple (AAPL) fan for many years and do not begrudge Apple anything for its phenomenal success, IBM is worth another look. Let's see what the earnings report next week shall bring, but this company appears to be executing in a rather impressive fashion!
Thanks again for stopping by and visiting my blog. I apologize for my paucity of posts but shall continue to blog here as much as time and opportunity allows. If you have any comments or questions, please feel to leave them right here on the blog or email me at bobsadviceforstocks@lycos.com.
Yours in investing,
Bob