McDonald's (MCD) and a Birthday Greeting!
Hello Friends! Thanks so much for stopping by and visiting my blog, Stock Picks Bob's Advice! As always, please remember that I am an amateur investor, so please remember to consult with your investment advisers prior to making any investment decisions based on information on this website.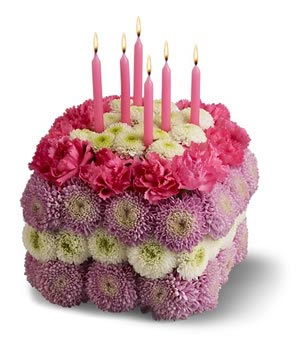 I wanted to share with all of you an interesting cake to celebrate the birthday of this blog that quietly slipped by two days ago. This blog turned six years old and just like the average six-year-old, I feel like I am ready for first grade in investing! But fortunately, school starts in September, so we all have the Summer to keep us entertained.
Six years ago I wrote my first entry here and decided to comment a little about St. Jude (STJ). This is what I wrote:
May 12, 2003 St Jude Medical


This is one I picked up today. STJ is the stock symbol. I do not as I write and publish this own any shares. Am thinking about suggesting this to my stock club. Company had a great day today with a nice move on the upside. Last Quarter was good and the past five years have been steady growth. Closed at $55.30 up $2.92. So the daily momentum helped it make the list.
I still don't own any shares of St. Jude. It is still an interesting stock that deserves a mention on this blog. Meanwhile, Happy Birthday to Me! Lately, my entries are a bit longer, and the intervals between them have grown. I very much enjoy the opportunity to be a blogger, the chance at sharing with all of you a few thoughts on investing and how an amateur like me might choose to face the vagaries of the investment world. Thank you all for your visits, your letters and comments and your encouragement. I do not know what the future holds for me and investment blogging. But I can tell you this: the past six years have been exciting for me as an amateur investor and writer. I hope the next six are just as exciting, and perhaps, just a little more profitable!

Much has been written about McDonald's (MCD) being a recession-resistant stock. You can read about it here, here, here, here, and here for example.
There is some truth to the thesis. After all, people still need to eat, so doesn't it make sense to be eating at an affordable place like McDonald's when times are tough. In the same manner, Wal-Mart (WMT) has proven to be recession-resistant. People still need to 'buy things' but instead of shopping at the more expensive retail firms, or eating out at more expensive restaurants, the McDonald's and the Wal-Marts are likely increasing their market share in these recession-ridden times.
With that in mind, I wanted to briefly look at McDonald's and see if it truly was an investment, that I personally believed, was worth considering even in today's turbulent stock market.
First of all, what about the latest quarterly result? On April 22, 2009, McDonald's (MCD) reported 1st quarter 2009 results. Revenue did dip to $5.08 billion from $5.61 billion the prior year. Net income came in at $979.5 million, or $.87/share, ahead of analysts expectations of $.82/share. However, revenue failed to meet expectations of $5.23 billion.However, same-store sales worldwide grew 4.3%. It is difficult to know how same store sales can rise and overall sales can dip, unless factors such as currency exchange rates are affecting the total.
Latest numbers for the United States continue to be strong as April, 2009, 'same-store sales' grew 6.9% as reported. The article does relate that McDonald's same-store sales grew even faster in Europe at 8.4% and came in at a 6.5% increase in Asia/Pacific. However, China apparently is underperforming this rate as things continue to slow there in the face of a growing economic correction.
Longer-term, reviewing the Morningstar.com '5-Yr Restated' financials on MCD, we can see that revenue has been steadily growing from $19.1 billion in 2004 to $23.5 billion in 2008. In the trailing twelve months, McDonald's has experienced a slight dip in revenue to $23.0 billion. Earnings, except for a dip from 2007 to 2008, have grown steadily from $1.79/share in 2004 to $2.83/share in 2007--dipping to $1.98/share in 2008--and rebounding to $3.76 in 2008 and $3.83/share in the TTM.
In addition, the companyt pays a dividend which they have rapidly and consistently increased from $.55/share in 2004 to $1.63/share in 2008 and $1.75/share in the TTM. In terms of outstanding shares, the company had 1.27 billion shares outstanding in 2004, and has been gradually decreasing this amount to 1.146 billion in 2008 and 1.136 billion in the TTM.
Free cash flow remains solidly positive although this has slowed slightly in the TTM. MCD reported $2.6 billion in free cash flow in 2006, $2.93 billion in 2007, $3.78 billion in 2008 and $3.43 billion in the TTM.
Insofar as the balance sheet is concerned, Morningstar reports this company with $1.98 billion in cash and $1.47 billion in other current assets. This total of $3.45 billion easily covers the $2.21 billion in current liabilities reported. In terms of the current ratio, this yields a ratio of 1.56. McDonald's also has a significant $12.9 billion in long-term liabilities on its books, but with the ample cash and current assets, the positive free cash flow, and its record of growing its revenue and earnings, this doesn't seem to be a significant burden for them.
In terms of valuation, looking at the Yahoo 'Key Statistics' on MCD, we can see that this is a large cap stock with a market capitalization of $59.3 billion. The trailing p/e is a very reasonable 13.98 with a forward p/e of 12.86. The PEG ratio (5 yr expected) suggests that even with this relatively low p/e, the company is a bit richly priced with a PEG of 1.56.
Using the Fidelity.com eresearch website for some additional valuation numbers, we find that the Price/Sales ratio (TTM) works out to 2.60 compared to the industry average of 1.70. The company is also slightly less profitable than its peers when viewed from the perspective of Return on Equity (TTM) with MCD coming in at 32.35% vs. the industry average of 47.67. However, their return on assets, and their return on investment handily outpace their peers.
Finishing up with the Yahoo information, there are 1.11 billion shares outstanding with 1.09 billion that float! As of 4/27/09 there were 13.43 million shares out short representing a short interest ratio of 1.4 days or 1.2% of the float---hardly the numbers I would look for that might cause a 'squeeze'.
Finally, with the $2.00 forward dividend rate, the company pays a significant dividend yielding 3.7%. There appears to be good coverage for this dividend with a payout ratio of 46%. The last stock split was a 2:1 split just about ten years ago on March 8, 1999.
What does the chart look like?
Reviewing the 'point & figure' chart on McDonald's (MCD), we can see that the company experienced a sharp rise in its stock price between May, 2005 and August, 2008, when the stock rose from $25 to $65. The stock dipped briefly to the $45 level in October, 2008, but since then has foght back but has struggled a bit since hitting the $63 level three times in December 2008 and January, 2009. I would have to say I am less than enthusiastic about the technical appearance of this chart--at least from my amateur perspective.
In conclusion, McDonald's (MCD) is indeed a recession-resistant company. They are continuing to show positive same-store growth and appear to be taking a bigger market share from its competitors. Unfortunately, the strong dollar is depressing their financial results--due to exchange rates when results are reported in dollars--and they are feeling the pressure from their multinational business as many such corporations are experiencing today.

Due to what appears to be brilliant management, this gigantic restaurant chain is reinventing itself, adding salads, healthier items and a coffee bar to many of its newly named 'Cafes'.

This company has been a steady grower from well before 2004 and continues to produce solid results. However, valuation is a tad rich in terms of p/e relative to growth, Price/Sales ratios are also a bit rich relative to other companies in the same industry, and the chart appears a bit 'tired'. Clearly, I am not the first amateur to think about buying McDonald's stock! But regardless of all of that, I do like this company, like their ability to innovate and produce a consistent product, and like their steady revenue growth, earnings growth, dividend growth, decline in outstanding shares, and solid balance sheet.
You should do worse in a market like we have today!
By the way, McDonald's is currently trading at $53.50, down $.069 or (.13)% on the day. I do not own any shares of McDonald's (MCD) currently but some of my immediate family members do own small lots of shares in their own accounts.
Thanks again for visiting! And thanks for 6 years of your interest and encouragement that has allowed me to continue to find the time and energy to blog! Go ahead and have a slice of birthday cake---but I wouldn't eat it. Mostly flowers.
If you have any comments or questions, please feel free to leave them on the blog or email me at bobsadviceforstocks@lycos.com.
Yours in investing,
Bob
Posted by bobsadviceforstocks at 9:32 PM CDT |
Post Comment
|
Permalink
Updated: Friday, 15 May 2009 12:41 PM CDT