Haemonetics (HAE) "Trading Transparency"
Hello Friends! Thanks so much for stopping by and visiting my blog, Stock Picks Bob's Advice! As always, please remember that I am an amateur investor, so please remember to consult with your professional investment advisers prior to making any investment decisions based on information on this website.
Today Haemonetics (HAE), one of the six holdings in my trading account, announced 4th quarter results. Revenue for the quarter rose 10% to $152.4 million. Excluding items the company earned $.65/share. Analysts had been expecting $.63/share so the company beat expectations on earnings. Analysts had been expecting $151.1 million according to Reuters estimates; thus the company beat on revenue as well. The company went ahead and guided pretty much to expectations.
In spite of this the stock plummeted. Looking at the chart for the action today, we can see how the stock price hit its low today around 12:25 pm when the price high $47/share. After that point, the price gradually closed into the close of the day.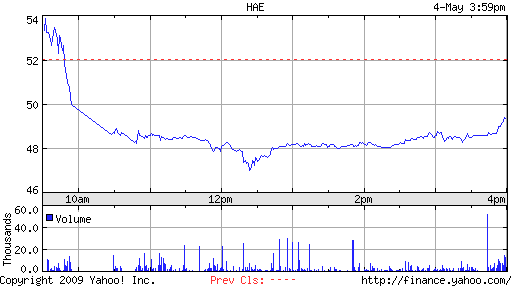 Like so many amateur investors, I really wasn't sure what I should be doing with this stock! My gut was full of panic and directed me to sell quickly! Yet my brain screamed out that this was irrational. That the continued dip on good news was nuts and that I needed instead to buy.
I chose to use my brain and while holding my nose, picked up 150 shares of Haemonetics (HAE) at $48.60/share. This wasn't really my 'system' at work, but there are times when stock actions defy logic and I hoped this was one of them.
Fortunately, HAE gathered strength into the close and ended up at $49.37, down $(2.67) or (5.13)% on the day.
Where does HAE go from here? I don't really know. But the news released was solid and I chose to add to my small position of HAE making it now my largest holding in my portfolio.
Yours in investing,
Bob