Smucker (SJM)
Hello Friends! Thanks so much for stopping by and visiting my blog, Stock Picks Bob's Advice! As always, please remember that I am an amateur investor, so please remember to consult with your professional investment advisers prior to making any investment decisions based on information on this website.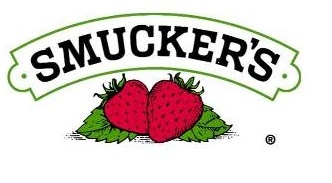 I was listening last night to Jim Cramer's "Lightning Round" and I was surprised to hear him discourage a caller who asked about Smucker (SJM).
I have to tell you that I have 'soft spot' for Smucker ever since years ago I remember visiting the Watsonville plant with my father and being amazed at the spectacular processing plant that made so many of the jams and jellies that I and my family regularly consumed. Looking now for information on this factory, it does appear that it was closed back in 2003.
I don't currently own any shares of Smucker (SJM) and the stock closed at $38.81 on April 9, 2009, up $.09 or 0.23% on the day.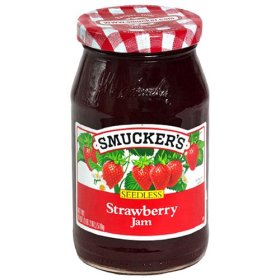 But I still was a bit upset when I heard Cramer say that a Smucker purchase was 'too conservative'. So let's take a closer look at this stock and see if my own bias and love of those wonderful preserves is just affection or investing intelligence!
Smucker's has grown quite a bit since my own tour of the Smucker factory back in about 1962. In 2008 Smucker added Folger's coffee to its stable of products from Procter and Gamble. This followed the 2001 acquisition of Jif and Crisco from Procter and Gamble. So there certainly is a lot more to Smucker than strawberry preserves!
Let's take a look at their latest quarterly results. On February 25, 2009, Smucker (SJM) announced 3rd quarter results. Indeed the report was a mixed set of results. For the three months ended January 31, 2009, sales climbed 78% to $1.18 billion slightly under analysts' expectations of $1.22 billion. Adjusted earnings (taking out 'one-time' items) came in at $77.9 million, up 84% from $42.4 million. However, earnings per share declined 9% to $.68/share from $.75/share the prior year. This decline was attributed to the $.20/share cost of integrating the Folgers coffee brand. Adjusted profit was $.88/share, slightly head of the $.87/share expected by analysts according to Thomson Reuters. Thus they disappointed in revenue and exceeded expectations on earnings.
However, they also cut guidance for the full 2009 fiscal year to $3.6 billion to $3.7 billion down from prior expectations of $3.8 billion to $4 billion. Analysts had been expecting sales of $3.84 billion.
As the article states:
"J.M. Smucker said it made the cut because of lower sales of peanut butter and it plans to cut prices of its oils, flour and coffee."
Because of the Salmonella problem at the Peanut Corporation of America plant in Georgia, consumers slowed down their peanut butter purchases. In fact, as this article points out:
"

Jarred peanut butter sales have been tumbling, even though that category has generally not been involved in the recalls. In the four weeks ending Jan. 24, about 33.8 million pounds of peanut butter in jars were sold -- a 22 percent drop from the same period last year."
Thus, in more or less a 'perfect storm' of economic slowing, the Folger's acquisition, and the Peanut Butter Salmonella fiasco, Smucker's (SJM) is feeling the effects and this is reflected in the lowered guidance.
What about longer-term results?
Looking at the Morningstar.com "5-Yr Restated" financials for Smucker (SJM), we can see that the company has been increasing its sales steadily from $1.37 billion in 2004 to $2.53 billion in 2008 and $3.28 billion in the trailing twelve months (TTM).
Earnings have steadily increased from $2.24/share in 2004 to $3.00/share in 2008 and only dipped to $2.99/share in the TTM. Dividends have also been paid and increased annually with $.92/share reported in 2004 and $1.22/share paid in 2008 and $1.28/share paid in the TTM.
Free cash flow is positive with $135 million in 2006 and $115 million in 2008. $192 million in free cash flow is reported in the TTM.
The company appears adequately financed with $360 million in cash and $984 million in other current assets. This total of $1.34 billion, when compared to the $1.12 billion in current liabilities yields a current ratio of approximately 1.2. The company also has an additional $2.2 billion in long-term liabilities.
In terms of valuation, checking the Yahoo "Key Statistics" on Smucker (SJM), we can see that this is a large cap stock with a Market Cap of $4.6 billion. The trailing p/e is a reasonable 12.98 with a forward p/e even nicer at 11.52 (fye 30-Apr-10). The PEG ratio works out to a reasonable 1.42.
In terms of valuation, according to the Fidelity.com eresearch website, the company has a Price/Sales (TTM) ratio of 0.84 just over the industry average of 0.82. The company has a Return on Equity (TTM) of 8.31, well under the industry average of 20.79%.
Returning to Yahoo, there are 118.43 million shares outstanding with 114.11 million that float. As of 3/10/09 there were 2.69 million shares out short yielding a short interest ratio of only 1.1. The forward dividend rate if $1.28 yielding a forward rate of 3.3%. No prior stock splits are reported.
In terms of the chart, if we look at a 'point & figure' chart on Smucker (SJM) from StockCharts.com, we can see that the stock was moving ahead nicely from June, 2002, when it was trading at around $25/share, until June, 2007, when it peaked at around $57. Since then it has been struggling and dipped to a recent low of $35 before rebounding in April to its current level of $38.81.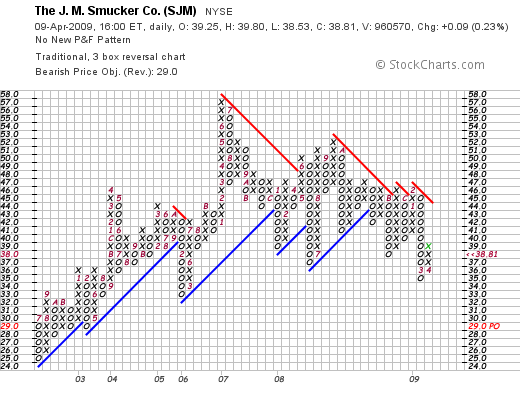 In summary, in a sort of Peter Lynch style of investing, there is something very appealing about buying into brands like Smucker, Jif, and Crisco in these trying times. Sort of like eating 'comfort food' when times are tough, and a little like investing in Johnson & Johnson (JNJ) stock right after the Tylenol Scare, maybe there are ways of profiting from this most-likely temporary public distrust of peanut butter at the grocery stores.
Certainly, I don't think this is the time to avoid 'conservative' stocks! But there are some bumps in the road for Smucker (SJM) not the least being the public concerns about peanut butter and its Folgers acquisition. But I believe these are transient problems. I really do like this company. I like their sustained revenue growth, their record of steadily increasing earnings and their emphasis on dividend growth. Their balance sheet is adequate and valuation seems reasonable. I don't much like their chart. But then again, there are few charts out there that I find attractive.
Anyhow, that's my 'peanut-butter and jelly' response to Cramer.
If you have any comments or questions, please feel free to leave them on the blog or email me at bobsadviceforstocks@lycos.com.
Yours in investing,
Bob