Barrett Business Services Inc. (BBSI)
Hello Friends! Thanks so much for stopping by and visiting my blog, Stock Picks Bob's Advice! As always please remember that I am an amateur investor, so please remember to consult with your professional investment advisers prior to making any investment decisions based on information on this website.

Earlier today I purchased shares of Barrett Business Services (BBSI) at an average cost of $27.96/share for my Covestor Buy and Hold Value model. BBSI closed today at $27.88, up $.35 or 1.27% on the day. Let's take a closer look at this stock.
According to the Yahoo "Profile" on Barrett, the company
"...offers human resource management services in areas comprising payroll processing, employee benefits and administration, human resource management, risk management, and workers' compensation coverage areas. It also provides professional employer organization services, which include employee benefits, health insurance, workers' compensation coverage, workplace safety programs, federal and state employment laws compliance, labor and workplace regulatory requirements, and related administrative services; and payroll administrative services, such as payroll processing, payroll taxes, and human resource consulting services. In addition, the company provides staffing services, including on-demand or short-term staffing assignments, contract staffing, long-term or indefinite-term on-site management, direct placement, and human resource administration services."
On July 24, 2012, Barrett Business Services announced results for the second quarter ended June 30, 2012. Revenue for the quarter grew 26% to $95.5 million compared to $76.0 million the prior quarter. Net income was $3.7 million or $.53/diluted share compared to $3.4 million or $.34/diluted share the prior year.
A couple of articles on Barrett caught my eye. Certainly growing dividends is an attractive feature in this low-interest-rate environment. Here is a chart on the steadily increasing, although still somewhat small, dividend that Barrett has been paying: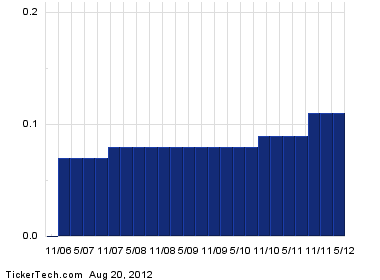 In addition, Zacks gave Barrett a nice plug this week ranking it a "Buy". Zacks pointed out that the second quarter report that I reported above represented
"...an impressive record of outperforming quarterly earnings expectations, which it continued in its second quarter report with a surprise of more than 20%."
Zacks goes on to point out that Barrett is expected to grow its earnings at a 22% rate going forward for the next 5 years ahead of the 11.6% growth rate of similar companies in the same industry. In addition the company and analysts have been raising guidance.
Looking at some longer-term results from Morningstar.com, we can see that revenue for this company actually dipped from $289 million in 2007 to a low of $236 milion before resuming stronger growth with $273 million in 2010, $315 million in 2011 and $348 million in revenue for the trailing twelve months (TTM).
Diluted earnings/share have followed the revenue pattern dipping from $1.44/share in 2007 to a loss of $(.46)/share in 2009 before turning higher to $.71/share in 2010 and $1.41 in 2011. Morningstar does report that earnings did come in a bit lower at $.74/share in the TTM. The company has been buying back shares and reported 12 million shares in 2007 dipping to 10 million in 2009 and 9 million in the TTM.
In terms of free cash flow, the company reported $13 million in 2007, dipped to $2 million in 2009, then since then reported $16 million in 2010 and $30 million in 2011 and the TTM.
Briefly looking at the Morningstar.com balance sheet we can see that Barrett has $129 million in total current assets vs. $79 million in total current liabilities yielding a current ratio of 1.63.
Looking at Yahoo "Key Statistics" on BBSI, we can see that this is actually a 'micro cap' stock with a market capitalization of only $195.24 milion. The trailing p/e is rich at 37.93, but the forward p/e is 15.40 due to the rapid growth in earnings anticipated. Thus with the quick growth, the PEG ratio comes in at a very reasonable 0.84.
Yahoo reports shares outstanding of only 7 million with 6.79 million that float. Currently there are 182,440 shares out short resulting in a short interest ratio of 6.40, ahead of my own arbitrary '3 day rule' for significance.
Currently the company pays a forward dividend rate of $.44/share with an indicated yield of 1.60%. The payout ratio is 49% suggesting adequate earnings coverage for continuing and increasing the dividend if the estimated earnings growth continues.
The company last split its shares with a 3:2 split back in May, 2005.
Let's take a look at the 'point & figure' chart on BBSI from StockCharts.com: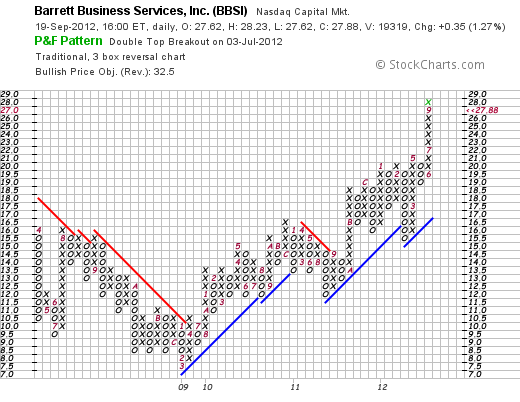 We can see that the chart demonstrates the same weakness in the stock price that followed the downturn of business into 2009 and the rebound in earnings and revenue growth resulted in the strong rebound in the stock price. Certainly the chart looks very strong if not a big over-extended at the moment.
To summarize, BBSI is a recent purchase of mine. The earnings, the revenue growth, the free cash flow, the valuation, the technicals all look encouraging. And the company is reducing outstanding shares as well. Unfortunately, the company is very small and is likely to experience additional volatility that a reduced float may result and investors both pile in and pile out of a company on varying news. The earnings report is likely very soon for the third quarter and hopefully will see this stock continue to move higher.
Thank you again for stopping by! I have been away a little longer than usual from this blog, but I hope this entry will not be an isolated event but continued posting from me on this site. As always, please feel free to leave your comments right here on the blog. I shall try to remove those comments that are just links to individuals promoting their own websites. I know how that works.
Yours in investing,
Bob