DXP Enterprises (DXPE)
Hello Friends! Thanks so much for stopping by and visiting my blog, Stock Picks Bob's Advice! As always, please remember that I am an amateur investor, so please remember to consult with your professional investment advisers prior to making any investment decisions based on information on this website.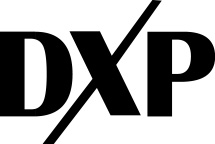 This past month I added DXP Enterprises (DXPE) to my Covestor Buy and Hold Model. This stock has shown tremendous technical strength since the purchase on March 16, 2012 at a cost of $42.90. DXPE closed today (3/2712) at $44.47, down $(.68) or (1.51)% on the day.
DXP has been 'strong out of the gate' for me, yet it is not what I would consider a well-known stock. Let's take a closer look at this investment.
According to the Yahoo "Profile" on DXPE, this company
"...engages in distributing maintenance, repair, and operating (MRO) products, equipment, and services to industrial customers in the United States. Its Service Centers segment provides MRO products, equipment and services, including technical design expertise and logistics capabilities to industrial customers with the ability to provide same day delivery. This segment's product categories comprise rotating equipment, bearing, power transmission, hose, fluid power, metal working, industrial supply, and safety products; and services consist of field safety supervision, in-house and field repair, and maintenance services. The company's Supply Chain Services segment manages the supply-chain of its customers from various industries."
and
"DXP Enterprises, Inc. distributes its products and services through service centers and distribution centers to customers in the oil and gas, food and beverage, petrochemical, transportation, mining, construction, chemical, municipal, agriculture, pulp and paper, and other general industrial industries."
On February 29, 2012, DXP Enterprises announced their fourth quarter 2011 results. The company reported net income of $9.2 million or $.61/diluted share for the quarter which represented a sequential increase of 10.9% from the prior quarter when it reported earnings of $.55/share with $8.3 million in net income.
During the prior year 2010 same quarter, the company had $5.9 million of income or $.39/diluted share for a year-over-year increase of 56.4% on a per share basis.
For the full year, the company reported net income of $31.4 million or $2.08/diluted share which was a 57.6% over the prior year's result of net income of $19.4 million and earnings of $1.32/share.
Sales for the fourth quarter 2011 increased 28.7% from $169.7 million in 2010 to $218.4 million in 2011. For the full year,
Sales grew 23.0% to $807 million from $656.2 million the prior year.
These are terrific numbers of growth both for the quarter and the full year. Even more impressive was the fact that the company beat expectations. As Motley Fool reports, expectations for revenue was $209.8 million and the company came in at $218.4 million. In addition, earnings came in at $.61/share ahead of the S&P Capital IQ estimates of $.53/share.
Examining the Morningstar Financials on DXPE, we can see that revenue has grown somewhat unevenly from $445 million in 2007 to $807 million in 2011. Earnings have also been a bit erratic with a big dip to a loss of $(3.24) share in 2009. Otherwise, earnings have grown from $1.36/share in 2007 to $2.08/share in 2011. Diluted outstanding shares have increase from 13 million in 2007 to 15 million in 2011.
Free cash flow has also improved from $(2) million in 2007 to $22 million in 2011. Morningstar shows that the company has $239 million in current assets and only $134 million in current liabilities yielding a healthy current ratio of 1.78.
Yahoo "Key Statistics" on DXPE shows that this is a small cap stock with a market capitalization of only $623.36 million. The company has a moderate P/E of 21.42 with a more reasonable forward P/E of 14.73 (fye Dec 31, 2013). With the company expected to continue to show rapid growth the PEG ratio of 0.64 (5 yr expected) reveals that the valuation relative to growth is quite reasonable.
DXPE has only 14.13 million shares outstanding with only 8.72 million that float. Currently there are 335,950 shares out short (as of 2/29/12) with a short ratio of 4.40 slightly ahead of my own 3 day rule for significance. No dividends are paid and the last stock split was a 2:1 split on October 1, 2008.
Inspecting the StockChart 'point & figure' chart on DXPE we can see that the company appreciated steadily from a low of $9 in March, 2009 to $27 in July, 2011. After correcting to $17 in October, 2011, the stock price has soared to its current level of $44.47 without any significant pullback. Certainly it appears a bit over-extended but the stock rise is nothing short of incredible.
In summary, I own shares of DXPE that I have recently purchased in light of incredible technical strength, outstanding earnings (although longer-term earnings and sales have been a bit erratic), and valuation that is quite reasonable with a PEG under 1.0. Their balance sheet is solid and the company is generating plenty of free cash flow.
With the sharp rise, I expect a short-term correction as the stock price needs to consolidate. However, as the economy appears to be rebounding (although somewhat weakly), this industrial company appears well-positioned for infrastructure spending as well as spending for equipment for oil pipeline pumping, firewater and potable water pumping.
Thank you again for stopping by and visiting my blog. If you have any comments or questions, please feel free to leave them here and I shall try to respond as able.
Yours in investing,
Bob