May 6, 2004 Diebold (DBD)
Hello Friends! It is NOT a very pretty day on the street today. For the record, as I write, the DJIA is trading at 10,220.82, down 90.13 points (0.87%), and the NASDAQ is trading at 1,931.76, down 25.50 points (1.30%). Nothing much to write home about I guess unless you are short the market.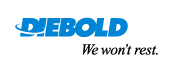 Diebold (DBD) is having a nice day today. It is interesting that the latest news on Diebold has been marginal at best in the "media" with stories running about problems with their voting machines in California. However, their business is otherwise doing just fine, and hopefully they will get the bugs out of the electronic machines and still get the business without any lawsuits, etc. This is certainly a potential risk for this firm.

As I am writing, DBD is trading at $46.95, up $1.26 on the day or 2.76%.
On April 20, 2004, Diebold announced
first quarter 2004 results
. Revenue grew 21.5% to $498.3 million, diluted earnings per share grew 11.1% to $.40/share compared to $.36/share in the first quarter of 2003.
Taking a look at
"5-Yr Restated" financials
on Morningstar.com, we can see that revenues have grown steadily from $1.3 billion in 1999 to $2.1 billion in the trailing twelve months. Earnings, however, have been a bit erratic, with $1.85 reported in 1999, climbing to $1.92 in 2000, dropping to $.93 in 2001 and then climbing steadily since then to $2.40 in the trailing twelve months. DBD has also raised its dividend each year from $.60/share in 1999 to $.68 in the trailing twelve months.
Free cash flow has also been solid, increasing from $86 million in 2001 to $137 million in 2003.
The balance sheet is also very clean with $176.1 million in cash and $929.1 million in other current assets, more than enough to cover both the current liabilities of $618.7 million and the long-term liabilities of $133.6 million.
What about valuation? If we take a look at
"Key Statistics"
on Yahoo.com, we can see that DBD has a market cap of $3.42 Billion, a trailing p/e of 19.28 and a forward p/e of 15.44. These numbers are not overly inflated especially in light of latest quarterly results. However, the PEG at 1.74 is under 2.0, but I would prefer to see it closer to 1.00 to say that the stock is cheap. Price/sales also at 1.52 isn't bad but not actually cheap.
Yahoo reports 72.91 million shares outstanding with 71.30 million of them that float. There are 1.65 million shares out short, which is pretty high at 2.31% of the float or 3.233 trading days...as of 4/7/04...and is up from the prior month's level of 1.19 million shares out short. Is suspect that a lot of investors are betting on the voting machine problems becoming a true fiasco!
The company does pay a small dividend of $.74/share yielding 1.62%, and the latest stock split reported on Yahoo was a 3:2 split in February, 1997.
What about technicals? Taking a look at a recent "Point and Figure Chart" on DBD: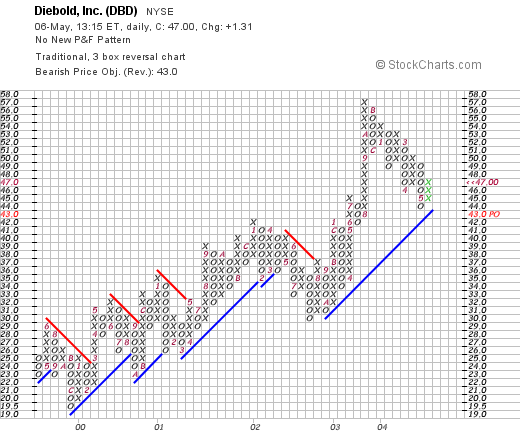 we can see that the company is still trading above its support level and unlike some of the stocks we have looked at, really appears not to be over-extended...at least in my humble opinion!
Where does that leave us? I guess the big question on this stock is the voting machine question. However, this is a company that is big in ATM's and likely will benefit from a large voting machine business in the future as the quirks get figured out. Meanwhile, the valuation isn't bad, the earnings are nice, and the company even pays a dividend! I do not own any shares or have any leveraged positions in this issue. As always, please discuss this and all stock market investment ideas with your investment advisors and do your own investigation as I am an amateur investor!
Thanks again for stopping by! If you have any questions, comments, or words of encouragement, please feel free to email me at bobsadviceforstocks@lycos.com
Bob