CheckFree (CKFR) Revisiting a Stock Pick
Hello Friends! Thanks so much for stopping by and visiting my blog,
Stock Picks Bob's Advice
. As always, please remember that I am an amateur investor, so please remember to consult with your professional investment advisors prior to making any investment decisions based on information on this website.
I was looking through the
list of top % gainers on the NASDAQ
and came across CheckFree Corp (CKFR), which closed at $54.14, up $4.16 or 8.32% on the day. I do not own any shares of this stock nor do I have any options on CKFR.

I first
posted CheckFree on Stock Picks Bob's Advice
on January 21, 2005, when it was trading at $38.82. With today's close at $54.14, this represents a gain of $15.32 or 39.5% since posting. I generally like to wait at least a year before revisiting a stock, and thus, since it has been more like 15 months since I last reviewed CKFR, let's take another look at this stock and I will show you why I think it deserves a place on this blog.
First, what the company does. According to the
Yahoo "Profile" on CheckFree
, the company
"...through its subsidiary, provides financial electronic commerce products and services. The company operates in three divisions: Electronic Commerce, Software, and Investment Services."
Next, how did the company do in its latest quarter? On January 24, 2006, CKFR
announced 2nd quarter 2006 results
. Total revenues for the quarter ended December 31, 2005, increased to $215.9 million from $185.8 million the prior year same period. Net income more than doubled to $33.8 million from $13.0 million the prior year. On a per share basis, diluted income per share grew to $.36/share up from $.14/share in the same period last year. In an important comment within the earnings report, CFO David Mangum raised guidance for future financial results. As reported in the report:
"Strong financial results through the mid-point of the fiscal year put the Company on track to exceed its previously announced fiscal year expectations," said CheckFree Chief Financial Officer David Mangum. "We now expect full-year earnings per share in the range of $1.19 to $1.24 on a GAAP basis and $1.62 to $1.66 on an underlying basis. Free cash flow remains targeted for about $170 million for fiscal 2006."

"For the third quarter of fiscal 2006, we expect revenue in the range of $217 million to $222 million, and GAAP earnings per share in the range of $0.27 to $0.30," Mangum continued. "This expectation equates to underlying earnings per share in the range of $0.36 to $0.38 for the quarter."
Raising financial guidance is almost always bullish for the stock price imho.
What about longer-term results? If we review the
Morningstar.com "5-Yr Restated" financials on CKFR
, we can first of all see that revenue has been steadily growing from $433.3 million in 2001 to $757.8 million in 2005 and $825.9 million in the trailing twelve months (TTM).
While the company was losing significant amounts of money between 2001 and 2003, in 2004 it turned profitable with $.11/share reported, growing to $.50/share in 2005 and $.94/share in the TTM.
The company
has
increased its shares outstanding, but at a much slower rate than the growth in revenue, for as reported, there were 81 million shares in 2001, growing to 90 million in 2005 and 91 million in the TTM.
Free cash flow has been strongly positive with some irregular growth apparent. $129 million was reported in 2003, increasing to $170 million in 2005 and $164 million in the TTM.
The balance sheet looks very nice to me with $340.5 million in cash reported on Morningstar.com. I always like when the cash is sufficient to pay off
both
the $249.3 million in Current Liabilities and the $31.5 million in Long-term Liabilities combined. In addition, with the $306.6 million in other current assets, this amount, when added to the $340.5 million in cash, and compared to the $249.3 million in current liabilities, yields a 'current ratio' of approximately 2.5.
What about some valuation numbers on this stock?
Looking at the
Yahoo "Key Statistics" on CheckFree
, we find that this is a large cap stock with a market capitalization of $4.94 billion. The trailing p/e is a bit rich at 57.53, and the forward p/e (fye 30-Jun-07) is a bit nicer at 28.95. However, even with the estimated growth, valuation is a tad rich with a PEG of 1.66.
Looking at the relative valuation of the Price/Sales ratio, and using the
Fidelity.com eresearch website
, we can see that Fidelity has assigned CheckFree to the "Internet Software and Services" industrial group. 'Priciest' in the group is Salesforce.com with a Price/Sales ratio of 14.2. This is followed by Websense at 6.4, then CheckFree at 3.2, VeriSign at 3.9, CheckFree at 3.2, and Internet Security Systems at 3.4. Thus, by this parameter, CKFR doens't look too out of line.
Going back to Yahoo for some more "Key Statistics" we find that there are 91.27 million shares outstanding with 76.35 million that float. As of 3/10/06, there were 8.19 million shares out short. This is quite significant imho, and represents 9.60% of the float or 12.4 trading dys of average volume. Part of the stock price climbing today may well represent a "squeeze" of the short sellers.
What about a chart? Reviewing the
"Point & Figure" chart on CKFR from StockCharts.com
: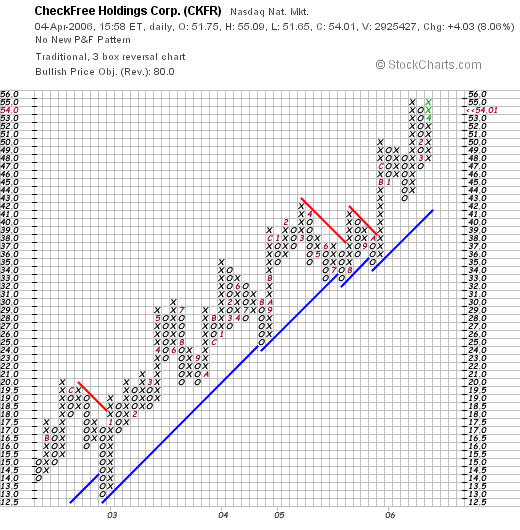 We can see what appears to be a steady increase in stock price after a short-term pull-back from $20/share to a low of $12.50/share in 2002. However, starting in January, 2003, when the stock broke through resistance at $18/share, the stock price has gradually been moving higher to the current $54 level. This chart looks quite strong to me!

So what do I think about this stock? Well, the strong move today in light of the relatively large number of shares out short is encouraging. The company reported a sold quarterly result with outstanding earnings growth. In the same report management raised guidance. Valuation appears a tad rich but not really bad when considering the rapid growth prospects. Even so, the PEG at just over 1.5 isn't too rich and the Price/Sales is in the lower part of its industrial group.

The past five years have shown significant earnings improvement while revenue has continued to grow. Free cash flow is positive and the balance sheet is solid. On top of this the chart is quite strong without appearing over-extended.

Thanks so much for stopping by and visiting! If you have any comments or questions, please feel free to leave them on the blog or email me at bobsadviceforstocks@lycos.com.

Bob