January 21, 2005 CheckFree (CKFR)
Hello Friends! Thanks so much for stopping by and visiting my blog,
Stock Picks Bob's Advice
. As always, please remember that I am an amateur investor, so consult with your professional advisors prior to making any investment decisions based on information on this website. If you have any comments, questions, or words of encouragement, please feel free to email me at bobsadviceforstocks@lycos.com .
Looking through the
list of top % gainers on the NASDAQ
, I came across CheckFree (CKFR) which as I write is trading at $38.82, up $2.51 or 6.91% on the day.

According to the
Yahoo "Profile"
, CKFR "...is an electronic payment processing company. The Company provides financial electronic commerce products and services."
Yesterday, 1/20/05, after the close of trading, CKFR
announced 2nd quarter 2005 results
. Revenue came in at $185.8 million, up from $150 million in revenue last year. Earnings came in at $13 million, or $.14/share, up from a loss of $(1.9) million or $(.02)/share last year. In addition, CKFR raised guidance slightly for both revenue and earnings for the upcoming 3rd quarter. The "street" liked what it saw, and bid up the stock price today. I do not own any shares or options in this company.

How about "longer-term"? Taking a look at the
"5-Yr Restated" financials
on Morningstar.com, we can see a steady record of revenue growth from $310.2 million in 2000 to $643 million in the trailing twelve months (TTM).
Earnings dipped from a loss of $(.61)/share in 2000 to a low of $(5.04) in 2002, but have increased steadily since then to the latest $.25/share in the TTM.
Free cash flow has been strong and improving the last few years from $19 million in 2002 to $151 million in the TTM.
CKFR has a solid balance sheet. As reported on Morningstar.com, they have $217.7 million in cash, enough to pay off both the $187.6 million in current liabilities AND the $30.4 million in long-term debt. In addition, CKFR is reported to have $249.0 million in other current assets.
What about "valuation"? Taking a look at
"Key Statistics" on Yahoo
, we can see that the market cap is a large cap $3.51 billion. The trailing p/e is high at 93.61, but going forward (fye 30-Jun-06), the p/e looks better at 26.79. The company has a PEG of 1.31 (5 yr-expected), and a Price/Sales ratio of 5.11.
Yahoo reports 90.46 million shares outstanding with 84.0 million that float. Of these, 11.91 million are out short as of 12/8/04, representing 14.17% of the float. IMHO this is significant, with a short raio of 11.91. I tend to use 3.0 days as a significant volume of shares to make a significant difference in case of a "short squeeze".
No cash and no stock dividends are reported.
What about "technicals"? The chart looks strong. CKFR was trading down lower in July, 2002, but in what appears to be in October 2002, the stock broke through a resistance level at around $12.50 and has traded higher since. This chart appears strong to me!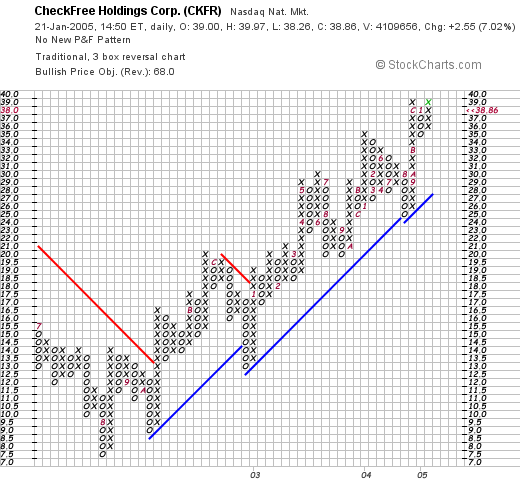 So what do I think? Well, I like this stock a lot. The latest quarter was solid, the earnings growth is very nice which has been growing alongside the revenue. Free cash flow is superb. The balance sheet is nice, and at least going forward the valuation is reasonable with moderate PEG, and forward p/e.

Now, if only I had some money to invest! LOL....thanks again for stopping by and visiting here on Stock Picks.

Bob