May 23, 2005 Dynamic Materials (BOOM)
Hello Friends! Thanks so much for stopping by and visiting my blog,
Stock Picks Bob's Advice
. As always, please remember that I am an amateur investor and that you need to consult with your professional investment advisors prior to making any investment decisions based on information on this website.

I was looking through the
list of top % gainers on the NASDAQ
today and realized that Dynamic Materials Corporation (BOOM) had made the list by gaining $6.25 or 19.91% on the day, to close at $37.64/share. I do not own any shares nor any options on this stock.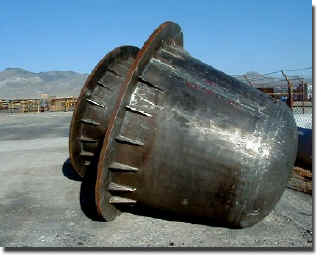 According to the
Yahoo "Profile" on BOOM
, Dynamic materials "...is engaged in the explosive metalworking business, which uses explosives to perform metal cladding and shock synthesis. The Company's explosive metalworking business includes the use of explosives to perform metal cladding and shock synthesis of industrial diamonds."
On May 5, 2005, BOOM
reported 1st quarter 2005 results
. Sales for the quarter ended March 31, 2005, increased 72% to $17.5 million from $10.2 million in the same quarter in 2004. Net income increased 692% to $1.6 million, or $.28/diluted share vs. net income of $.2 million or $.04/diluted share in the year ago quarter. These were phenomenal results!
How about longer-term? Taking a look at the
"5-Yr Restated" financials on Morningstar.com
, we can see a nice progression in revenue from $24 million in 2000 to $62 million in the trailing twelve months (TTM). Earnings have been a bit more erratic, improving from a loss of $(.43)/share in 2000 to $.77/share in the TTM.
Free cash flow has been positive if not growing at $4 million in 2002, and $4 million in the TTM.
The balance sheet on Morningstar looks solid with $1.5 million in cash and $22.2 million in other current assets, balanced against $12.3 million in current liabilities and $6.6 million in long-term liabilities.
What about "valuation"? Looking at
Yahoo "Key Statistics" on BOOM
, we can see that this is a very small company with an almost microcap capitalization of $205.78 million. The trailing p/e is a bit rich at 37.27. No estimates are noted on Yahoo for any forward p/e. The Price/Sales is 2.79.
This P/S ratio puts it at the top of the "Industrial Metals/Minerals" industry. Other stocks includ Inco (N) with a Price/Sales of 1.6, Massey Energy (MEE) at 1.5, Consolidated Energy (CNX) at 1.5, Peabody Energy (BTU) at 1.5, and Arch Coal (ACI) at 1.4. Thus, BOOM is the most expensive of the stocks in this particular industrial group by this measurment of "value".
Other "Key Statistics" from the Yahoo site of note include the number of shares, small at 5.47 million, with only 2.60 million of them that float. Currently there are 758,000 shares out short (as of 4/8/05), representing 29.15% of the float, but only .282 trading days of volume. Thus, the short sales don't appear to be too significant.
No cash dividend and no stock split is reported on Yahoo.
How about a chart? If we take a look at the
Stockcharts.com chart on BOOM
: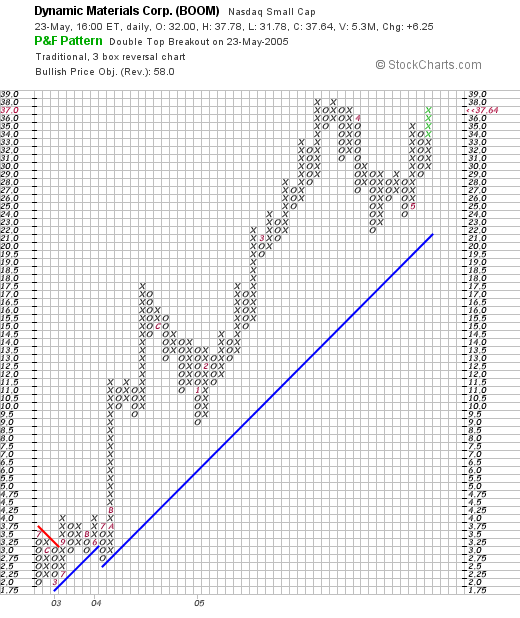 we can see, in my simplistic technical skills, that the stock chart looks exceptionally strong as this stock marches ahead above its support line since July, 2004, when it bottomed at around $2.50/share, and has subsequently soared to its $37.64 level today.

In conclusion, this stock made a large move higher today, the last quarter results were spectacular, I do not have any idea about estimates going forward, but both revenue and earnings growth was solid in the latest report. The last five years have shown fairly steady growth in both revenue and earnings, with positive free cash flow and a solid balance sheet. Valuation is a bit steep, both with a p/e that is a bit high, and a price/sales ratio placing the stock ahead of its peers. Finally the chart looks exceptionally strong.

Going against BOOM is the very small nature of this company with the limited liquidity resulting in possible volatility. However, with good news, I have found that stocks with solid results, like TASR, end up being "rockets" with prices soaring into the stratosphere!

Thanks again for stopping by! If you have any questions, comments, or words of encouragement, please feel free to email me at bobsadviceforstocks@lycos.com.

Bob