November 22, 2005 Blue Coat Systems (BCSI)
Hello Friends! Thanks so much for stopping by and visiting my blog,
Stock Picks Bob's Advice
. As always, please remember that I am an amateur investor, so please remember to consult with your professional investment advisors prior to making any investment decision based on information on this website.

Earlier today, after selling a few shares of Cal Dive (CDIS), I was "entitled" to add a new position to my portfolio. I purchased some shares of Blue Coat Systems (BCSI) and I promised to post some comments about this stock. As noted, this
is
one company that I do own some shares!
Blue Coat closed today at $45.33, up $3.36 or 8.01% on the day. Earlier today, the stock was on the list of top % gainers, but as the market gained strength it no longer was on the list.
According to the
Yahoo "Profile" on BCSI
, the company:
"...provides proxy appliances that visibility and control of Web communications. Its ProxySG family of appliances includes the ProxySG 200 Series, the ProxySG 400 Series, the ProxySG 800 Series, and the ProxySG 8000 Series. These proxy appliances leverage existing authentication systems to enable granular policy enforcement down to the individual user. The company's ProxyAV Web antivirus appliances include the ProxyAV 400 Series and the ProxyAV 2000 Series."
This is a bit "high-tech" for me, but I gather that the company is an internet security company, protecting data, and preventing entrance of internet viruses and worms.
Last week the stock dropped rather sharply when the company indicated some
short-term slowing of revenue growth
. However, the stock was rebounding today in the face of a
Raymond James analyst upgrade
.
On November 14, 2005, BCSI
reported 2nd quarter 2006 results
. Net revenue came in at $36.7 million, a 67.4% increase over net revenue of $21.9 million for the same quarter last year. Net income (GAAP) was $4.2 million or $.28/diluted share, up sharply from net income of $.6 million or $.05/diluted share the previous year, same quarter. Sequentially, this was up from $3.4 million or $.24/diluted share the prior quarter. The company estimated sequential growth for the 3rd quarter for revenue in the 4% - 7% range. Net income for the upcoming quarter was estimated in the $4.4 million - $5.1 million or $.32-$.36/diluted share range. However, this strong growth was below what analysts expected and the stock tanked last week.
Reviewing the
"5-Yr Restated" financials on BCSI from Morningstar.com
, we can see that revenue was actually declining from $97.7 million in 2001 to a low of $45.7 million in 2003. Since then, revenue growth has been strong and steady and BCSI reported $108.4 million in revenue in the TTM.
Earnings have been improving from a loss of $(72.20)/share (!) in 2001 to $(.03)/share in 2004 and then turning profitable with $.41/share in 2005 and $.52/share in the trailing twelve months (TTM).
Free cash flow, which was a negative $(17) million in 2003, has improved steadily to $12 million in the TTM.
The balance sheet, as reported on Morningstar.com, looks solid with $53.4 million in cash alone, more than enough to cover both the $34.3 million in current liabilities and the $4.7 million in long-term liabilities combined. In addition, BCSI has another $19 million in other current assets.
Looking at a few
"Key Statistics" on BCSI from Yahoo
, we find that the company is a very small mid-cap stock with a market capitalization of $569.84 million. The trailing p/e is rich at 59.10, but the stock is growing quickly, and the forward p/e (fye 30-Apr-07) is only 27.31. Thus the PEG is 0.91. The the Price/Sales ratio is 4.28.
There are only 12.57 million shares outstanding and of these 12.60% of them are out short representing 1.39 million shares or 5 trading days of volume. This looks a bit significant to me. No cash dividend is reported on Yahoo and the last stock distribution was in September, 2002, when a
reverse
stock split of 1:5 was conducted.
And what does the chart look like?
Looking at a
"Point & Figure" chart on BCSI from Stockcharts.com
: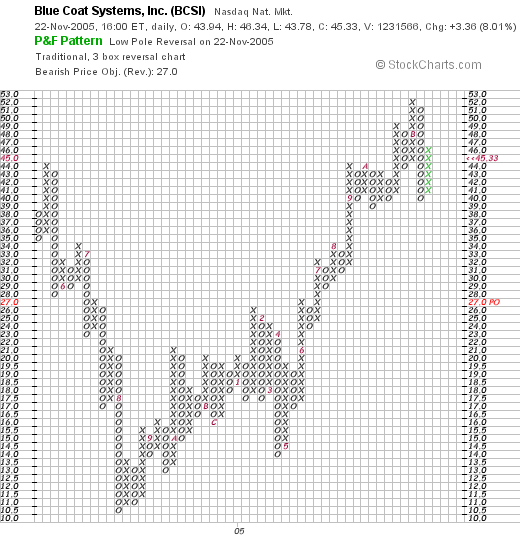 We can see that the stock was actually trading sharply lower from May, 2004, when the stock hit $45/share, down to a low in August, 2004, of approximately $10.50. The stock has traded strongly higher since then to its current $46 level.

So what do I think? This is a very fast growing high-tech stock that had a great recent earnings report; dropped on guidance that was still quite respectable, has a Morningstar.com showing a 'reversal of fortunes' with a contraction in revenue returning to strong growth, a solid balance sheet, and valuation that isn't too bad with an estimated PEG under 1.0. Overall, I liked it enough that I bought shares!

If you have any questions or comments, please feel free to email me at bobsadviceforstocks@lycos.com or just go ahead and leave your thoughts on the website!

Bob