Universal Electronics (UEIC) "Weekend Trading Portfolio Analysis"

Hello Friends! Thanks so much for stopping by and visiting my blog Stock Picks Bob's Advice! As always, please remember that I am an amateur investor, so please remember to consult with your professional investment advisers prior to making any investment decisions based on information on this website.
One of my weekend 'tasks' that I have given myself is to review one of my holdings in my Trading Account every other weekend. Two weeks ago I reviewed my holding in Starbucks (SBUX). I am now up to my full complement of 20 positions in my account (I have decided to top out at 20 instead of 25 to allow my margin balance to begin being paid off...hopefully!). Thus it should take me about 40 weeks to completely go through the list...and figuring on an occasional missed week, then about a year for the cycle. I am going alphabetically by symbol and am now up to Universal Electronics (UEIC)
I currently own 180 shares of Universal Electronics with a cost basis of $25.24 that were acquired February 23, 2007, just a couple of months ago. UEIC closed at $28.33 on April 20, 2007, for an unrealized gain of $3.09 or 12.2% since my purchase. When am I planning to sell? On the downside, if the stock should decline to an 8% loss or .92 x $25.24 = $23.22, then I shall be selling all of my shares. On the upside, I shall plan on selling 1/7th of my holding or 180/7 = 25 shares, if the stock should reach a 30% appreciation target, my first targeted sale, or 1.3 x $25.24 = $32.81. Thus far, in the past two months, I have not sold any shares of this holding.
Let's take a closer look at this company and see if it still deserves a spot in my portfolio and whether it belongs in my blog!
UNIVERSAL ELECTRONICS (UEIC) IS RATED A BUY
What exactly does this company do?
According to the Yahoo "Profile" on UEIC, the company
"...provides pre-programmed wireless control products and audio-video accessories for home entertainment systems. Its products include standard and touch screen remote controls; antennas; and various audio/video accessories, including digital antennas, signal boosters, television brackets, and audio and video cleaning products, as well as microcontrollers."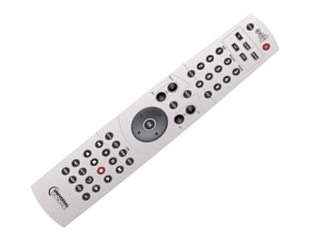 How did they do in the latest quarter?
On February 22, 2007, UEIC reported 4th quarter results. For the quarter ended December 31, 2006, net sales were $69.7 million, up nicely from $49.3 million in the same period the prior year. Net income for the 2006 fourth quarter was $5.4 million, or $.37/diluted share, up 50% from last year's $3.5 million or $.25/diluted share.

This result beat expectations of analysts from Thomson Financial that were expecting earnings of $.32/share. The company also raised guidance in the same report, boosting 2007 earnings estimate to $1.13 to $1.23/share, with sales between $260 and $271 million. Apparently current expectations are at $1.09/share. The combination of strong earnings results, beating expectations, and raising guidance was the source of my original interest in purchasing shares of this company.
How about longer-term financial results?
Reviewing the Morningstar.com "5-Yr Restated" financials, we can see that revenue, which dipped from $119 million in 2001 to $104 million in 2002, has subsequently climbed steadily to $181 million in 2005 and $215 million in the trailing twelve months (TTM).

Earnings follow a similar pattern, dipping from $.78/share in 2001 to $.42/share in 2002, however, they have climbed steadily since to $.69/share in 2005 and $.81 in the TTM. Also attractive is the stability in the outstanding shares with 14 million recorded in 2001, unchanged at 14 million in the TTM.


Free cash flow has been positive but erratic with $17 million reported in 2003, $1 million in 2004, $11 million in 2005 and $9 million in the TTM.

The balance sheet is solid with $57.3 million in cash, which by itself can easily cover both the $49.4 million in current liabilities and the small $100,000 in long-term debt. Calculating the current ratio, the combined current assets total $143.6 million, which, when divided by the $49.4 million in current liabilities yields a healthy ratio of 2.91. This ratio is particularly noteworth because of the virtual absence of any long-term liabilities as reported by Morningstar.com.
What about some valuation numbers?
Looking at the Yahoo "Key Statistics" on UEIC we can see that this is a small cap stock with a market capitalization of only $404.44 million. The trailing p/e is a bit rich at 30.23 but the forward p/e (fye 31-Dec-08) is estimated at a more reasonable 19.95. Thus, with rapid growth, the PEG ratio (5 yr expected) is 1.16. I like PEG's that are between 1.0 and 1.5 as being 'reasonably priced'. UEIC fits the bill!

Another aspect of valuation is Price/Sales. I always like to credit Paul Sturm from Smart Money who wrote a great article on using the Price/Sales ratio by comparing it to other companies in the same type business. In this case, Universal Electronics is reported to have a Price/Sales ratio of 1.66 which is actually higher than the industry average of 1.17, meaning the stock is priced at a premium to similar companies in the same industry.

Looking at Return on Equity as a measure of profitability, UEIC comes in close to the average at 11.14%, with an average ROE (TTM) in its industry recorded at 11.29% by Fidelity.

Finishing up with Yahoo, we can see that there are 14.28 million shares outstanding and 14.13 million that float. There are 688,580 shares out short as of 3/12/07, representing 3.4 trading days of volume (the short ratio). I use a 3 day cut-off for 'significance' in this ratio. So this is borderline significant...with more shares out short being a bullish factor.

No dividends are reported and the last stock split per Yahoo was a 2:1 split in February, 2000.
What does the chart look like?
Examining the "Point & Figure" chart on UEIC from StockCharts.com, we can see what appears to me to be a "cup and handle" chart pattern, which usually is recorded in a 'bar chart'. In any case, the stock which has been consolidating for almost three years between the $15 and $18 level, appears now to have clearly broken-out to the $29 level. The chart looks encouraging to me.

Summary: What do I think about this stock?
I still like this stock and still rate it a "buy". I do own shares now so that should be taken into consideration. However, the latest quarter was very strong, with both earnings and revenue growth and the company exceeding expectations on earnings. In addition, they raised guidance on future revenue. The Morningstar.com report looks solid with steady revenue and earnings growth the past several years, maintenance of a steady number of shares outstanding, free cash flow generation, and a solid balance sheet.

Valuation-wise, the PEG is below 1.5, but the Price/Sales is a bit rich relative to similar companies, and the ROE is fairly average. Finally, the chart looks encouraging.
Thanks again for visiting my blog. If you have any comments or questions, please feel free to leave them right on the website or email me at bobsadviceforstocks@lycos.com. If you get a chance, be sure and visit my Stock Picks Podcast Website where I discuss some of the stocks that I have written about here on the blog.
Have a great weekend everyone!
Bob