A Reader Writes "When would you be buying....? and ....your overall strategy?"
Hello Friends! Thanks so much for stopping by and visiting my blog Stock Picks Bob's Advice! As always, please remember that I am an amateur investor, so please remember to consult with your professional investment advisers prior to making any investment decisions based on information on this website.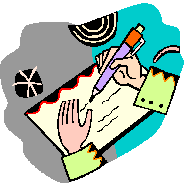 One of favorite things about writing this blog is receiving emails from readers about things I write about. As I have mentioned before, I cannot answer every email I receive, but I do read them all and when I get a chance, enjoy responding right on the website.
This afternoon I received an excellent note from Balaji V. who wrote:
"Bob:

Sometime back, I saw your blog and I have been
visiting your blog now and then. Your way of analysing
the stocks is good. Your analysis are very simple,
easy to understand.

I came across an analysis for Wipro (WIT). Assuming
you have a 'permission' to buy (and we are in an
uptrend), when would you be buying this stock ? For
the last few sessions, the market is kind of zig
zagging, without a direction.

Also, is it possible for you to create a separate link
which explains your method ? I have gone through
several of your postings to find how you pick the
stocks and your overall strategy. But IMHO, if you
could put a separate page, it would really help people
like me, who is starting to invest (I understand and
respect your disclaimer).

TIA for your time.

Regards
Balaji V"
Balaji, thank you for writing! I would like to answer your questions in two different parts. First of all you write about WIPRO (WIT) a stock that I first wrote up on October 4, 2004, when the stock was trading at $20.86. WIT had a 2:1 stock spit September 2, 2005, giving me an effective pick price of $10.43. WIT closed today (8/1/07) at $14.42, for a gain of $3.99 or 38.3% since posting.
But your question is not about me. It is about you. And you asked me when i woud be buying the stock assuming I have a "permission" to do so.
You have made an excellent observation that the first part of deciding to purchase a stock for me is to have permission to do so. I get this "permission" by a partial sale at a gain at a targeted appreciation price in one of my existing holdings. Assuming I was not at my maximum portfolio size (I currently am at my maximum of 20), this would 'entitle' me to add a new position.
My own 'idiosyncratic' system doesn't allow me to buy shares of WIT just because i like it and the company is doing well. I restrict myself to stocks that are on the list of top % gainers in the market that particular day. If there are no stocks on the lists of top % gainers that meet my criteria then I wait an additional day. I usually can find a stock that works for me by the second day if not almost immediately. So I wouldn't be buying shares of WIPRO unless that particular stock was on the list of top % gainers the day I was selling shares at a gain. In which case, I could buy WIT if it was on the list. Otherwise I would be buying something else.
You don't have to follow that particular rule. I am not sure it is necessary. But I have been following that rule for the last several years.
Regarding my overall strategy, it would be a good idea to place my strategy on a separate page. Long-term I have even thought about writing a short book on my strategy. I am not sure if there would be any market for it at this time. I am still an unknown amateur but I think I have some good ideas.
My overall strategy could be expressed in the summary that it is important to decide WHAT to buy, WHEN to buy and WHEN to sell.
The WHAT to buy for me is to start with the top % gainers list, check the latest quarterly results, look at long-term results on Morningstar. I insist on revenue growth, earnings growth, free cash flow, stable outstanding shares, and a reasonable balance sheet. I look at a few valuation numbers, and like to see a chart that is basically moving higher. Each entry repeats this strategy over and over. I think if you follow a half-dozen entries or so it will become clearer to you.
WHEN to buy is easy as well.
Before I comment on that I want to point out that my portfolio has a relatively elastic number of positions. That is, I currently have 20 positions (different stocks) in my trading account. That is my maximum number of stocks I wish to own right now. (In earlier entries I have written about a maximum of 25 positions. But I chose to stop at 20 until my ever-present margin balance is erased).
I consider 10 positions to be in "neutral" posture. Ideally, one would have 505 cash and 50% equities at that point. My minimum is 1/2 of that or 5 positions, and my maximum is double that or 20 positions. When I sell a stock on "good news" I have a signal that is encouraging and I look to the 'top % gainers lists' for a new holding. On the other hand, stocks on declines or fundamental problems, I consider selling on 'bad news'. On those events I 'sit on my hands', essentially moving further into cash from equities.
My basic exceptions to this are at times when I am either at a minimum equity exposure (5 postions) in which case if I sell a holding on bad news, I plan on replacing that holding with a new name, or if I am at 20 positions and I sell a portion of a holding on good news; in that case, I also use the proceeds to add to my cash position (or pay down my margin).
The second point that shoud be made is that when I sell stocks on 'bad news' I sell the entire position. On good news, I sell only 1/7th of my holding (rounded down) so that I exercise a bias against poorly performing stocks. That is I sell my poorly performing stocks quickly and completely and sell my better performing stocks slowly and partially.
Let me talk a little about the WHEN I sell. First the good news part. I sell stocks at intervals of appreciation that I group by four sales. That is I have appreciation targets of 30, 60, 90, 120, then 180, 240, 300, 360, then 450, 540, 630, and 720, and then 840, 960% appreciation targets etc. At each of these levels, I sell 1/7th of my remaining shares.
And the bad news sales? First of all, I reserve the right to sell if any bad news is announced. And I reserve the right to define that bad news myself. This is regardless of the price move.
Based on price moves, I sell a stock after a purchase if the stock should decline 8% no matter how long I have held the stock. Sometimes they drop even a day or two later. If I have sold once on 'good news', which for me would be a 1/7th sale at a 30% appreciation target I push up my 'stop' to break-even. Otherwise, if I have sold a portion more than once, for instance three times with the highest sale point at 90%, then I sell ALL remaining shares if the stock should decline to 1/2 of that highest appreciation level. That is if the stock should decline to a 45% appreciation level (over my purchase) from a 90% appreciation level where a portion was sold, then my sale would be triggered and the entire position would be liquidated.
Anyhow, that's my strategy in a nutshell. If you review my past entries, I think you will get a better handle on my approach. Please let me know if you have additional questions. And I will think about that additional page.
Please feel free to leave comments or questions on the blog or email me directly at bobsadviceforstocks@lycos.com.
Bob
Posted by bobsadviceforstocks at 6:16 PM CDT |
Post Comment
|
Permalink
Updated: Wednesday, 1 August 2007 6:18 PM CDT