October 15, 2004 Dorel Industries "B" (DIIB)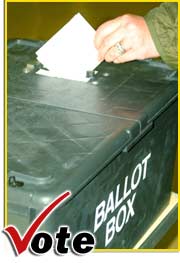 Hello Friends! I am just getting geared up around here to push some voter interest! I cannot tell you how important I think it is that you all make sure you get your votes counted. It REALLY is a different sort of election!
As always, please remember that I am an amateur investor so please always consult with your professional investment advisors to make sure that all investments discussed are appropriate, timely, and likely to be profitable for you! If you have any questions or comments, feel free to email me at bobsadviceforstocks@lycos.com .

I was scanning through the lists of top % gainers today and came across Dorel Inds "B" (DIIB). I do NOT own any shares or options in this company. DIIB is having a great day today trading as I write at $28.24, up $2.13 or 8.16% on the day. According to the
Yahoo "Profile"
on DIIB, Dorel "...specializes in two market segments: juvenile products and home furnishings. Dorel's product offering includes juvenile products such as infant car seats, strollers, high chairs, toddler beds, cribs, infant health and safety aids, play-yards and juvenile accessories, and home furnishings such as a variety of ready-to-assemble (RTA) furniture for home and office use...." Among the brands that I recognized when I went to the
Dorel website
included Schwinn bicycles and Cosco car-seats and strollers.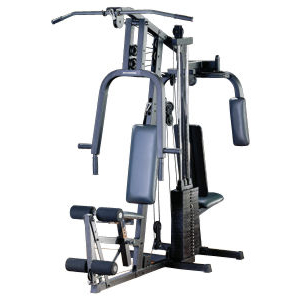 On August 4, 2004, DIIB
reported 2nd quarter 2004 results
. For the quarter ended June 30, 2004, revenues came in at $403.5 million this quarter, compared to $264.7 million last year. Net earnings were up 11.3% to $18.1 million or $.55/share compared with $16.3 million or $.50/share last year. These are fairly solid results!
How about longer-term? Checking the
Morningstar.com "5-Yr Restated" financials
, we can see that revenue has been increasing steadily with $.6 billion in revenue in 1999, increasing to $1.2 billion in the trailing twelve months (TTM).
Earnings dipped from $1.36 to $.61 between 1999 and 2000, however, since then, earnings have been steadily improving with $2.36 reported in 2003. Free cash flow has also been solidly positive with $36 million reported in 2002, increasing to $111 million in 2002, with $76 millin reported in 2003.
The balance sheet is solid if not spectacular with $13.9 million in cash and $445 million in other current assets as opposed to the $263.7 million in current liabilities and the $352.0 million in long-term debt.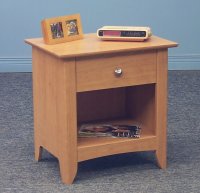 What about valuation? Taking a look at
"Key Statistics"
from Yahoo, we can see that this is a mid-cap stock with a market capitalization of $922 million. The trailing p/e is cheap at 11.93 and the forward p/e is even nicer at 8.26. Even the Price/Sales ratio is reasonable at 0.60 and the stock is elling at 1.63 times "book".
Yahoo reports 32.76 million shares outstanding with 32.50 million of them that float. There are currently 513,000 shares out short representing 1.58% of the float. However, due to the low daily trading volume, the short ratio is an astronomic 128.25 trading days of short volume. This would certainly be 'ripe' for a squeeze!
Yahoo does not show any cash dividend and the last split reported was a 2:1 in August, 1998.
How about "technicals"? Using
Stockcharts.com
, we can review a "Point & Figure" chart on Dorel: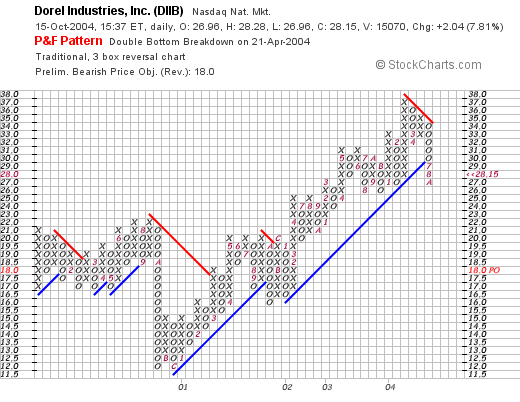 Here we can see that this stock broke down in price to about $11.50 in late 2000, Since that time it has successfully been trading higher to its current level at around $28. Looks nice to me!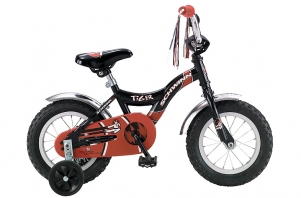 So what do I think? Well, it IS a Canadian company, so that gives it a little bit of a currency spin...but that really shouldn't be a problem. I like and am familiar with their brands (a Peter Lynch moment!), the latest quarter looks nice, the last five years has been steadily improving, free cash flow is solid, the balance sheet is good, valuation is excellent and the chart looks nice! What is there NOT to like? lol. Now if I just had some money to invest! As you may know, I like to wait for a sale of one of my pre-existing positions prior to adding funds to establish a new position in this portfolio!

Thanks again for stopping by! If you have any questions, comments, or words of encouragement, please feel free to email me at bobsadviceforstocks@lycos.com

Bob