November 26, 2004 RPC (RES)
O.K. so it is
Black Friday
today. This is the day my wife looks forward to getting out early to join the mobs of shoppers at the stores to buy things at big discounts. I was giving her a hard time about this last night and when I awoke this morning to head off to work, she was still sleeping. Feeling a bit guilty, I woke her up to tell her it was already 7:15, she rushed off to head to the mall, and I was feeling a little less guilty about trying to deprive her of a simple joy in life: the excitement of getting a bargain!
Well thanks for stopping by my blog,
Stock Picks Bob's Advice
. As you know if you are a regular reader here, I am an amateur investor and you really DO need to discuss all of my stock ideas with your professional investment advisor to make sure they are appropriate, likely to be profitable, and timely for your investment purposes. I cannot be responsible for your losses, and likewise, cannot claim any credit for your gains! If you have any questions, comments, or words of encouragement, please feel free to email me at bobsadviceforstocks@lycos.com .

With crude for January delivery hitting $49.44 on Wednesday, 11/24/04, (see
story
), it is no wonder that the market is looking towards oil and oil service companies for leadership. Today RPC (RES) made the
list of top % gainers on the NYSE
, closing at $27.07, up $2.67 for the day or 10.95%. I do NOT own any shares of RES, nor do I own any options. According to the CNN.money
"Snapshot"
, RPC's "...principal activity is to provide oilfield services and equipment to oil and gas companies engaged in the exploration, production and development of oil and gas properties." Sounds a little like our Cal Dive, which I DO have in my trading portfolio!
On October 27, 2004, RPC
reported 3rd quarter 2004 results
. For the quarter ended September 30, 2004, revenues climbed 28.1% to $88.7 million from $69.2 million last year. Net income came in at $10.2 million or $.35/diluted share compared with $2.6 million or $.09/diluted share the prior year. These were great results!
How about longer-term? Taking a look at the
"5-Yr Restated" Financials
on Morningstar.com, we can see that revenue has been a bit erratic longer-term but has increased from $107.6 million in 1999 to $304.4 million in the trailing twelve months.
Earnings have also been a bit erratic, with $.29/share in 1999, increasing to $1.06 in 2000, dropping to a loss of $(.19)/share in 2002, and increasing steadily since then to the current $.67/share in the trailing twelve months.
The company has been paying a dividend and this has increased from $.10/share in 2003, to $.11/share in the TTM.
Free cash flow has remained positive as the company has continued to invest substantial amounts into capital spending. $9 million free cash flow reported in the trailing twelve months.
The balance sheet on Morningstar.com shows $12.5 million in cash and $90.7 million in other current assets. This is more than enough to cover both the current assets of $37.6 million AND the long-term liabilities of $37.1 million.
How about "valuation"? If we use $500 million as a lower cut-off for mid-cap stocks, then we can describe this company as mid-cap with a market capitalization of $778.75 million. The trailing p/e is 29.11, and the forward p/e is 20.05. No PEG is noted on Yahoo, and the Price/Sales is 2.17.
Yahoo reports 28.77 million shares outstanding with only 9.70 million of them that float. Of these, only 206,000 shares are out short (11/8/04) representing only 2.12% of the float or 3.377 trading days. IMHO, the short interest is not a big factor in this stock.
As noted, the company DOES pay a small dividend, with $.12/share reported on Yahoo, representing a yield of 0.49%. The last stock split reported by Yahoo was a 2:1 split in December, 1997.
So how about "Technicals"? If we look at a
Point & Figure Chart from Stockcharts.com
, we can see that this stock was essentially trading sideways between 2000 and 2003, when it appeared to hit several support levels around $8.50, and reach resistance at around $16.00/share. After bouncing off a support level at around $9.00/share in September, 2003, the stock has steadily traded higher breaking past prior resistance levels to a current price of around $27.00/share. The chart looks strong, if a bit currently over-extended in my humble opinion.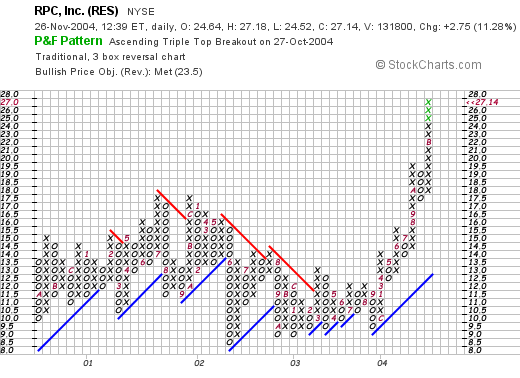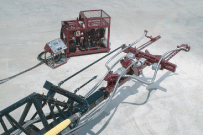 So what do I think? Well, the stock is moving ahead nicely today in the face of a strong oil market and a great profit picture. Their five year record is erratic, showing the cyclical nature of this business, which is a bit of a concern to me. The oil price may determine the future performance of this issue. Their earnings have been improving the last several years, they are paying an increasing dividend, their valuation isn't bad in light of the spectacular growth just reported, and the graph doesn't look too bad to me at all. I guess if you wanted to have some exposure to the energy field, this might be an interesting investment to consider.

As for me, I don't have any available cash to invest, otherwise I would certainly take a look at this one. I am waiting to sell a portion of my stock holding at a profit before adding a new position! Thanks so much for stopping by and please email me if you have any questions or comments, or go ahead and post your comments right under each message right here on the blog!

p.s. I hope you all found that bargain you were looking for today!

Bob