September 26, 2005 Rocky Mountain Chocolate Factory (RMCF)
Hello Friends! Thanks so much for stopping by and visiting my blog,
Stock Picks Bob's Advice
. As always, please remember that I am an amateur investor, so please remember to consult with your professional investment advisors prior to making any investment decisions based on information on this website.
I was looking through the
list of top % gainers on the NASDAQ
today and came across Rocky Mountain Chocolate Factory (RMCF) which is trading at $15.34, up $1.57 or 11.38% on the day, as I write. I do not own any shares nor do I have any options in this company.
According to the
Yahoo "Profile" on RMCF
, this company "...engages in the manufacture of confectionery products, as well as in the operation and franchising of confectionery stores in the United States, Canada, Guam, and the United Arab Emirates. It offers approximately 300 chocolate candies and other confectionery products, including clusters, caramels, creams, mints, and truffles."
On July 12, 2005, Rocky Mountain Chocolate Factory
reported 1st quarter 2006 results
. For the quarter ended May 31, 2005, revenues increased 13% to $5.4 million from $4.7 million in the same quarter last year. Just as important, the "same-store sales" at franchised retail outlets climbed 4.1%. Net earnings for the first quarter increased 27% to $753,000 compared with $592,000 in the prior year same period. Fully diluted earnings per share increased 22% to $.11 compared with $.09 last year.
Looking longer term at the
"5-Yr Restated" financials on Morningstar.com
, we can see a nice picture of revenue growth except for a dip from $22.6 million in 2001 to $19.4 million in 2002. Otherwise, since then, revenue has grown steadily to the $25.2 million level in the trailing twelve months (TTM).
Earnings have also been a bit erratic, dropping from $.33/share in 2002 to $.14/share in 2003. However, since then they also have climbed steadily to $.53 in the trailing twelve months.
Free cash flow has stayed positive with $3 million reported in 2003, and $2 million in the TTM. Looking at the balance sheet, we find that ther is $1.7 million in cash and $6.8 million in other current assets, plenty to cover both the $2.1 million in current liabilities and the $.7 million in long-term debt, three times over.
Reviewing
Yahoo "Key Statistics" on RMCF
, we find that this is a small, virtually a micro cap stock with a market capitalization of only $95.21 million. The trailing p/e is moderate (imho) at 28.81, but the forward p/e (fye 28-Feb-07) is better at 19.62. No PEG is reported.
According to
Fidelity.com
, Rocky Mountain Chocolate Factory is in the "Confectioners" industrial group. Within this group, the Price/Sales figure of 3.7 is no bargain. Wrigley (WWY) tops the group with a price/sales of 4.1, followed by Rocky Mountain (RMCF) at 3.7, Tootsie Roll (TR) at 3.6, Hershey (HSY) at 3.0, and M&F Worldwide (MFW) at 3.0. Imperial Sugar (IPSU) is a relative bargain with a price/sales ratio of only 0.1.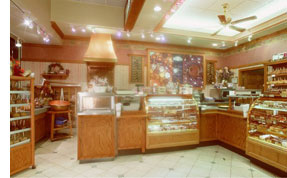 Looking at some other numbers from Yahoo, we can see that there are only 6.22 million shares outstanding with 4.95 million of them that float. Currently as of 8/10/05, there are only 121,510 shares out short (up from 67,200 the prior month) but still representing only 2.20% of the float or 1.3 trading days of volume. Not significant in my book!
The company
does
pay a small dividend of $.27/share yielding 2.00%. Yahoo reports the lates stock split recently, a 4:3 split on 6/14/05.
What about the chart? If we look at a
"Point & Figure" chart on RMCF from Stockcharts.com
, we can see that the stock has been a fairly volatile issue but has been climbing fairly steadily from the $1.75 level in February, 2002, to the $16 level today. The stock broke through resistand at around $4.75 in September, 2005, and has moved higher since, with a pullback to the current level, still above the support line, but well below the recent price high of $25. The graph looks positive, but not over-extended: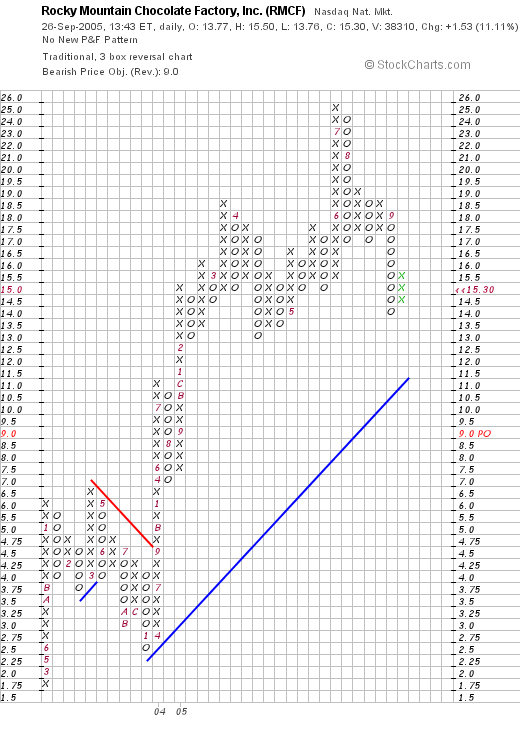 So what do I think? Well I sure love their chocolate! But seriously, the recent earnings report is solid, the Morningstar.com looks pretty strong to me with fairly steady growth in both earnings and revenue. (I find that these tiny companies tend to have much more volatile results!) Free cash flow is positive, and the balance sheet is strong. In fact, the company even pays a cash dividend.

On the downside, valuation is a bit rich with a p/e in the high 20's, and a price/sales ahead of all but one stock in its group. However, if you wanted to get into a small company with a large potential growth, this might be the answer!

Thanks again for stopping by! If you have any comments or questions, please feel free to leave them right here on the blog or email me at bobsadviceforstocks@lycos.com.

Bob