"Weekend Trading Portfolio Analysis" Hibbett Sporting Goods (HIBB)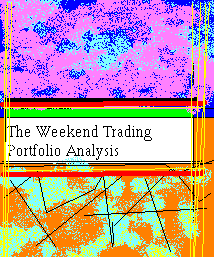 Hello Friends! Thanks so much for stopping by and visiting my blog,
Stock Picks Bob's Advice
. As always, please remember that I am an amateur investor, so please remember to consult with your professional investment advisors prior to making any investment decisions based on information on this website.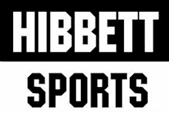 I occasionally get emails from people who are trying to figure out exactly
what
I am doing on my blog! Basically, this website is about two things: stock market investment ideas that I find attractive, and my own experience using those same ideas and the same strategy in developing a trading portfolio. Several weeks ago, I decided to systematically review each of my actual holdings in my portfolio and share with you my experience with those stocks and the current status of those investments.
Last week, I
reviewed Genesco (GCO) on Stock Picks Bob's Advice
. Going alphabetically through my current holdings, my next stock to discuss is Hibbett Sporting Goods (HIBB).
I currently own 111 shares of Hibbett (HIBB) in my trading account that was acquired 3/6/03 with a cost basis of $6.50/share. HIBB closed on 11/4/05 at $27.15, giving me a gain of $20.65/share or 317.7% for this stock(!). This investment has been a superstar in my portfolio!
I have sold portions of my original investment eight times (!), representing sales at 30%, 60%, 90%, 120%, 180%, 240% 300%, and 360%. Thus, my current next sale point would be either at a 450% (now going by 90% intervals) or $6.50 x 5.5 = $35.75 or on the downside, at a 180% gain level (half of the highest appreciation point or $6.50 x 2.80 = $18.20.
On August 18, 2005, HIBB
reported 2nd quarter 2005 results
. Revenue for the quarter ended July 30, 2005, climbed 15.0% to $94.0 million, compared with $81.8 million for the prior year same period. During the quarter comparable store sales jumped 3.1%. Net income grew strongly by 66.9% to $4.9 million, up from $2.9 million the prior year. On a diluted per share basis, this worked out to a 75.0% increase to $.21/share, up from $.12/diluted share the prior year. In addition, the company raised 2006 guidance and announced a 3:2 stock split!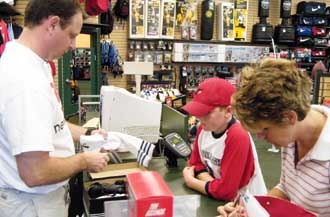 Taking a look at the
"5-Yr Restated" financials for HIBB from Morningstar.com
, we can see that revenue growth has remained perfectly steady increasing from $209.6 million in 2001 to $408.1 million in the trailing twelve months (TTM).
Earnings have increased steadily as well from $.32/share in 2001 to $.85/share in the TTM. Free cash flow has been positive, increasing from $11 million in 2003 to $27 million in the TTM.
The balance sheet is solid with $48.9 million in cash and $125.8 million in other current assets balanced against $57.4 million in current liabilities and $9.7 million in long-term liabilities.
Looking at a
"Point & Figure" chart on HIBB from Stockcharts.com
: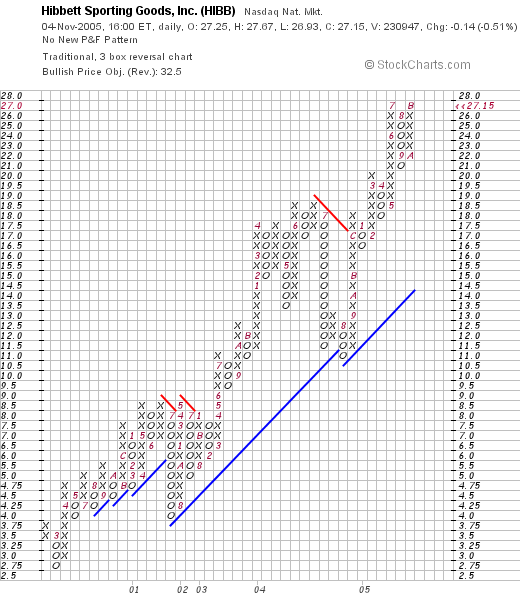 We can see an absolutely gorgeous graph with Hibbett appreciating steadily in price from $2.75 in March, 2000, to $27.50 level currently. The stock really has held to the support levels very nicely if not perfectly.

What do I think? This was a great investment for me! I cannot tell whether the future will continue to hold bright prospects for me or not but I have already hedged my bet so to speak having sold portions of this stock eight times already! Hopefully, the stock continues to advance as Hibbett spreads out opening sporting goods stores in small towns across America!

Thanks so much for stopping by! If you have any comments or questions, please feel free to email me at bobsadviceforstocks@lycos.com, or just go ahead and leave your words on the blog!

Bob