"Revisiting a Stock Pick" Marvell Technology (MRVL)
Hello Friends! Thanks so much for stopping by and visiting my blog,
Stock Picks Bob's Advice
. As always, please remember that I am an amateur investor, so please remember to consult with your professional investment advisors prior to making any investment decisions based on information on this website.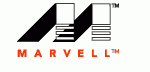 Looking through the
list of top % gainers on the NASDAQ
today, I came across Marvell, which as I write, is trading at $55.70, up $5.21 or 10.32% on the day. I do not own any shares or options on this stock.
I first
posted Marvell on Stock Picks Bob's Advice
on May 21, 2004, when Marvell was trading at $42.99. Marvell actually split 2:1 on 6/29/04,
after
my picking the stock, making the effective stock pick price actually $21.50. Thus, with the stock trading as I now write at $56.93 (up a little further since I started writing the post), this is an appreciation of $35.43 or 165% (!) since posting. Too bad I didn't buy any shares either :(.
According to the
Yahoo "Profile" on MRVL
, the company "...engages in the design, development, and marketing of semiconductors, such as analog, mixed-signal, and digital signal processing integrated circuits."
What drove the stock higher was an
upgrade
on the stock by Prudential. This was on the back of a superby quarterly report. Yesterday, after the close of trading, MRVL
reported 3rd quarter 2006 results
. For the quarter ended October 29, 2005, revenue came in at $426.0 million, an increase of 34.1% over the 3rd quarter of fiscal 2005, and a 9.1% sequential improvement over the prior quarter. Net income was $93.0 million or $.29/diluted share, up strongly from $43.65 million or $.15/diluted share the prior year same period.
Looking longer-term at the
Morningstar.com "5-Yr Restated" financials on MRVL
, we can see the steady revenue growth from $0.1 billion in 2001 to $1.4 billion in the trailing twelve months. Earnings have also steadily and dramatically grown from $(1.82)/share in 2002 to $.77/share in the TTM. Free cash flow has dramatically improved from $12 million in 2003 to $252 million in the TTM. The balance sheet is also gorgeous with $847.1 million in cash alone, enough to pay off both the $231.4 million in current liabilities and the $119.2 million in long-term liabilities combined more than twice over. In addition, MRVL is reported to have $409.6 million in other current assets.
Looking at the
Yahoo "Key Statistics" on MRVL
, we can see that this is a large cap stock with a market capitalization of $16.16 billion. The trailing p/e is definitely rich, but the forward p/e (fye 31-Jan-07) isn't bad at 37.04, and the PEG with the rapid growth in this stock, actually coming in at a reasonable 1.09.
Yahoo reports 283.37 million shares outstanding with 9.24 million out short or 4.30% of the float. However, the short ratio is only 2.5 meaning the trading volume is such, that from my perspective, this is not a significant short interest. No cash dividend is paid, and as noted earlier, the company last split its stock in June, 2004.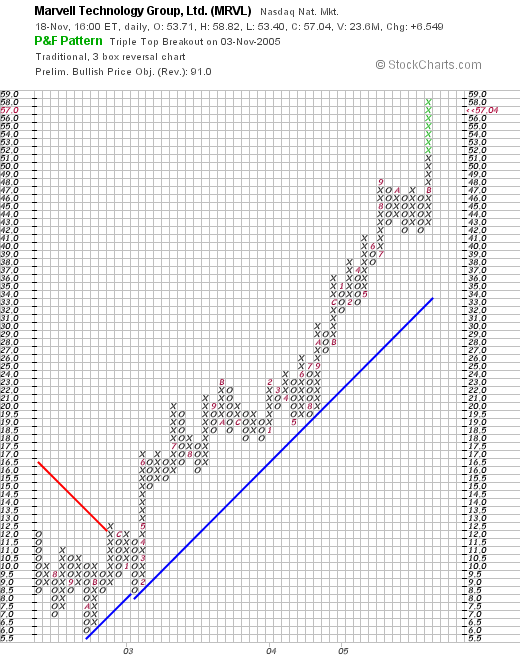 The "Point & Figure" chart on MRVL from Stockcharts.com is a thing of beauty! This is an extremely strong stock, that last broke through resistance in late 2002 at around the $12 level. The stock has subsequently charged ahead unhindered to its current level, and does not appear to be looking back!

What do I think? Well, I like this stock a lot. It is priced for perfection, but on the other hand, as it continues to deliver perfection, the stock price continues to charge ahead. The Morningstar.com picture is beautiful, the chart is nice, and valuation, while rich, may well be justified with the fantastic record of growth.

Thanks so much for stopping by! If you have any questions or comments please feel free to leave them on the blog or email me at bobsadviceforstocks@lycos.com.

Bob











Posted by bobsadviceforstocks at 11:08 AM CST |
Post Comment
|
Permalink
Updated: Saturday, 19 November 2005 1:12 PM CST