May 21, 2004 Marvell Technology Group (MRVL)
Hello Friends! Thanks as always for taking the time to stop by and read my blog. I mean if you guys didn't come and visit, there would be NO reason for me to be writing. Remember, though, as polished as I try to make this blog, that I am an AMATEUR investor, that you need to do your own research on all investments discussed on this blog prior to making any investment decisions, and that you need to discuss these decisions with a PROFESSIONAL investment advisor who can let you know whether they are appropriate, timely, and even likely to be profitable for you!
I came across Marvell Technology Group (MRVL) today on the list of greatest gainers.

As I write, MRVL is trading at $42.99, up $3.16 on the day or 7.93%. According to Yahoo, Marvell "...is a global semiconductor provider of high-performance analog, mixed signal and digital signal processing integrated circuits." Clearly this is NOT one of those Peter Lynch kind of investments that your daughter happened to bring home from the mall!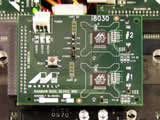 But their numbers look great to me, so let's take a closer look!
Yesterday, Marvell
reported 1st quarter 2005 results
. Net revenue came in at $269.6 million, a 60% increase over the net revenue of $168.3 million in the same quarter in 2004...and an 11% sequential increase from the net revenue of $243.3 million, the prior quarter. Net income (GAAP), came in at $14.5 million, or $.10/diluted share vs. $4.4 million, or $.03/dilued share the prior year. These are nice numbers!
If we look at
Morningstar "5-Yr Restated" financials
, we can see that revenue has grown explosively from $21.3 million in 1999, to $727.3 million in the trailing twelve months. It really is a pretty series of bar graphs!
Earnings have improved from losses of $(3.55) in 2001, $(3.63) in 2002, to a profit this past year. Free cash flow has also improved from $0 in 2001, to $25 million in 2002, $12 million in 2003, and $92 million in the trailing twelve months.
The balance sheet as presented by Morningstar.com is gorgeous (!) with $400.3 million in cash, more than twice the amount of Current Liabilities ($164.8 million) and Long-Term Liabilities ($55.2 million) combined. In addition, MRVL has another $213.8 million of OTHER current assets. This company is quite solvent in my humble opinion.
What about "valuation"? Looking at
"Key Statistics"
on Marvell, the company has a pricey trailing p/e of 133.46...due to the fact that they are JUST turning profitable....yet the growth is so fast that the forward p/e (fye 31-Jan-06) is modest at 24.99. Thus the PEG is downright cheap at 0.77. (anything under 1.0 on a PEG is cheap imho.) The price/sales is rich at 6.42 however.
There are 132.23 million shares outstanding per Yahoo, with 62.40 million of them that float. Of these, 8.89 million are out short as of 4/7/04, representing 2.982 trading days or 14.25% of the float. This is DOUBLE the short interest of 4.40 Million from the prior month. These shares NEED TO BE COVERED....and the price rise on good news might just be a bit of a "short squeeze" in here.
No cash dividend is paid, and Yahoo does not report any stock splits.
What about technicals? If we look at a recent Point & Figure chart on MRVL: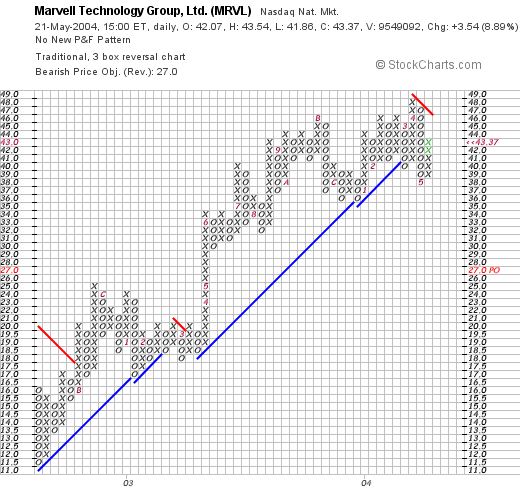 we can see what looks like a possible breakdown in price recently through a support level at about $42 in late April, 2004. However, the stock is moving higher at this point, and I do not see the long-term trend interrupted. However, please review the chart yourself as I am certainly a NOVICE technician!

What do I think? I like this stock. The revenue growth is fabulous. The earnings are growing nicely. The company is generating lots of free cash on an already beautiful balance sheet. The trailing p/e IS a bit rich (over 100 lol), but with a PEG under 1.0, the anticipated growth in a company that is just turning profitable, makes the p/e tolerable in my opinion. Technically, it doesn't look too bad.

I just don't have any cash to invest...am down to 19 positions...will need to update that trading portfolio soon....but am waiting for one of my 19 to hit a sell point on GOOD news....but that is an OLD story....Meanwhile, I am sitting on my hands!

Thanks again for stopping by! If you have any comments, suggestions, questions, or words of encouragement, please email me at bobsadviceforstocks@lycos.com

Have a GREAT weekend everyone!

Bob