"Looking Back One Year" A review of stock picks from the week of August 8, 2005

Hello Friends! Thanks so much for stopping by and visiting my blog, Stock Picks Bob's Advice! As always, please remember that I am an amateur investor, so please remember to consult with your professional investment advisors prior to making any investment decisions based on information on this website.
One of the things I try to do around here is to continue to examine past stock "picks" and selections and see how they turned out. There isn't anything magic about my selection process. These analyses assume a "buy and hold" strategy to investments. In practice I employ, and advocate, a disciplined portfolio management strategy that requires sales of stocks that decline to pre-determined levels as well as partial sales of stocks as they appreciate and reach pre-determined price targets. My goal is always to avoid large losses and preserve large gains as much as possible.
To help us get a better handle on what happened after stocks have been selected, I am starting to post "point & figure" charts from StockCharts.com with these reviews to let you see what I did and when and what happened later. I hope that you find these charts helpful!

On August 11, 2005, I "revisited" Par Technology (PTC) on Stock Picks Bob's Advice when the stock was trading at $31.36. This was a repeat post for Par which was first reviewed on this blog on May 9, 2005, when it was trading at $22.17. Par had a 3:2 stock split on January 9, 2006, making my August, 2005, stock pick price effectively $20.91 (and my May, 2005 "pick" effectively $14.78). Par closed at $8.68 on December 8, 2006, giving my August selection a loss of $(12.23) or (58.5)%. (This particular pick shows the potential of loss of any and all stocks selected on this blog!)
Looking at the stock chart below, we can see how the chart appeared to break down in March, 2006, when the stock price broke through apparent support at the $17 level.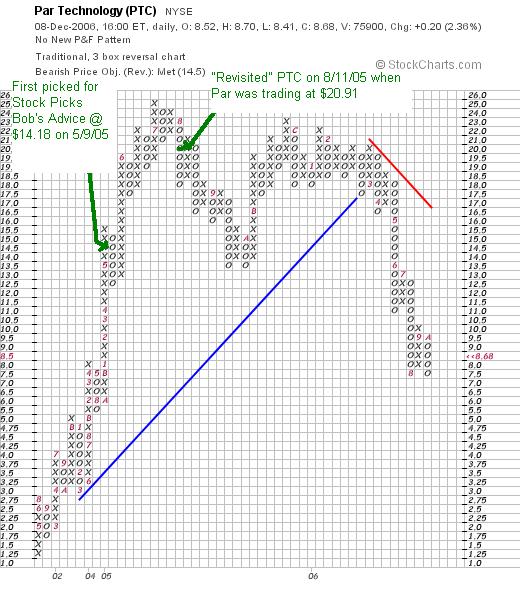 On October 26, 2006, Par (PTC) reported 3rd quarter 2006 results. For the quarter ended September 30, 2006, the company reported revenues of $48.5 million down 7% from revenues of $52.2 million in the same quarter in 2005. Net income came in at $550,000, down over 75% from the $2.5 million reported the same quarter last year. Similarly, diluted earnings per share came in at $.04 during the quarter, down sharply from $.17/share last year.

On August 8, 2005, I posted Ventiv Health (VTIV) (which subsequently in June, 2006, changed its name to inVentiv Health (VTIV)) at a price of $24.19. VTIV closed at $32.08 on December 8, 2006, for a gain of $7.89 or 32.6% since posting.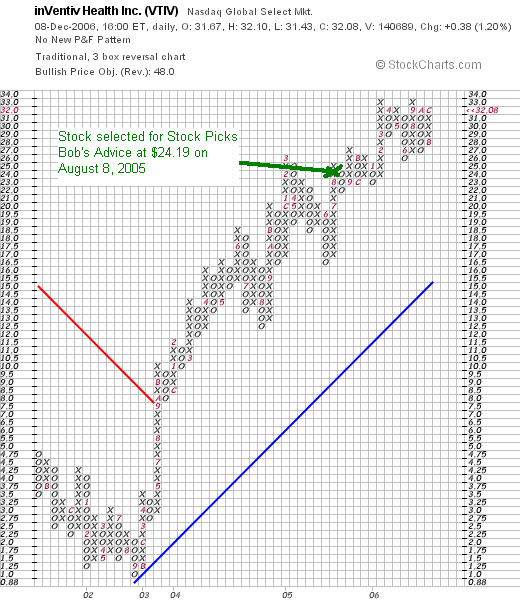 On November 7, 2006, inVentiv (VTIV) reported 3rd quarter 2006 results. Total revenues increased 54% to $197.8 million in the quarter compared with $128.4 million in the same quarter in 2005. While GAAP earnings actually declined to $.34/share from $.53/share, $.24/share in 2005 were for a $6.7 million tax benefit which would have worked out to $.30/share in 2005. Since I generally go with GAAP earnings without looking at all of the one-time items, etc., I gave this stock a 'thumbs-down', but looking harder at the numbers produces a more-encouraging picture and the "street" was not bothered by this report.
In addition, in another bullish note the company raised guidance for 2006 from $705-$725 million to $735-$745 million and adjusted earnings per share guidance for 2006 from $1.46-$1.48 to $1.46-$1.50. They also provided initial revenue guidance for 2007 of $830-$850 million, and initial 2007 eps guidance of $1.70 to $1.80.
All-in-all, a much nicer picture at VTIV than PTC!
So how did I do with these two stock picks? Well, due to the large decline in the PTC stock, the average performance of these two picks works out to a loss of (13.0)%. This emphasizes the importance of limiting losses to small amounts and allowing gains to grow! As I noted above, my "performance" on these reviews is always a "buy and hold" strategy that is not what I actually advocate or practice.
Thanks so much for stopping by and visiting! I hope you enjoyed my inclusion of stock charts noting my own "calls" on the stocks! If you have any comments or questions, please feel free to leave them on the blog or email me at bobsadviceforstocks@lycos.com. If you get a chance, stop by and visit my Stock Picks Podcast Site, where I discuss many of the same stocks and strategies that I write about here on the blog.
Bob