Laboratory Corporation of America (LH) "Revisiting a Stock Pick"
Hello Friends! Thanks so much for stopping by and visiting my blog, Stock Picks Bob's Advice! As always, please remember that I am an amateur investor, so please remember to consult with your professional investment advisors prior to making any investment decisions based on information on this website.

Again, I am going to try to be extremely brief with a post. Looking through the top % gainers on the NYSE today, I came across an old favorite of mine, Laboratory Corporation of America (LH) which closed at $80.00, up $5.56 or 7.47% on the day. I do not own any shares of this stock, nor do I own any options.
I first posted LH on Stock Picks Bob's Advice on June 20, 2003, as one of the earliest posts on this blog. At that time, the stock was trading at $30.68. With today's close at $80.00, this represents a gain of $49.32 or 160.8% since posting.
What drove the stock higher this morning was the announcement of 2006 4th quarter results. Net sales for the quarter came in at $898.6 million, up 9.3% compared to the 2005 same quarter. Net earnings climbed 16.6% to $103.7 million, up from $88.9 million last year. Earnings per diluted share grew 26.6% to $.81 compared with $.64/diluted share last year.
Analysts had expected earnings of $.72/share on revenue of $874 million, so the company thus beat expectations on both earnings and revenue. In addition, the company raised guidance to earnings of $3.93 to $4.09 from prior outlook of $3.86 to $4.01 and indicated revenue growth of 11 to 13% to $3.98 billion to $4.06 billion. Analysts had been estimating earnings of $3.91 on sales of $3.98 billion. From my perspective, this was a perfect kind of report with strong earnings and revenue growth, beating expectations as well as raising guidance!
Some of the highlights from the Morningstar.com "5-Yr Restated" financials on LH include steady revenue growth from $2.2 billion in 2001 to $3.3 billion in 2005 and $3.5 billion in the trailing twelve months (TTM). Earnings have also steadily increased from $1.27/share in 2001 to $2.71/share in 2005 and $3.07/share in the TTM. Interestingly, the number of shares outstanding, after growing from 139 million in 2001 to 144 million in 2003 has been decreasing, with 140 million in 2004, 134 million in 2005, and 125 million in the TTM as the company has been apparently buying back significant number of shares actually enhancing shareholder value!
The company has had solid free cash flow with $533 million reported in the TTM, up from $481 million in 2005. The balance sheet is adequate with $1.03 billion in total current assets compared to $903.5 million in current liabilities. LH also has $1.1 billion in long-term debt, but this doesn't appear to be a big burden with the over $500 million in free cash flow being generated annually.
Checking the Yahoo "Key Statistics" on LH, we find that this is a large cap stock with a market capitalization of $10.03 billion. The trailing p/e is moderate at 26.09, with a forward p/e of 20.46 and a PEG ratio of 1.80. There are 125.4 million shares outstanding with 124.87 million that float. As of 1/9/07, there were 4.72 million shares out short, representing 5.6 average days of trading volume (the short ratio). This is fairly significant and may well have triggered today's sharp rise with short-sellers scrambling to buy back short shares (just my guess.) In any case, with all of the good news, it is comforting to know that so many shares need to be purchased just to cover pre-sold shares!
Finally, looking at a Point and Figure chart on LH from Stockcharts.com, we can see that after dipping to a low of $19 in October, 2002, the stock started moving higher, breaking through resistance in May, 2003, at about the $30 level, where I "picked" the stock shortly thereafter. The stock has risen sharply and steadily since that time and does appear a bit overextended at the $80 level. Overall, I like the look of this graph a lot.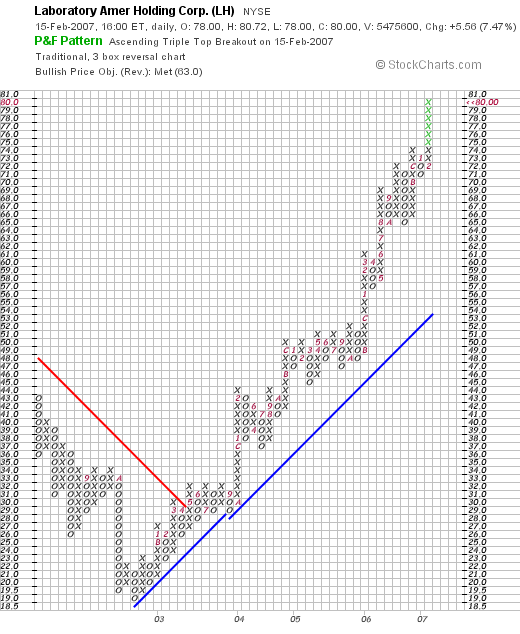 To summarize, I still like this stock a lot and only regret that I didn't purchase any shares back in 2003. They just reported a great earnings report, the Morningstar.com picture looks solid with shares outstanding even declining, and the valuation appears reasonable with a strong chart.
Thanks so much for stopping by and visiting! If you have any comments or questions, please feel free to leave them on the blog or email me at bobsadviceforstocks@lycos.com. If you get a chance, drop by and visit my Stock Picks Podcast Website.
Bob