A Reader Writes "Do you mind sending a copy of your portfolio to me?"
Hello Friends! Thanks so much for stopping by and visiting my blog, Stock Picks Bob's Advice! As always, please remember that I am an amateur investor, so please remember to consult with your professional investment advisers prior to making any investment decisions based on information on this website.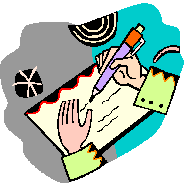 I had a follow-up letter from Eric N. who had some more questions for me about my own particular trading portfolio. I really enjoy receiving letters from readers. It helps me know that people are interested in what I write, and also lets me know about what they are interested in reading. If you have any comments or questions, please feel free to drop me a line at bobsadviceforstocks@lycos.com.
Eric N. wrote:
"Hi Bob,

I realize I wrote you before asking some questions that may have some very long and complex answers, and let's face it, I am sure you have better things to do with your time than to answer every question that comes at you from a newbie seeking advice. If you were not to answer I would not be offended by any means, and I understand the questions asked weren't as simple as 'yes' or 'no.'

Since it probably is unreasonable to expect answers to the questions I previously emailed you, do you mind simply sending a copy of your portfolio to me? I am curious to know which stock make up each percentage of your total investment.

Thanks again for your time. I do look forward to hearing back from you.

Cheers,

Eric N.

P.S. If you do not have the energy or time (or desire) to answer my emails please let me know so I can know to stop bothering you."
First of all, thank you so much for writing Eric! I am always delighted to hear from a "newbie" with investing questions. As I wrote you, I tried to reassure you that I also am an amateur investor, but I have likely been 'around the block' a few more times than you!
Also, I wrote up your last letter and tried to answer all of your questions the best that I could. And I am always happy to share with readers my actual portfolio. I have done so previously, and if you go through the entries, I believe I reviewed all of my holding withing the past month or two. But let me give you an updated rundown on the stocks in my portfolio.
The important thing about this blog, is not to copy or emulate the stocks that I own, although you are welcome to do so. Rather, like the parable about teaching a man to fish, it is more important to understand not the fish that I have caught, but how I was able to catch the fish. O.K. the whole thing is starting to sound 'fishey' but I think you understand what I mean.
Currently, I own 19 stocks in my own real trading account. The following is the list of the stocks I own, the number of shares held, current value of the holding, the % of the entire portfolio, the cost basis, date of purchase, the closing price (4/13/07), and the percentage gain (loss) on the holding.
1. Immucor (BLUD), 180 shares, $6,130.80, 5.2%, $33.86, 4/5/07, $34.06, .59%.

2. Bolt Technology (BTJ), 150 shares, $5,587.50, 4.7%, $17.44, 1/12/07, $37.25, 113.63%.

3. Cerner (CERN), 120 shares, $6,651.60, 5.6%, $49.76, 2/2/07, $55.43, 11.39%.

4. Coach (COH), 71 shares, $3,691.29, 3.1%, $8.33, 2/25/03, $51.99, 524.03%.

5. Covance (CVD), 119 shares, $7,292.32, 6.2%, $62.61, 4/9/07, $61.28, (2.13)%.

6. Cytyc (CYTC), 188 shares, $6,480.36, 5.5%, $14.86, 1/29/04, $34.47, 132.03%.

7. Hologic (HOLX), 120 shares, $7,143.60, 6.1%, $55.58, 1/31/07, $59.53, 7.1%.

8. Harris (HRS), 120 shares, $6,072.00, 5.2%, $50.05, 1/31/07, $50.60, 1.1%.

9. Jones Soda (JSDA), 250 shares, $7,055.00, 6.0%, $18.22, 3/12/07, $28.22, 54.91%.

10. Kyphon (KYPH), 125 shares, $6,012.50, 5.1%, $29.21, 5/20/05, $48.10, 64.64%.

11. Morningstar (MORN), 140 shares, $7,352.80, 6.2%, $32.57, 11/22/05, $52.52, 61.23%.

12. Precision Castparts (PCP), 100 shares, $10,269.00, 9.0%, $69.05, 10/24/06, $102.69, 48.72%.

13. Quality Systems (QSII), 88 shares, $3,459.28, 2.9%, $7.75, 7/28/03, $39.31, 407.3%.

14. ResMed (RMD), 150 shares, $7,455.00, 6.3%, $29.87, 2/4/05, $49.70, 66.4%.

15. Starbucks (SBUX), 50 shares, $1,538.00, 1.3%, $11.40, 1/24/03, $30.76, 169.71%.

16. Universal Electronics (UEIC), 180 shares, $4,964.40, 4.2%, $25.24, 2/23/07, $27.58, 9.27%.

17. Meridian Bioscience (VIVO), 210 shares, $6,260.10, 5.3%, $11.13, 4/21/05, $29.81, 167.87%.

18. Ventana Medical Systems (VMSI), 188 shares, $8,576.56, 7.3%, $23.47, 4/16/04, $45.62, 94.38%.

19. Wolverine World Wide (WWW), 200 shares, $5,840.00, 5.0%, $23.55, 4/19/06, $29.20, 24.01%.
Eric, that's my portfolio as of today's close! These are the actual stocks that I own. The total value of the account is $117,832.11; I have a margin balance of $(66,134.20), leaving me with a net value of $51,997.91 on these 19 stocks.
I do not encourage or suggest the use of margin as I have done. This adds far too much risk and volatility to the mix, and I plan on paying down the margin balance as soon as I hit my 25 position maximum, with the portions of stocks sold at that time used to pay down the loan.
Thanks again for your letter! If you have any other comments or questions, please feel free to leave them on the blog or email me at bobsadviceforstocks@lycos.com.
Please remember that my stocks are just a mix of companies from my "vocabulary" of investable stocks. There are many other stocks that you can own; it is the management of what you pick that will determine your success. Good-luck and keep me posted!
Bob