Some Thoughts on Selling Strategy
Hello Friends! Thanks so much for stopping by and visiting my blog, Stock Picks Bob's Advice! As always, please remember that I am an amateur investor, so please remember to consult with your professional investment advisers prior to making any investment decisions based on information on this website.
With today's tumultuous trading, it would be helpful and step back for some perspective.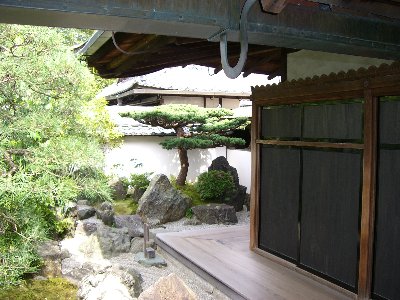 This is a beautiful Zen garden picture from Kyoto as published on Pattern Recognition blog.
Do you feel a little more peaceful?
As we think about the trading going on, I want to stress the importance that I have found for both perspective and planning. Perspective on what is important in life, and planning to deal with whatever the market may bring.
Throughout this blog, I have discussed the importance of limiting losses within my portfolio. As well, I have discussed the need to take small gains as stocks appreciate. It is from this approach that responding to as bad a market as today is made possible.
After each purchase and each sale of stock in my portfolio I know exactly when I need to sell my shares both on the upside as well as the downside. After each sale, I know whether I have a 'permission slip' to add a new position (after a sale on 'good news'), or whether my own trading strategy demands that I 'sit on my hands'.
My trading system lags the market. It doesn't respond quickly to the violent swings that we are witnessing. But it is tremendously helpful in getting through days like today.
My ResMed stock actually hit a sale point briefly at a 30% appreciation level (down from my last sale at a 60% gain.) Pausing to observe, the stock rebounded off that level and I deferred the sale.
I have other stocks that are near sale points including Bolt (BTJ) which has corrected from its 180% appreciation level to near a 90% appreciation for me, and Satyam (SAY) which is near an (8)% loss. Others are not far behind.
The point is that I am not able to own stocks that beat the overall market when a market moves as it is doing today. The point is that I know when I need to implement trades and at what level.
It isn't perfect, but it is working for me. Albeit slowly.
I hope that all of you are keeping your 'cool'. That doesn't mean you should be so cold that you are frozen in place. But it does mean that you should have a plan about each of your holdings. The plan doesn't necessarily need to look anything like my plan! But a plan will give you some limits, a structure that will assist you in dealing with wild gyrations in stock prices so that you do not over- or under-react.
Good Luck to all of my readers!
Bob