May 28, 2004 Wendy's International (WEN)
Hello Friends! We made it to Friday! I sure appreciate all of you who come and visit here. If some of your are regulars, please email me at bobsadviceforstocks@lycos.com and let me know your own approach to investing and whether you find the information on this website helpful in any fashion! Also, your comments, suggestions, questions, and words of encouragement are as always very much appreciated! Please remember that I am an AMATEUR investor, so do your OWN investigation of all investments discussed on this website, and please consult with your PROFESSIONAL investment advisors to make sure investments discussed are appropriate and timely for you!

I came across Wendy's Intl (WEN) on the list of greatest gainers this morning. As I write, they are trading at $37.43, up $1.29 or 3.57% on the day. I do NOT have any shares or other leveraged positions in this stock. According to Yahoo, Wendy's is "...primarily engaged in the business of operating, developing and franchising a system of distinctive quick-service and fast-casual restaurants." They sell hamburgers, in other words, but also other items on their menu....hmmm...last time I was there they had some new interesting salads, their great chili....oh well it is getting close to lunch so let's not talk about food! My stomach is growling. We do have a couple of other restaurants on this blog including Frisch's, Red Robin Gourmet Burger, and Panera Bread to mention a few.
Earlier this month, on May 3, WEN
announced April 2004 same-store sales results
. They announced that their U.S. Franchise-owned restaurant sales in the month ending May 2 were up 6.3 to 6.6%. Tim Hortons coffee and donut shuts had same-store sales up 9.0-9.2% in Canada, while those in the U.S. jumped 12.4%. These are pretty solid results!
Looking for the latest quarterly report, I found that Wendy's
reported 1st quarter 2004 results
on April 22, 2004. Total revenues increased 20.3% to a record $835 million. Net income came in at $52.8 million for the quarter vs. $43.9 million last year. On a diluted earnings per share basis, this came in at $.45/share vs $.38/share last year.
Longer term, if we examine the
Morningstar.com "5-Yr Restated" financials
, we can note the steady revenue growth from $2.1 billion in 1999 to the latest $3.1 billion in 2003.
Equally nice, imho, the earnings have also steadily grown from $1.32/share in 1999 to the $2.05/share level in 2003.
Free cash flow, has been positive lately, with $6 million reported in 2001, increasing to $88 million in 2003. The balance sheet, per Morningstar, looks a little light on current assets with $195.9 million in cash and $266.8 million in other current assets vs. $528.5 million in current liabilities and $876.9 million in long-term debt. This lightness in the area of current assets is a bit of a concern, but with the steady free cash flow at almost $100 million/year, this does not appear to be a significant issue for WEN in my opinion. But review the numbers yourself and see what you think!
What about valuation? If we look at the
"Key Statistics"
from Yahoo, we can see that the trailing p/e on this large cap stock is only 17.76. The forward p/e (fye 28-Dec-05) is even nicer at 14.44. The PEG is reasonable at 1.18, with a price/sales almost as nice at 1.25. The valuation looks pretty reasonable to me!
Currently there are 114.08 million shares outstanding with 106.10 million of them that float. (For comparison McDonald's has 1.26 BILLION shares outstanding!) The short interest, as of 5/10/04, isn't impressive with 674,000 shares out short representing 0.64% of the float or 0.836 trading days. And this is DOWN from the prior month's 1.09 million shares out short.
The stock DOES pay a dividend of $.48/share yielding 1.33% and the last stock split reported by Yahoo was a 5:4 split in May, 1986.
If we look at a recent "Point & Figure" chart on Wendy's: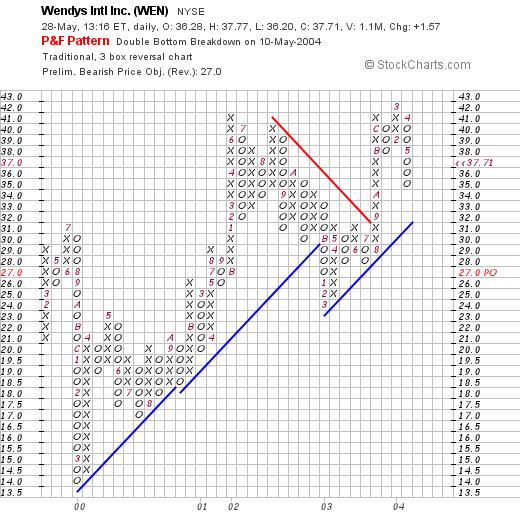 We can see that this stock has been trading fairly steadily higher since March, 2000 when it bottomed at around $14.00/share.

What do I think? Hey, I could use a nice burger right now! But seriously, personally, I am out of the market for buying stock...I am back SITTING ON MY HANDS....waiting for an opportunity to buy a NEW stock when I can sell a portion of an existing postion at a gain....but overall, I like WEN just fine! The valuation is nice. The same store sales figures are great. The balance sheet is a tad weak in the assets department, but I do not think this should be overblown...but maybe watch these figures as the Morningstar site gets updated.

Thanks so much for stopping by! As always, if you have any questions, comments, or words of encouragement, PLEASE feel free to email me at bobsadviceforstocks@lycos.com or leave your comments right here on the blog!

Have a GREAT weekend everyone!

Bob