"Revisiting a Stock Pick" Synaptics (SYNA)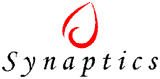 Hello Friends! Thanks so much for stopping by and visiting my blog,
Stock Picks Bob's Advice
. As always, please remember that I am an amateur investor, so please consult with your professional investment advisors prior to making any investment decisions based on information on this website.

Yesterday my stock in Cal Dive (CDIS) hit my first targeted price for a sale, which as you may know is a 30% gain after an initial purchase. Thus, I sold 1/4 of my position, 50 shares, and had a new signal to deal with. Since I am under my 25 position portfolio goal (now at 21 issues), I was thus "entitled" to purchase a new position. Scanning through the
list of top % gainers on the NASDAQ
, I came across Synaptics (SYNA), a stock that I had listed first on 4/23/04 at a price of $17.69 on Stock Picks and was having a great day, closing yesterday at $24.33, up $3.32 or 15.80% on the day. I purchased 300 shares of SYNA at $24.02 prior to the close for my trading account. I have had some Synaptics shares in a managed account this past year...and am actually not sure whether I still have shares there, but believe I do. (I don't monitor one of my managed retirement accounts very closely at all!).

According to the
Yahoo "Profile"
, SYNA "...is a worldwide developer and supplier of custom-designed user interface solutions for notebook computers."
What drove the stock higher yesterday, was the release of
news
that the new iPods from Apple Computer wil utilize Synaptics' touchpad technology. The stock had been under pressure recently over the possibility that Apple would no longer be requiring Synaptics' products in their new line.
On January 20, 2005, Synaptics
reported 2nd quarter 2005 results
. Net revenue for the second quarter ended December 31, 2004, came in at $56.5 million, an approximately 65% increase over the $34.3 million of net revenue the prior year same quarter. Net income was $9.7 million or $.33/diluted share for the quarter, an approximately 178% increase (!) over the $3.5 million or $.13/diluted share the prior year. Although believing the current quarter to be flat sequentially, the company expressed optimism for the 2005 fiscal year stating:
"Fiscal 2005 is shaping up to be an outstanding year based on our record first half performance and current outlook for the second half of the year"
How about longer-term? Taking a look at the
"5-Yr Restated" financials from Morningstar.com
, we can see the steady 'ramping-up' of revenue from $43.4 million in 2000 to $141.8 million in the trailing twelve months (TTM).
Earnings have increased from $.31/share in 2003 to $.55/share in the TTM. (Note the $.33/share in the latest quarter alone!). Free cash flow has been steady if not growing with $12 million reported in 2002 and $12 million reported in the TTM.
The balance sheet as reported on Morningstar.com looks very strong. SYNA has $97.3 million in cash, enough to cover both the $25.5 million in current liabilities and the $2.4 million in long-term liabilities almost four times over. In addition, they have $40.5 million in
other
current assets!
How about "valuation"? As has been pointed out by readers, I really do a very brief look at valuation issues...for what it is worth, I like to at least take a look at
"Key Statistics" from Yahoo on SYNA
. Here we can see that this is a mid-cap stock with a market cap of $639.30 million. The trailing p/e is moderate at 32.27, and the forward p/e (fye 30-Jun-06) is nicer at 22.32. With the fast growth rate anticipated (as noted in the latest quarter), we have a PEG (5-yr expected) of 0.62. The Price/Sales is a bit richer at 3.36.
Yahoo reports 26.28 million shares outstanding with 25.00 million of them that float. Currently there are 2.12 million shares out short as of 1/10/05, representing 8.46% of the float but only 2.059 trading days. Using my arbitrary 3 days of trading volume cut-off, this short interest does not appear to be very significan (imho).
No cash dividend and no stock dividends are reported on Yahoo.
How about "technicals"? In other words, what about a chart on the price performance of this stock? Taking a look at a
"Point & Figure" chart from Stockcharts.com
:

We can see that this stock has been gradually increasing in price from late 2003 when it was trading around $11/share to a recent high of $41/share in February, 2005. The stock declined recently on speculation about a loss in the Apple contract, back to support levels at around $21. It rebounded yesterday, and in my humble opinion, doesn't appear over-valued, nor does it appear to have broken down in price performance.

So what do I think? Well, I liked this stock before in April, 2004, when it was trading around $17.69. The stock had a great earnings report a few weeks ago, has shown steady growth over the past five years in both revenue and earnings, is generating a steady free cash flow, has an outstanding balance sheet, has a valuation that has a reasonable PEG, and the chart looks nice too! I guess that is why I decided to buy some shares yesterday!

Thanks again for stopping by and visiting. If you have any comments or questions, please feel free to email me at bobsadviceforstocks@lycos.com.

Bob