March 16, 2005 Career Education (CECO)
Hello Friends! Thanks so much for stopping by and visiting my blog,
Stock Picks Bob's Advice
. As always, please remember that I am an amateur investor so please consult with your professional investment advisors prior to making any investment decisions based on information on this website.

I have had lots of email recently about what I think about this or that particular stock. Let me explain something about what I am doing. First, I cannot predict what any particular stock is likely to do. And I cannot really tell you whether you should or should not buy any particular stock. That is where your professional investment advisors come in.
In general, my investment approach is to scan the lists of top percentage gainers most days to see if any stocks that happen to be on those lists are worthy of consideration. As for my own investments, I only buy a stock if I get a signal from my own portfolio to purchase. A signal is a sale of an existing partial position at a gain. A signal to sit on my hands is a sale at a loss or bad news.
So today, I decided to take a look at the
list of top % gainers on the NASDAQ
. Here I came across Career Education (CECO), which, in spite of a lousy market, closed today at $36.35, up $3.61 or 11.03% on the day. I do have some shares of this particular stock in a managed account of mine. That is, I do not pick the stocks to buy or sell in that account, I defer to the professional manager.
What drove the stock higher today? Apparently, CECO
released a "10-K"
, which is a required document for the SEC. As
reported
by Reuters,
"The shares of Career Education Corp. surged more than 14 percent on Wednesday after the education company disclosed in a Securities and Exchange Commission filing that an investigation into its accounting practices and other allegations was nearly over."
As often is the case, it is the
uncertainty
of financial events that deters investors.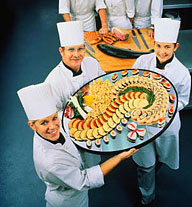 My next step after identifying a stock on the top % gainers list is to check the latest quarterly result. (So much of what I do on this blog is what I would call "common sense").
On February 15, 2005, CECO
reported 4th quarter 2004 results
. For the fourth quarter ended December 31, 2004, total revenue came in at $485.9 million, a 33% increase over the revenue of $366.7 million the prior year same period. According to the report, this increase was primarily due to a 30% increase in "same-school revenue", much like same-store revenue numbers we would comment on for retail ventures.
Net income was $59.8 million, or $.57/diluted share, up 18% from the prior year's result of $50.7 million or $.49/diluted share.
Thus, this company has had both increases in revenue
and
earnings the latest quarter, a key requirement to my particular screening process.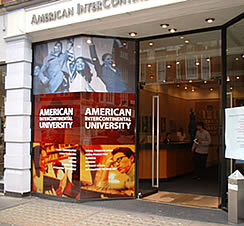 My next step is to look for a pattern of longer-term growth in earnings in revenue. It is my goal to develop a portfolio of stocks of companies that consistently grow their earnings and revenue year after year, and maintain a healthy balance sheet with positive free cash flow.
Where do I find this result? For this information, I turn to the
Morningstar.com "5-Yr Restated" financials
on the Morningstar website.
Here we can see that first of all, the revenue growth has been steady and impressive (as demonstrated by the ramp-up of revenue on the bar-graph representation) from $224 million in 1999 to $1.6 billion in the trailing twelve months (TTM).
How about earnings? These have also steadily grown from $.17/share in 1999 to $1.71/share in the TTM.
And "free cash flow"? Also impressive, with $(3) million in 2001, improving to $45 million in 2002, $133 million in 2003, and $233 million in the TTM.
And balance sheet? As reported on Morningstar, CECO has $274.5 million in cash and $187.2 million in other current assets. This can be balanced against the $289.1 million in current liabilities and the smaller $66.1 million in long-term liabilities. From this, it appears that CECO can cover their current liabilities easily, and in fact, have enough left over in current assets to pay off their long-term debt as well!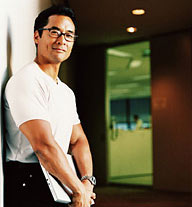 Next, I try to take a look at "valuation" questions. For this I turn back to Yahoo for the
"Key Statistics" section on Yahoo Finance
. Here, we find some assorted facts that help me judge this company and the investment.
First, this is a large cap stock with a market capitalization of $3.73 billion. The trailing p/e is moderate at 21.26, but the forward p/e is even more attractive at 13.27. The "5-yr expected" PEG is beautiful at 0.58. The PEG, for me, is a number that is useful in determining the valuation of a growth stock. It is the ratio of the P/E to the estimated growth rate. Thus, under 1.0 suggests a real "bargain" if the growth actually happens as expected!
Price/sales is a bit richer at 1.94.
Yahoo reports 102.5 million shares outstanding with 101.50 million of them that float. Of these, there are 10 million shares out short as of 2/8/05. This represents 9.85% of the float or 4.667 trading days. I personally use an arbitrary 3.0 days as a cut-off of significance. Thus, we can see that with good news as happened today, there could well be a bit of a short squeeze as the short-sellers rushed to cover their shares pre-sold.
There are no cash dividends and the last stock split, per Yahoo, was a 2:1 on August 25, 2003.
How about a chart? Does the stock-price 'pattern' appear promising? For this I like to use the chart service on
Stockcharts.com
. The last few years, I have become comfortable with what are called
"Point and Figure" charts
. This is the
"Point and Figure" chart for CECO
: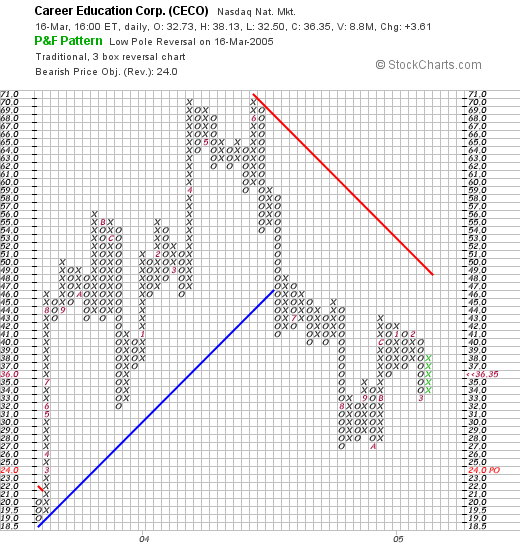 Quite frankly, this price graph looks awful! The stock broke down in June, 2004, when it fell from $70/share to $42/share over a few weeks. The stock continued past its support level (the blue line), down to a low of $26. However, the stock appears to be climbing higher once again. I guess if I were a technician, I would be waiting to see the stock break through the $48 resistance level (the red line), in a convincing fashion. But then again, I am not a technician...but it is helpful to at least look at the chart!

So what do I think. Well, I am NOT in the market for a stock. I do happen to own some shares of this one in a different account not under my control. But the last quarter's results were impressive, the five year results look nice, the valuation is great, the free cash flow is superb, the balance sheet is solid. But the chart is a bit weak. And I personally would wait for all of the apparent accounting questions to be cleared up prior to buying any shares....but then again, that might be a bit late....the market does anticipate things!

Thanks so much for stopping by. I hope that you peruse lots of the stocks I have discussed and you will continue to get a handle on my own perspective. If you have any questions or comments, please feel free to email me at bobsadviceforstocks@lycos.com .

Bob