"Revisiting a Stock Pick" Forest Laboratories (FRX)
Hello Friends! Thanks so much for stopping by and visiting my blog,
Stock Picks Bob's Advice
. As always, please remember that I am an amateur investor, so please consult with your professional investment advisors prior to making any investment decisions based on information on this website.

Scanning for stocks today, I did my usual routine: first, scanning through the
list of top % gainers on the NYSE
, I came across Forest Laboratories (FRX), which closed at $37.90, up $1.15 or 3.13% on the day.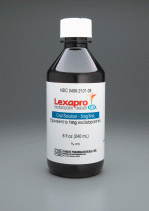 I actually had the opportunity of
posting FRX on Stock Picks on 6/20/03
when it was actually trading higher at $54.99. I do not own any shares of FRX nor do I own any options.
According to the
Yahoo "Profile" for Forest Laboratories
, FRX and its subsidiaries "...develop, manufacture and sell ethical drug products, which require a physician's prescription, as well as non-prescription pharmaceutical products sold over-the-counter (OTC)."
So what about the latest quarter? On January 18, 2005, FRX
reported 3rd quarter 2005 results
. Net sales for the quarter ended December 31, 2004, came in at $795 million, up 14% from $700 million last year for the same quarter. Net income for the quarter rose 15% to $260.8 million, from $226.1 million the prior year same quarter. On a diluted earnings per share basis this ammounted to a 17% increase to $.70/share in the current quarter compared with $.60 in last year's third quarter.
And what about "longer-term"? As always, I like to review the Morningstar.com results for the "5-Yr Restated" financials. Looking at the
Morningstar 5-Yr results on FRX
, we can see that revenue has grown steadily from $.9 billion in 2000 to $3.2 billion in the trailing twelve months (TTM).
Morningstar.com shows earnings growing very steadily from $.32/share in 2000 to $2.47 in the trailing twelve months.
Free cash flow is also very pretty with $390 million in 2002, growing to $919 million (almost $1 billion) in free cash flow in the TTM.
The balance sheet on Morningstar.com is impressive with $1.8 billion in cash and $1.05 billion in other current assets balanced against $512.7 million in current liabilities and only $1.5 million in long-term liabilities. This is a very pretty picture!
How about "valuation" questions? Looking at
"Key Statistics" from Yahoo on FRX
, we can see that this is a large cap stock with a market capitalization of $13.32 billion. The trailing p/e is downright reasonable at 15.30, with a forward p/e (fye 31-Mar-06) of 14.58. Thus, the PEG is nice at 0.88 (under 1.0), and the Price/Sales, not quite as reasonable at 3.99.
Yahoo shows that there are 351.38 million shares outstanding with 345 million that float. There are 7.24 million shares out short as of 3/8/05, representing 2.10% of the float or 3.856 trading days. If we use my arbitrary 3 day rule, then this appears a little more than insignificant.
There are no cash dividends paid, and the last stock split was 1/9/03 when a 2:1 split was declared.
What about "technicals"? This stock is actually
below
the selection price of 6/20/03! Looking at a
"Point and Figure" chart for FRX from Stockcharts.com
, we can see what looks very weak to me! The stock peaked at $78/share in February, 2004, then has slipped steadily to the current $37 level.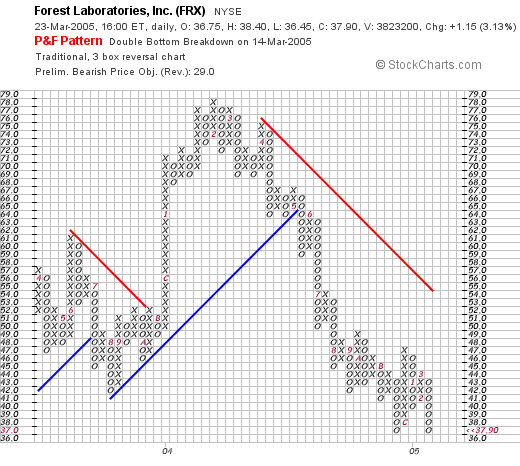 I would actually like to see this stock move higher, at least above $47, and preferably above $55 to demonstrate strength technically before committing new funds.

So what do I think? Well, the latest quarter was solid, the last five years have been also very steady with growth in both revenue and earnings. The free cash flow is beautiful, with FRX spinning off $1 billion in free cash per year. The balance sheet is gorgeous. The valuation measures are reasonable with a low p/e and a PEG under 1.0, but the chart looks awful :(.

Not exactly a great momentum play imho, but with those numbers, this could turn out to be a great buying opportunity (?).

Anyhow, I wanted to revisit this stock for you! Thanks again for stopping by and be sure to drop me a line if you have any comments, questions, or words of encouragement, at bobsadviceforstocks@lycos.com.

Bob