"Revisiting a Stock Pick" Jos A. Bank (JOSB)
Hello Friends! Thanks so much for stopping by and visiting my blog,
Stock Picks Bob's Advice
. As always, please remember that I am an amateur investor, so please consult with your professional investment advisors prior to making any investment decisions based on information on this website!

That nickel was really 'burning a hole' in my pocket today! Having sold a portion of Cantel (CMN) and Ventana (VMSI) today, I was "eligible" to purchase two additional positions. Looking through the
list of top % gainers on the NASDAQ
, I came across Jos A. Bank (JOSB) which closed at $31.88, up $2.17 or 7.30% on the day. By the close of trading today, the stock was no longer on the list of top gainers which stopped with a 7.91% gain, but during the day it was there, and I made a purchase of shares on that basis. I actually posted JOSB on Stock Picks on 8/7/03, when it was trading for a split-adjusted $23.56.
According to the
Yahoo "Profile" On Jos A Bank (JOSB)
, the company "...is a designer, retailer and direct marketer, through stores, catalog and the Internet, of men's tailored and casual clothing and accessories."
What drove the stock higher today was a
preliminary 4th quarter 2004 earnings report
. Sales for the fourth quarter 2004 increased 26.8% to $127.9 million compared with sales of $100.9 million in the prior year same period. More importantly, same store sales jumped 9.4% in the fourth quarter and 8.4% for the FY2004, while combined catalog and internet sales grew 31% for the quarter over the prior year. Net income for the quarter came in at $12.6 million, up from $9.6 million the prior year. On a diluted per share basis, this came in at $.88/share up from $.68/share the prior year. I especially like the same store sales growth in this report!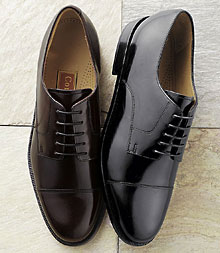 How about longer term? For this, I like to turn to the
Morningstar.com "5-Yr Restated" financials for JOSB
. Here we can see the steady revenue growth from $193.5 million in 2000 to $345.5 million in the trailing twelve months (TTM).
Earnings/share have grown in an uninterrupted fashion from $.11/share in 2000 to $1.54/share in the TTM.
Free cash flow has been a bit erratic, but is at a positive $6 million in the TTM.
The balance sheet is solid with $1.3 million in cash and $153.4 million in other current assets, balanced against $65.4 million in current liabilities and $45.8 million in long-term debt.
What about "valuation"? For that I like to turn right back to Yahoo, for
"Key Statistics" on JOSB from Yahoo
. First, this is a small cap stock with a market capitalization of only $427.03 million.
The trailing p/e is reasonable (imho) at 20.65, with a forward p/e (fye 31-Jan-06) of 15.40. Thus, the 5-yr estimated PEG is downright cheap at 0.72, and the Price/Sales raio is also low at 1/15.
Yahoo reports only 13.40 million shares outstanding with 11.80 million of them that float. As of 3/8/05, there were 6.03 million shares out short, representing 51.11% of the float and 17.583 trading days of average volume. This appears quite significant to me (anything over 3.0 days is suspect in my book), and we may be in the throes of a bit of a short "squeeze".
No dividend is paid and the last stock split was a 5:4 split on 8/19/04.
How about "technicals"? In other words, what does the chart look like? Taking a look at a
Stockchart.com "point & figure" chart on JOSB
: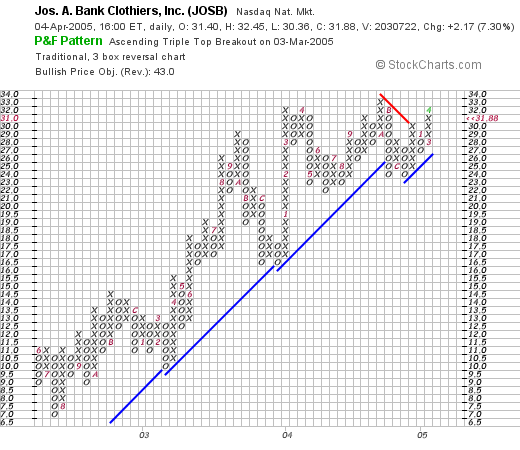 this chart actually looks fairly strong with an impressive move from $7.00 in July, 2002, to the $31.88 level where it closed today.

So what do I think? Well, I liked it enough to post it in August, 2003, and I still like it enough to buy some shares. The company is small but growing strongly with upper single-digit same store sales growth. Revenue and earnings growth have been very steady the past 5 years, company is free-cash-flow positive and has a nice balance sheet. Valuation is reasonable with a PEG under 1.0 and the large number of shares out short is just pent-up buying demand. Things look nice to me!

Thanks again for stopping by! If you have any questions or comments, please feel free to email me at bobsadviceforstocks@lycos.com.

Bob