A Reader Writes 'How about an update on Mentor?'
Hello Friends! We sure had another downdraft today, with the Dow down 191.24 at 10087.51, and the NASDAQ down 38.56 at 1908.15! Anyway, thanks so much for stopping by and visiting my blog,
Stock Picks Bob's Advice
. As always, please remember that I am an amateur investor, so please consult with your professional investment advisors prior to making any investment decisions based on information on this website.
I checked my email earlier and found that I had a nice letter from Brooks R. who wrote:
Hi Bob,

How about an update on this stock which had a huge gap up today?

> From reading the news and analyst comments, it sounds like the big jump,
which was fueled by the advisory panel approval of its implant product, may
not be approved by the full FDA. It also pointed out that the approval may
not have made sense when a similar product, slightly less dangerous, was
disapproved the same week.

Would be interested in your take on this.

Thank you.

Brooks
Brooks is referring to the
news on Mentor
that the FDA advisory panel gave a positive recommendation that Mentor's breast implants be approved for sale. However the FDA itself must decide about final approval. As this article reports, this approval could add $62 million to Mentor's revenue next year and could increase earnings from $1.79/share to $2.05/share. As Brooks notes, the stock responded strongly to the news and gapped higher by several points.
Inamed, however, another manufacturer of breast implants,
failed
to get approval to bring them back to market just a day earlier.
We can see from the chart, that Inamed (IMDC) has sold off sharply since the FDA announcement: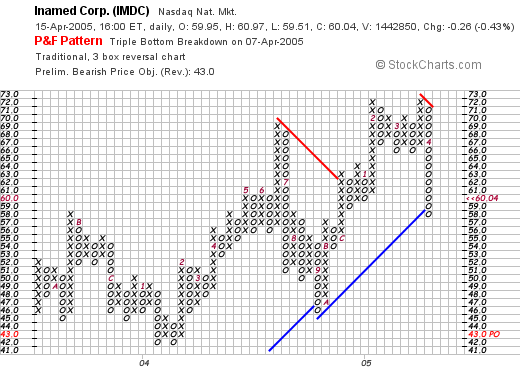 while Mentor (MNT) has continued its steady price appreciation that actually dates back to September, 2001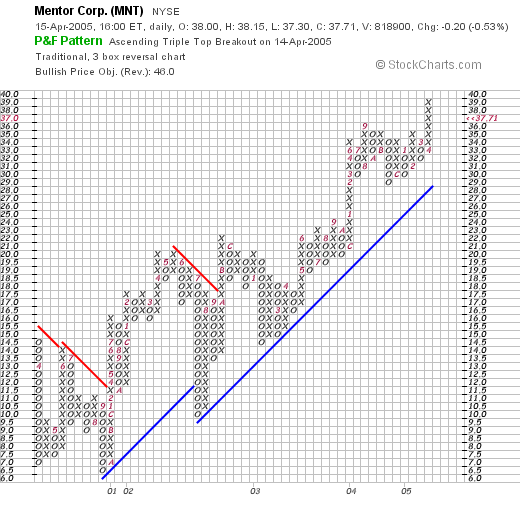 As you probably know, I have shares of Mentor in my "Trading Portfolio" and wrote up Mentor August 3, 2004, prior to my own purchase. I didn't write it up based on what the FDA might or might not due, but instead on a solid "5-Yr Restated" financials from Morningstar.com. On Morningstar, we can see the steady revenue growth the past five years, the fairly steady growth in earnings, the solid free cash flow, and the strong balance sheet. These were the factors that led me to write up MNT, and encouraged me to purchase some shares.

I agree that there is a high chance of disappointment with the FDA's potential to disapprove of MNT breast implants. This would be very negative for the stock, but not probably totally damaging (?). My own investment decisions on this and my other stocks will be based either on fundamental disappointments like actual earnings problems, or technical issues, like the stock dropping 8% after a purchase. Otherwise, I tend to go with the flow...:).

I hope that is helpful to you in your own evaluation of this and other stocks! If you or anyone else have additional questions or comments, please feel free to email me at bobsadviceforstocks@lycos.com.

Bob