A Reader Writes "Have you an opinion on NTE?"

Hello Friends! Thanks so much for stopping by and visiting my blog,
Stock Picks Bob's Advice
. As always, please remember that I am an amateur investor so please consult with your professional investment advisors prior to making any investment decisions based on information on this website.
I received an email last week from Argee who had this to say:
In reading your comment on ParTech. you mentioned Nam Tai Technology (NTE)which I see is making unbelievable numbers according to Schwab.P/E 12.7, 35% projected growth '05,dividend 6.2%.Have you an opinion on NTE?
Well, first I would like to thank Argee for writing. If you have a question and would like to email me feel free to do so at bobsadviceforstocks@lycos.com. I will try to answer your questions but cannot always respond to all of the email that I receive!
Again, I am going to remind you that I am an amateur investor. Thus, I cannot predict whether investing in NTE would be a good investment or not. The price may decline in the near future, or it may be climbing, all I can do is point out whether it fits into my investing strategy! Anyhow, let's take a look at Nam Tai (NTE).

First of all, I do not own any shares or options in Nam Tai. NTE closed at $21.66, up $.27 or 1.26% on the day.
According to the
Yahoo "Profile" on NTE
, Nam Tai Electronics "...is an electronics manufacturing and design services provider to original equipment manufacturers (OEMs) of telecommunications and consumer electronic products."
First, lates quarter: Nam Tai
reported 1st quarter 2005 results on May 3, 2005
. Net sales climbed 64.4% to $156.9 million, from $95.4 million the prior year. Beautiful!
Net income climbed 86.9% to $13.8 million from $7.4 million last year. Gorgeous.
Diluted earnings per share were up 77.8% to $.32/share from $.18/share the prior year. Spectacular!
Thus far, I am surprised that this company has not made my list!
How about "longer-term"? Looking at the
Morningstar.com "5-Yr Restated" financials
: revenue has grown nicely from $214 million in sales in 2000 to $534 million in the trailing twelve months (TTM).
Earnings which dropped from $.78/share in 2000 to $.26 in 2001, has climbed steadily since then to $1.57 in the TTM.
Free cash flow has also been positive and growing from $21 million in 2002 to $37 million. The balance sheet is solid as well with $202.6 million in cash and $132.2 million in other current assets balanced against $116.5 million in current liabilities and $38.9 million in long-term debt.
Morningstar.com report looks just fine!
How about "valuation"? Looking at
Yahoo "key statistics" on NTE
, we can see that this is a mid-cap stock with a market cap of $924.12 million. The trailing p/e is cheap at 12.80, the forward p/e (?) isn't bad (I don't know why Yahoo shows it higher) at 17.06 (fye 31-Dec-06).
Price/sales is 1.53, and the PEG is 0.84, all reasonbly cheap values.
Yahoo reports 42.67 million shares outstanding with 23.50 million that float. Of these, as of 4/8/05, there were 811,000 shares out short representing 2.668 trading days or 3.45% of the float.
The company is reported to pay a dividend of $1.32 (6.09%), and last split 3:1 on 7/8/03. Hey, what is there
not
to like???
What about a chart?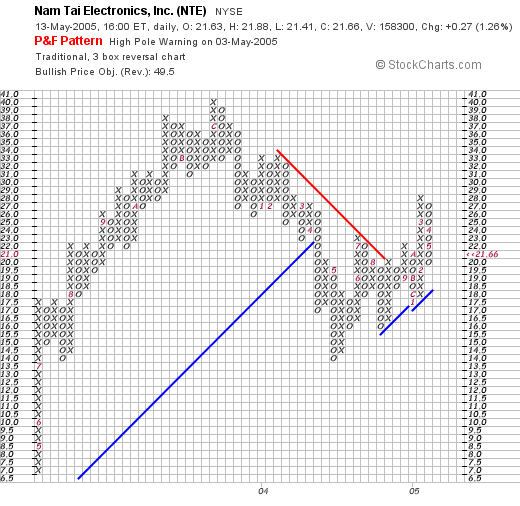 Just looking at the graph, it appears the stock broke down in late 2003 when it declined from a peak of $40 down to a low of $13.50. The stock has subsequently gotten through "resistance" at around the $21.60 level in August, 2004, and has been moving higher since. Graph, doesn't really look bad!

What do I think? Well, I hate to admit it, since I didn't pick this one :), but the latest earnings were solid, the five year track record looks nice, both in revenue and earnings growth, the free cash flow is solid, the balance sheet looks nice, valuation is reasonable, the chart looks ok, and the company even pays an above-average(!) dividend! I shall have to put this one on my watch list, and if I ever get around to buying a new position....well if the stock makes the top % gainers list....

Thanks so much for stopping by and writing! If you have any questions or comments, please feel free to email me at bobsadviceforstocks@lycos.com.

Bob