May 24, 2005 Forward Industries (FORD)
Hello Friends! Thanks so much for stopping by and visiting my blog,
Stock Picks Bob's Advice
. As I always do, I would like to remind you that I am truly an amateur investor, so PLEASE consult with your professional investment advisors before making any investment decisions based on information on this website. I cannot be responsible for any losses you incur trading ideas found here, nor shall I ask for any portion of your gains that you may accrue!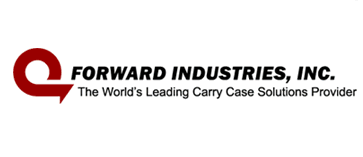 Scanning through the
list of top % gainers on the NASDAQ
, I came across Forward Industries (FORD). I have looked at this company before, although I do not believe I have ever posted anything here. This is a very small company, and try as I did to ignore it, the stock has repeatedly been showing up in the top % gainers list. I do not own any shares or options on this company.
FORD is having a good day today, trading at $20.43, up $1.14 or 5.91% on the day as I write. According to the
CNN.Money "Snapshot" on FORD
, the company's "...principal activity is to design, manufacture and market customized soft-sided carrying cases made from leather, nylon, vinyl and other synthetic fabrics. The products are utilized for transporting portable electronic products such as cellular telephones, medical instruments and computers."
What has been the driving force, imho, in moving the stock higher was the
2nd quarter 2005 earnings report
released for Forward Industries on April 21, 2005. Net sales for the quarter jumped 125% to $11.24 million, net income quadrupled to $2.02 million or $.27/diluted share from $490,000, or $.08/diluted share in the same quarter a year ago!
How about a longer-term assessment? Looking at the
"5-Yr Restated" financials on Morningstar.com
, we can see that revenue has grown from $14.4 million in 2000 to $30.7 million in the trailing twelve months (TTM).
Earnings, while erratic, have grown from $.01/share in 2000 to $.67/share in the TTM.
Free cash flow, while small, has stayed positive at $1 million in the trailing twelve months. The balance sheet also looks great with $5.3 million in cash and $10.1 million in other current assets balanced against $3.5 million in current liabilities and NO long-term liabilities at all reported on Morningstar.com.
What about some "valuation" statistics on this stock? First of all, looking at
Yahoo "Key Statistics" on Forward Industries (FORD)
, we can see that this is truly a micro-cap stock with a market capitalization of only $140.03 million. The trailing p/e is 30.84, but no PEG is listed, probably because there are no easily available estimates for future earnings! Price/sales is 4.25.
Yahoo reports 6.78 million shares outstanding with 6.30 million that float. As of 4/8/05, there were 581,000 shares out short representing 9.22% of the float or 0.468 trading days of volume. Since I use an arbitrary 3 day figure for significance, this isn't a large short-interest on this stock.
There are no cash dividends reported by Yahoo and no stock split is reported either.
What about "technicals"? Taking a look at a
"Point and Figure" chart on FORD from Stockcharts.com
: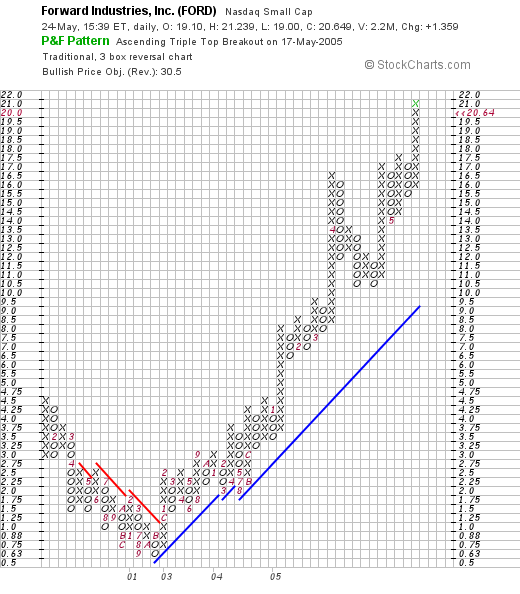 you can see that this stock, which was trading lower through 2000, and into 2001, bottomed at about $.63/share, and has traded higher since August, 2002, climbing in a rather impressive fashion to its current levels at around $22/share!

So what do I think? Well, it is a terribly small company with a market cap under $200 million. However, the numbers reported in the last quarter were very impressive. I know nothing about their business and am concerned about the questions about "moats" that the Morningstar.com folks like to discuss, but on face value, the past five years have shown rather steady growth in revenues and earnings, the free cash flow while small is positive, the balance sheet is solid, and the graph looks great!

On the downside, a tiny stock like this is prone to volatility, so I certainly would be cautious and be aware of all the risks before jumping into a stock like this!

Thanks so much for stopping by and visiting! If you have any questions or comments, please feel free to leave them here on the blog or email me at bobsadviceforstocks@lycos.com.

Bob