Boston Beer (SAM)
Hello Friends! Thanks so much for stopping by and visiting my blog,
Stock Picks Bob's Advice
. As always, please remember that I am an amateur investor, so please consult with your professional investment advisors prior to making any investment decisions based on information on this website!
Looking through the
list of top % gainers on the NYSE today
I came across The Boston Beer Company (SAM), which closed today at $23.08, up $1.57 or 7.30% on the day. I do not own any shares of SAM nor do I own any options.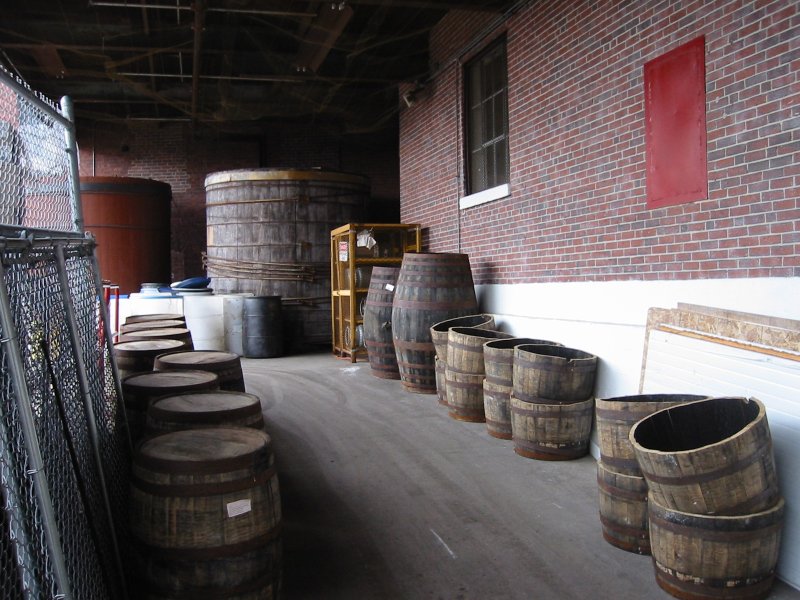 According to the
Yahoo "Profile" on SAM
, The Boston Beer Company "...engages in brewing and selling malt beverages and hard cider products primarily in the United States. It offers beers under the Samuel Adams name, flavored malt beverage products under the Twisted Tea name, and cider products under the HardCore Cider name with a focus on Samuel Adams Boston Lager, Sam Adams Light, and Samuel Adams Seasonal Beers."
What drove the stock higher today was an
analyst upgrade
from Prudential, raising the stock to an "overweight" from "neutral".
Boston Beer
reported 1st quarter 2005 results
on May 3, 2005. Net revenues increased 9% to $48.7 million from $44.7 million. Net income jumped 200% to $4 million or $.27/share, up from $1.3 million or $.09/share the prior year same quarter. The company forecast full year earnings of $.94 to $1.00/share for 2005. This was in line with analysts' expectations of $.99/share for the year.

How about longer-term results? Looking at the
Morningstar.com "5-Yr Restated" financials
we can see a pattern of revenue growth, albeit somewhat inconsistent, from $190.6 million in 2000 to $221.3 million in the trailing twelve months (TTM).
Earnings have been a bit erratic as well dropping from $.62/share in 2000 to $.47/share in 2001. However, earnings have grown steadily since 2001, reaching $1.04 in the TTM.
Free cash flow has been positive and slowly growing, again a bit inconsistently, from $12 million in 2002 to $15 million in the TTM.
The balance sheet, as presented on Morningstar, looks excellent with $62.4 million in cash. The cash alone is able to cover both the $28.1 million in current liabilities as well as the $2.3 million in long-term liabilities. In addition, Morningstar reports SAM with an additional $30.7 million in other current assets.
How about other valuation statistics? Taking a look at the
"Key Statistics" on SAM from Yahoo
, we can see that this is a small cap stock with a market capitalization of only $329.84 million. The trailing p/e is a moderate 22.19, with a forward p/e of 20.42. The PEG is a bit rich at 1.81.
The stock is reasonably priced with a Price/Sales ratio of 1.4. As compared to other companies in the "Beverages-Brewers" Industry group, at the top is Anheuser Busch (BUD) at 2.5, Comp de Bebidas das Americas (ABV) is 2.1, Diageo (DEO) came in at 2, Molson (TAP) at 0.8, and Fomento Economico Mex (FMX) came in at 0.7.

Other additional statistics, include the 14.29 million shares outstanding with a float of only 9.06 million shares. As of 5/10/05, there were 392,550 shares out short representing 2.90% of the float or 8.2 days of average trading volume. This appears a bit significant (using my arbitrary 3 day cut-off), and may be contributing to the current price rise.
No cash nor any stock dividends are reported on Yahoo.
What about a chart? Looking at a
Stockcharts.com "Point & Figure" chart on SAM
: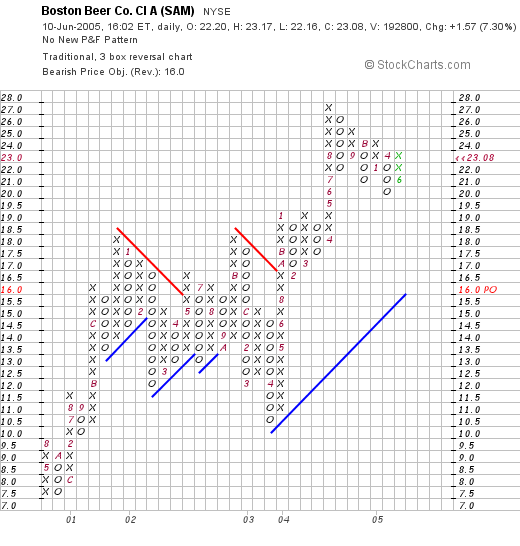 we can see that this stock has been strong since mid-2000, when it was trading to as low as $7.50. The stock moved higher over the next two years, but appeared to break down n price in April 2003, when it hit an intermedicate low at $10.50. The stock has traded higher since and the graph, to me, looks solid.

So what do I think? First of all, a stock upgrade, like today is always helpful. Last quarter's revenue and earnings growth was solid. The past five years, while a bit erratic, show a trend towards higher revenue and earnings growth. The free cash flow is nice and the balance sheet is gorgeous. Valuation appears reasonable, and I suspect the PEG is a bit overstated, especially if the earnings growth like the last quarter can be repreated. Now, if I only had some cash to spend :).

I shall defer to all of you the readers on whether the beer itself is good :).

Thanks so much for stopping by and visiting. If you have any questions or comments, please feel free to post them here on the blog or email me at bobsadviceforstocks@lyco.com.

Have a great weekend everyone!

Bob