"Revisiting a Stock Pick" Resources Connection (RECN)
Hello Friends! Thanks so much for stopping by and visiting my blog,
Stock Picks Bob's Advice
. As always, please remember that I am an amateur investor. I like to share with you some of my own ideas about investing and encourage you to participate in this discussion. As always, please remember to consult with your professional investment advisors prior to making any investment decisions based on information on this website.

I first
posted Resources Connection (RECN) on Stock Picks Bob's Advice
(RECN), which does business under the Resources Global Professionals name, On January 8, 2004, when it was trading at $34.50. RECN had a 2:1 stock split on 3/2/05, making my effective stock pick price actually $17.25. Today, RECN made the
list of top % gainers on the NASDAQ
, closing at $29.42, for a gain of $5.57 or 23.35% on the day. The stock is trading at $12.17 higher than my pick price, for a gain of 70.6% since posting here. I do not own any shares nor any options on this company.
What drove the stock higher today, was the
4th quarter 2005 earnings report
which was released after the close of trading yesterday. For the quarter ended May 31, 2005, revenue grew 40.2% to $150.0 million, from $107 million for the same quarter in fiscal 2004. Net income came in at $15.7 million, up from $10.7 million last year, or $.31/diluted share, a 41% increase over the $.22/diluted share reported last year. This was an impressive quarter and the "street" voted with its pocketbook, driving the stock price higher!
Looking at the
"5-Yr Restated" financials
from Morningstar.com, we can see a steady growth in revenue, except for a small dip between 2001 when revenue dropped from $191 million to $182 million in 2002, climbing to $495 million in the trailing twelve months (TTM).
Earnings have increased from $.29/share in 2002 to $1.01 in the trailing twelve months.
Free cash flow has also been increasing from $13 million in 2002 to $51 million in the TTM.
The balance sheet is "gorgeous" with $66.8 million in cash and $86.1 million in other current assets reported on Morningstar, balanced against $52.5 million in current liabilities and $4.7 million in long-term liabilites.
Looking at
Yahoo "Key Statistics" on RECN
, we can see that this is a large mid-cap stock with a market capitalization of $1.40 Billion. The trailing p/e is 29.17, and the forward p/e (fye 31-May-06) is better at 23.86. In fact the company is anticipated to be growing so quickly that this p/e results in a PEG under 1.0 at 0.92.
While the Price/Sales ratio looks nice at 2.3, looking at other stocks in this industrial group of "Management Services", we find RECN at the top of the pack. Following RECN is Ceridian (CEN) at 2.2, Heidrick & Struggle (HSII) at 1.4, Accenture (ACN) at 1.4, Hewitt Associates (HEW) at 1.1, and BearingPoint (BE) at 0.5. Thus, in this measurement, RECN isn't that cheap a stock at all!
Other statistics from Yahoo show that this company has 47.59 million shares outstanding with 44.56 million that float. Currently there are 7.56 million shares out short as of 6/10/05, representing 16.90% of the float, or 11.7 trading days of volume. This short interest, using my own "3 day rule" looks significant and may be adding to the buying frenzy as shorts get "squeezed".
No cash dividend is reported, and as I noted earlier, the last stock split was just a few months ago when the stock split 2:1 on 3/2/05.
Taking a look at the
Stockcharts.com "Point & Figure" chart on RECN
: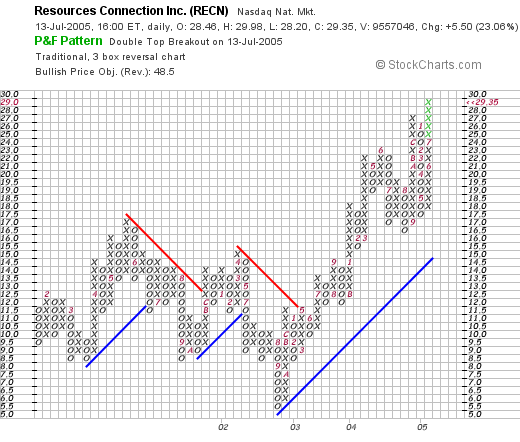 we can see that this stock was trading sideways between much of 2001 and 2002, and actually more or less "rolled over" hitting a low of $5.50 in September, 2002. The stock has traded strongly higher since that time, and appears to be poised for further appreciation without being very over-valued. Of course, that is just my take on the chart :).

So what do I think? Well, reviewing: the latest stock report that came out yesterday was phenomenal. The company has shown almost perfect growth in revenue and earnings (except the dip in 2002 as noted) the last five years. Free cash flow is positive and growing and the balance sheet is gorgeous. Valuation looks nice in terms of the p/e and PEG ratio (under 1.0), but the Fidelity review shows that the Price/Sales ratio is a bit rich within its particular group. Finally, the short interest is high, adding buying pressure, and the graph looks nice.

Now of course, I cannot buy any new stocks as I am up to 25, my current maximum # of holdings, but if I were in the market, well this is the kind of stock I would be buying! Thanks so much for stopping by. If you have any questions, comments, or words of encouragement, please feel free to comment right here on the blog, or email me at bobsadviceforstocks@lycos.com.

Bob