A Reader Writes "Can you give me an opinion on the chances of this stock to rise?"

Hello Friends! Thanks so much for stopping by and visiting my blog,
Stock Picks Bob's Advice
. As always, please remember that I am an amateur investor, so please consult with your professional investment advisors prior to making any investment decisions based on information on this website.
Checking my mail earlier this week, I came across a letter from Jean B. who wrote:
Dear Bob,

My brother had recommended dogpile.com as a search engine a while
ago. He works at aa hospital, and the interns recommended it to him.
While the name leaves a smelly taste, I checked it again today, and
figured they could challenge Google. It's a branch of InfoSpace
(INSP), and I checked their earnings and point and figure chart. It
has a mouth-watering P/E of 9.x. Can you give me an opinion on the
chances of this stock to rise? I couldn't wait for the earnings
announcement on July 26th, and already bought some.

Sincerely,
Jean B
First of all, thank you Jean for writing. As you know, I cannot tell you the chances any particular stock will rise. I simply don't know and would be just guessing. However, I would be happy to look at this stock through my perspective and let you know what I think.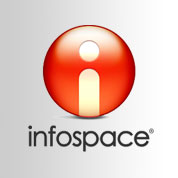 Some basics: InfoSpace (INSP) closed today (7/13/05) at $33.70, down $.48 or 1.40% on the day.
According to the
Yahoo "Profile" on INSP
, the company is "...a technology and services company, engages in the development and marketing of internet and wireless solutions for a range of customers, including consumers, merchants, wireless operators, content brands and financial institutions. The company has two units, Search and Directory, and Mobile."
About the first place I go to research a stock is the latest quarterly result. Apparently INSP will be reporting their latest quarter in the next couple of weeks. However, as far as reported results, INSP
reported 1st quarter 2005 results
on April 26, 2005. Revenue for the quarter ended March 31, 2005, came in at $87.0 million, an 81% increase over the $48.1 million in the first quarter of 2004. Net income for the first quarter came in at $93.9 million or $2.52/diluted share, compared to net income of $36.7 million or $1.03/diluted share the prior year. However, much of this was from settlement of litigation, and excluding the gain from litigation, net income came in at $16.6 million or $.45/diluted share vs. $5.4 million, or $.15/diluted share in the first quarter of 2004.
However the company guided lower for the second quarter than what analysts had been expecting. As
reported on Thestreet.com
:
However, the company's near-term guidance disappointed. For the second quarter, InfoSpace said it expects to earn 36 cents to 39 cents a share on revenue of $83 million to $85 million. This was below analysts' expectations of earnings of 42 cents a share and revenue of $91.7 million.
This was enough to drive the stock lower in the short-term.
Looking at the
"5-Yr Restated" financials from Morningstar.com for INSP
, we can actually see that revenue fell from $201.2 million in 20002, to a low of $115 million in 2002, before resuming its progression with $288.3 million reported in the trailing twelve months. The last few years are solid, but I prefer to see longer periods of growing revenue prior to a purchase of stock.
The company was losing money betweek 2000 and through 2003, improving from a loss of $(9.28)/share in 2000, decreasing to a small loss of $(.20)/share in 2003. Since then, the company reported $2.26 in earnings in 2004 and $3.75 in the trailing twelve months (TTM).
Free cash flow is also attractive with $(23) million in 2002, improving to $126 million in the TTm.
The company is loaded with cash and has a beautiful balance sheet, at least as presented by Morningstar with $366 million in cash and $93.4 million in other current assets, with a relatively paltry $58.8 million in current liabilities and $12.2 million in long-term liabilities. Thus this looks good too!
Taking a look at
"Key Statistics" on INSP from Yahoo
, we can see that this is a mid cap stock with a market capitalization of $1.12 billion. The trailing p/e, as you noted, is only 8.92. However, I am sure that is due to the inclusion of litigation earnings....so it is a bit higher than that. Thus, the forward p/e is 14.72 (fye 31-Dec-06), and the PEG (5 yr expected) is still low at 0.67. The stock indeed looks to be a good "value".
According to the Fidelity Brokerage information I use, INSP is in the "Online Financial News Industry" and sports a Price/Sales ratio of 3.9, midway between the top stock CNET (CNET) at 5.7, above the Street.com (TSCM) at 2.5, and ahead of Dow Jones (DJ) at 1.8.
Going back to Yahoo, we can see that there are 33.20 million shares outstanding with 33.17 million that float. Of these, 2.83 million are out short, representing 2.3 trading days or only 8.70% of the float. The short interest does not look significant imho.
No cash dividends are paid and the last stock dividend was a
reverse
stock split, a 1:10 on 9/13/02.
What about a chart? Taking a look at a
"Point & Figure" chart on INSP from Stockcharts.com
: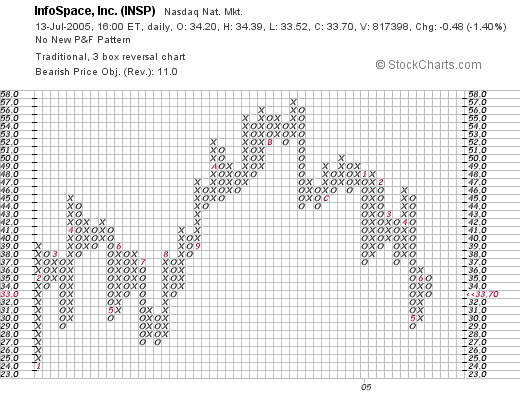 we can see what appears to be a relatively weak graph that hit a peak of around $57 in November, 2004, seemingly 'rolled over' and has been trading lower to its current level. I am not encouraged by what I see. I cannot tell if the stock will be trading higher from the graph in the near future, but it appears that trading higher would require the company to reverse the current trading trend.

So what do I think? Well, let's review: the latest quarter was very strong, but then the company revised lower for the next quarter (a negative imho). The past five years are a bit of a roller-coaster of revenue growth, with a sharp decrease, followed by an equally strong increase in revenue. Earnings appear to be increasing, and free cash is positive while the balance sheet looks excellent. Valuation-wise, the low p/e is a bit misleading due to the one-time settlement of litigation. However, the forward p/e is still low, and the PEG is under 1.0. The price/sales is also moderate within its group.

Finally, the graph looks weak.

Thus, I am not ready to endorse this stock. This does not mean it may not appreciate in the near future. In fact, if they come through with a solid quarter in the next two weeks, I would not be surprised to see this stock rally higher. It certainly is a good value. But that is not really my style of investing. Doesn't mean you are wrong to buy this stock. Just not my style.

I hope that what I wrote was helpful. I do not mean to be negative. I am frankly unable to predict price moves :). Good luck and I hope that your "value" purchase works out for you! I bet it will if that next quarter surprises on the upside!

Bob