July 18, 2005 Charles & Colvard (CTHR)
Hello Friends! Thanks so much for stopping by and visiting my blog,
Stock Picks Bob's Advice
. As always, please remember that I am an amateur investor so please consult with your professional investment advisors prior to making any investment decisions based on information on this website.

I was looking through the
list of top % gainers on the NASDAQ
this morning and came across Charles & Colvard Ltd (CTHR). I do not own any shares nor do I have any options in this company.
CTHR is having a great day in the face of an otherwise negative market; trading at $27.87, up $1.93 or 7.44% on the day as I write.
What is moving the stock higher today is a company
report
that earnings will be released tomorrow (7/19/05) and an earlier
press release
that upped guidance for sales.
According to the
Yahoo "Profile" on CTHR
, the company "...engages in the manufacture, marketing, distribution, and sale of moissanite jewels. It sells moissanite (also known by its chemical name, silicon carbide) jewels principally in the United States and Canada."
CTHR reported
1st quarter 2005 results
on April 18, 2005. For the first quarter ended March 31, 2005, CTHR reported a 100% increase in sales to $11.2 million from $5.6 million the prior year same quarter. Net income came in at $2.01 million or $.14/diluted share, a 262% increase over the last year's $555,000 or net income or $.04/diluted share.
Examining the
"5-Yr Restated" financials on Morningstar.com for CTHR
, we can see that revenue did drop slightly from $12.8 million in 2000 to $11.5 million in 2001, but has rather rapidly expanded to the $29.5 million reported in the trailing twelve months (TTM).
Earnings per share have also been a bit erratic, increasing from $(.94)/share in 2000 to $.66/share in 2002. However, this was followed by a drop to $.08/share in 2003, and subsequent increases from that level.
Free cash flow has been flat with $3 million reported in 2002, dropping to $0 in the TTM.
According to Morningstar.com, the balance sheet is impeccable, with $13.5 million in cash alone, enough to cover the $3.0 million in liabilities more than four times over! There are NO long-term liabilities reported. In addition, CTHR has $34.9 million in other current assets.
Taking a look at
Yahoo "Key Statistics" on CTHR
, we can see that this is a small cap stock with a market capitalization of only $403.44 million. No P/E is reported and thus no PEG ratio either.
Reviewing the Price/Sales ratio with data from
Fidelity, in the "Recreational Goods, Other" industrial group, we have CTHR at the top with a Price/Sales of 12.7. This is followed far back by RC2 Corp (RCRC) at 1.9, Fossil (FOSL) at 1.7, Orange 21 (ORNG) at 1.3, Movado (MOV) at 1.1, and LJ International (JADE) at 0.4. Thus, the stock is a bit pricey on this particular parameter.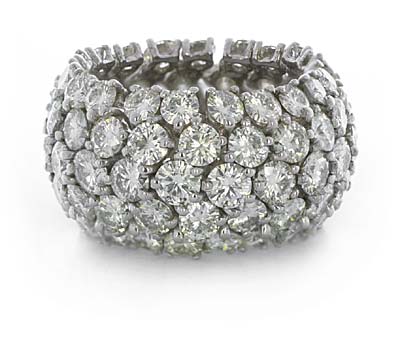 Looking at other statistics on CTHR, we find that there are 14.39 million shares outstanding with 10.69 million shares that float. Of these, there are 604,430 shares out short representing 5.10% of the float or 4.5 trading days of volume, which will just be adding some buying pressure on this already strong stock.
The company
does
pay a small dividend of $.05/share yielding 0.19%. No stock dividends are reported on Yahoo.
Taking a look at the
"Point & Figure" chart on CTHR from Stockcharts.com
: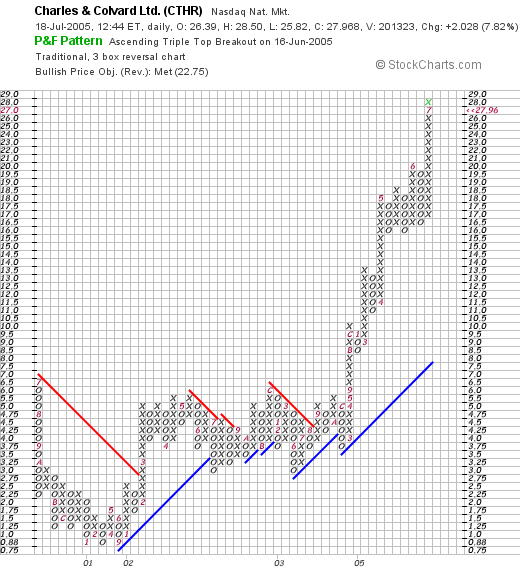 we can see that this stock was trading sideways between 2001 through August, 2003, when it broke through "resistance" at $4.50 and has moved strongly higher since then. This is a strong chart, albeit a bit overextended imho.

So what do I think? Well this is a very small company and I cannot tell what the potential is for synthetic jewels. However, the last quarter was strong, the company is raising guidance, the balance sheet is impeccable, revenue has been growing steadily, and the chart looks strong.

Valuation is a bit questionable, but this is often the case in stocks that move strongly!

Thanks so much for stopping by and visiting my blog! Be sure to email me or leave your comments right here if you have any!

Bob